Looking for raw, clean eating vegan recipes that are easy to make and delicious? Here you'll find a wide variety of raw, vegan recipes including smoothies, salads, soups, snacks and more.
You may also like this visual Raw Vegan Recipes sorted from newest to oldest.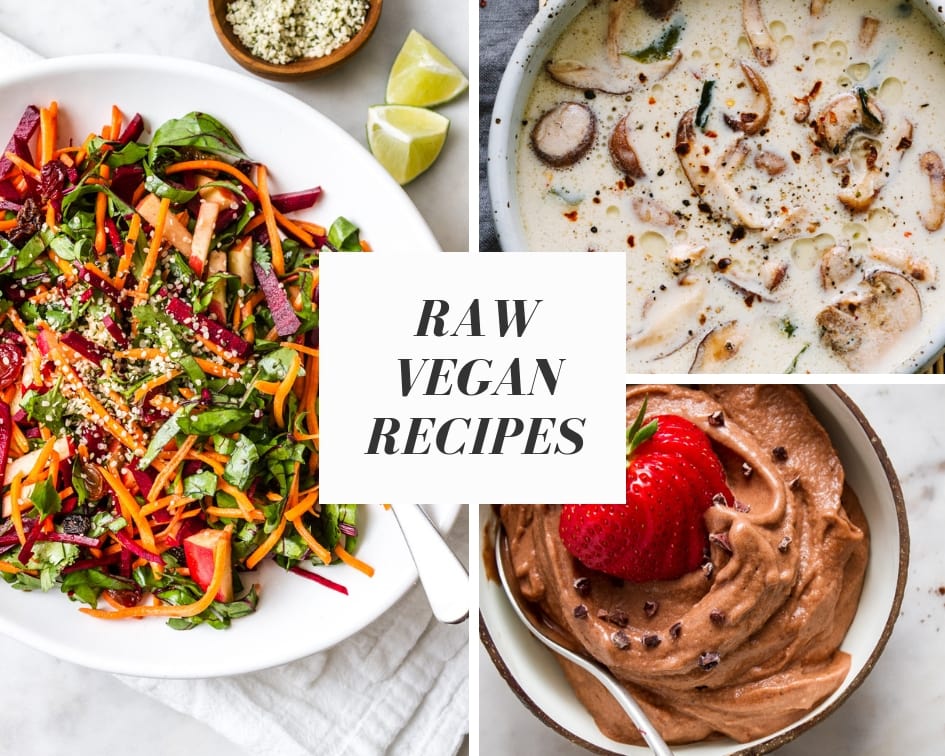 RAW VEGAN RECIPES
SMOOTHIES, SHAKES, JUICES & TEAS
Banana Mandarin Hemp Smoothie
Banana Split Protein Smoothie
Best Ever Chocolate Banana Milkshake
Carrot, Pineapple & Ginger Juice
Chocolate Almond Butter Smoothie Bowl
Chocolate Cherry Smoothie
Blueberry Banana Smoothie
Enlighten Smoothie Bowl
Lemon Ginger Detox Tea
Mango Pineapple Banana Smoothie
Strawberry Chocolate Milkshake
'Sweet Tang' Chia Smoothie
Vanilla Date Smoothie
BREAKFAST/BRUNCH
Banana Boats
Bircher Muesli w/Chia Seeds, Figs & Apples
Chocolate Chia Pudding
DIY Muesli Mix
Summer Cherry-Berry Fruit Salad
Vanilla Chia Pudding
SALADS
Apple, Beet & Fennel Salad with Maple Balsamic Dressing
Asian Rainbow Salad + Spicy Mango Dressing
Asian Slaw Salad + Miso Ginger Dressing
Cabbage Salad w/Creamy Dressing & Almond Parmesan
Chopped Vegetable Salad & Zesty Garlic Dressing
Chinese Chop Salad + Peanut Sesame Dressing
Crunchy Kale Salad + Citrus Dressing
Cucumber + Cantaloupe Salad
Cucumber Salad + Peanut Citrus Dressing
Detox Salad + Ginger Lime Cardamom Dressing
Farmer's Market Salad w/Marina'raw' Sauce
Fresh Thai Salad
Garden Salad Lettuce Wraps (use raw hummus)
Kale, Date & Almond Salad + Lemon Dressing
Kale & Red Cabbage Slaw
Kelp Noodle Salad + Peanut Dressing
Mediterranean Kale Salad
Raw Taco Salad + Mushroom Nut Meat + Cilantro Lime 'Sour Cream'
Simple Salad + Almond-Lime Dressing
Spicy Coleslaw + Tahini Dijon Dressing
Spring Salad: Edible Flowers & Dandelion Greens
Simple Zucchini Pasta Salad
Summer Cherry-Berry Fruit Salad
SOUPS
Avocado & Cucumber Soup
Raw Creamy Miso Soup w/ Shitake & Baby Bella Mushrooms
Raw Spicy Tomato & Red Pepper Soup
'NOODLES'
Carrot + Zucchini Ribbons + Cilantro Pepita Pesto
Creamy Zucchini Pesto with 'Noodles'
Raw Pad Thai
Raw Pasta Primavara + Meatballs
Raw Vegetable Pasta
Spicy Kale Pesto + Zucchini Noodles
Simple Zucchini Pasta
Zucchini Pasta + Creamy Avocado-Cucumber Sauce
MAIN & SIDE DISHES
Fresh Mango Salsa
Kimchi
Raw Sprouted Hummus
Raw Zucchini Wraps with Kale Pesto
Raw Veggie Chili W/ Taco Nut Mea
Street Tacos
Stuffed Avocados
Vegan Sushi Rolls
SWEETS & TREATS
ICE CREAMS
Almond Chunky Monkey Ice Cream
Banana Cherry Garcia Soft Serve
Banana Coconut Ginger Ice Cream
Butter Maple Pecan Ice Cream
Raw Chocolate Banana Ice Cream
OTHER RAW TREATS
Almond Vanilla Bean Chocolate Chip Bites
Apple Nachos
Banana Boats
Cinnamon Cranberry Truffles
Coconut Lemon Bombs
Cranberry Pistachio Oatmeal Bites
Happy Hemp Bites
No-Bake Raspberry + Vanilla Cheesecake
Plum Carpaccio + Lemon Ginger Cream
Raw Chocolate Pistachio Oatmeal Bites
Raw Chocolate Pudding: 3 Ways
Raw Coconut Brownie Bites
Raw Fruit Tartlet
Raw Ginger Snaps
Raw Pecan Tart Truffles
Summer Cherry-Berry Fruit Salad
White Chocolate Goji Berry Truffles
DRESSINGS, CHEESES, CONDIMENTS, SAUCES & TOPPINGS
DRESSINGS
Almond-Lime Dressing
Avocado-Lime Dressing
Balsamic Maple Dijon Vinaigrette (M)
Zesty Garlic Dressing (M)
Citrus Dressing (M)
Creamy Lemon Herb Dressing
Creamy Orange-Ginger Dressing
Cumin Lime Tahini Dressing
Flax & EVO Balsamic Vinaigrette
Ginger Lime Cardamom Dressing
Lemon-Tahini Dressing
Maple Dijon Dressing>(M)
Miso Ginger Dressing
Peanut Dressing
Peanut Citrus Dressing
Peanut Sesame Dressing
Shallot Vinaigrette (M)
Spicy Mango Dressing
Sweet Tahini Dressing
Tahini Dijon Dressing (M)
Tahini Miso Dressing
Vegan Ranch Dressing
CHEESES
Almond Parmesan
Cashew Ricotta Cheese
Vegan Cream Cheese
CONDIMENTS & CREAMS
Aioli (2-Minute + Oil-Free
Avocado ButterBasic Cashew Sour Cream
Cashew Sweet Cream
Chimichurri Sauce
Fresh Mango Salsa
Guacamole
Homemade Tahini
Kimchi
Lemon Ginger Cream
Lime Cilantro Cashew 'Sour Cream'
Mango Salsa
Maple Nut Butter Syrup
Paprika Cashew Crema
Pico De Gallo
Raw Almond Butter
Raw Sprouted Hummus
Tahini Miso Dip
Triple Berry Chia Jam
Vegan Cream Cheese
SAUCES & PESTOS
Chimichurri Sauce
Cilantro Pepita Pesto
Creamy Zucchini Pesto
Dynamite Sauce
Kale Pesto
Marina'raw' Sauce
Miso Sauce>
Primavera Sauce
Spicy Kale Pesto
Walnut Basil Pesto
TOPPINGS
MISC.