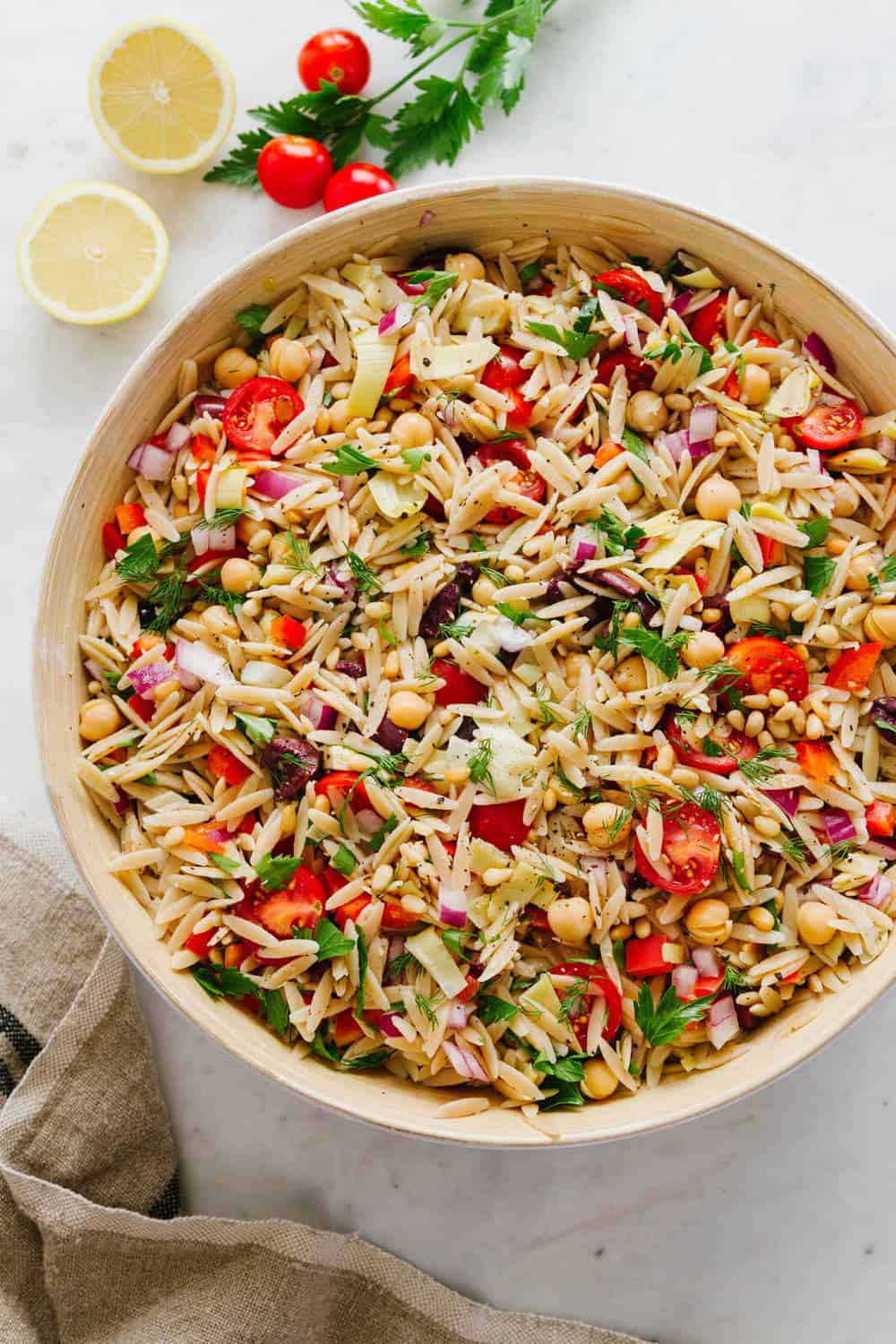 Healthy and flavorful, this Greek inspired whole wheat orzo salad recipe is filled with chickpeas, artichoke hearts, Kalamata olives, red bell peppers, tomatoes, dill, parsley and plenty of lemon flavor and pine nuts.
With plenty of ingredients left over from the last recipe, Mediterranean Mashed Chickpea Salad, I wanted to do a Mediterranean style orzo pasta recipe. I love the shape and texture orzo, and it's great for pasta salads!
You'll find this easy orzo salad to be fairly classic, full of flavorful goodness and makes enough to feed a crowd, or have plenty of leftovers!
Mediterranean Orzo Salad
The ingredients are easily accessible, and can be changed up to suit your taste or needs. If you skip one or two of the ingredients, you'll still have a great Greek orzo salad!
Here are a few ideas on how to change it up:
Add cucumber in addition to the ingredients, or as a substitute.
I've used dill here, which adds a cool, refreshing flavor, but you may opt to substitute that for some fresh or dried oregano.
Green olives would be great here too, use your favorite.
Lemon juice is used to dress the salad (with the option of adding olive oil). You could make it more exciting with a few splashes of red wine vinegar, adding a little tanginess.
Hemp hearts would be a nice replacement for the pine nuts, adding a good dose of nutrition. Use 1/4 cup hemp hearts. Also, sunflower seeds would be great too!
Prepare the vegetables and cook the orzo.
Once mixed, you have a great summer pasta salad that's perfect for picnics, potlucks, or make ahead meals to-go.
Recipe will be ready in under 30 minutes from start to finish. It's the best orzo salad ever, and a perfect meal when you're looking for something quick and healthy!
This orzo pasta salad is great alone, or for variation add in a handful of leafy greens to your serving.
For More Mediterranean Inspiration
The flavors of the mediterranean are varied and delicious. Try these other wonderful mediterranean recipes, you just may find a new favorite for the meal rotation!
Print
MEDITERRANEAN ORZO SALAD
A flavorful greek inspired orzo salad with chickpeas, artichoke hearts, kalamata olives, red bell peppers, tomatoes, dill, parsley and plenty of lemony flavor and nutty pine nuts.
Prep Time:

10 min

Cook Time:

20 min

Total Time:

30 minutes

Yield:

Serves 8

Category:

Pasta, Entree, Side

Cuisine:

Vegan
Ingredients
16 oz package orzo (pref. whole wheat)
1 medium red bell pepper, diced
1/2 medium red onion, diced
1 can (14oz) chickpeas (garbanzo beans), drained and rinsed
1 can (14oz) artichoke hearts, sliced
2/3 cup pitted kalamata olives, sliced in half or quartered
1 pint (8oz) cherry tomatoes, sliced in half
1/2 cup toasted pine nuts
1/2 cup loosely packed chopped parsley
2 tablespoons fresh dill fronds or 2 teaspoons dried
1 teaspoon lemon pepper, or to taste
generous pinch mineral salt, or to taste
2 lemons, juice of (about 3 – 4 tablespoons)
3 – 4 tablespoons extra virgin olive oil, optional
Instructions
Cook the orzo pasta according to package instructions.
In a large bowl add the cooked orzo, red bell pepper, onion, chickpeas, artichoke, olives, tomatoes, pine nuts, parsley, dill, lemon pepper and salt. Add the lemon juice and optional oil over top, toss well to coat. Add more lemon-pepper and salt to taste.
Serve chilled or at room temperature.
Salad is great alone. Also, try adding a small handful of leafy greens to your serving for added freshness and fiber. It's delicious!
Leftovers can be stored in the refrigerate in an airtight container, for up to 5 – 6 days.
Serves 8
NOTES:
For a healthy option, look for artichoke hearts and olives packed in water, instead of oil.
Diced cucumber would be great in this salad. Simply substitute any vegetable or add it as an extra ingredient.
Use couscous as a replacement for the orzo if you like.
A little red wine vinegar would also be nice here, use 3 – 4 tablespoons.
Looking to change up the herbs? Oregano would be a great addition.