Raw Chocolate Banana Ice Cream
Easy 2 ingredient raw chocolate banana ice cream with no need for an ice cream maker, ready in minutes and perfect for a quick, healthy treat!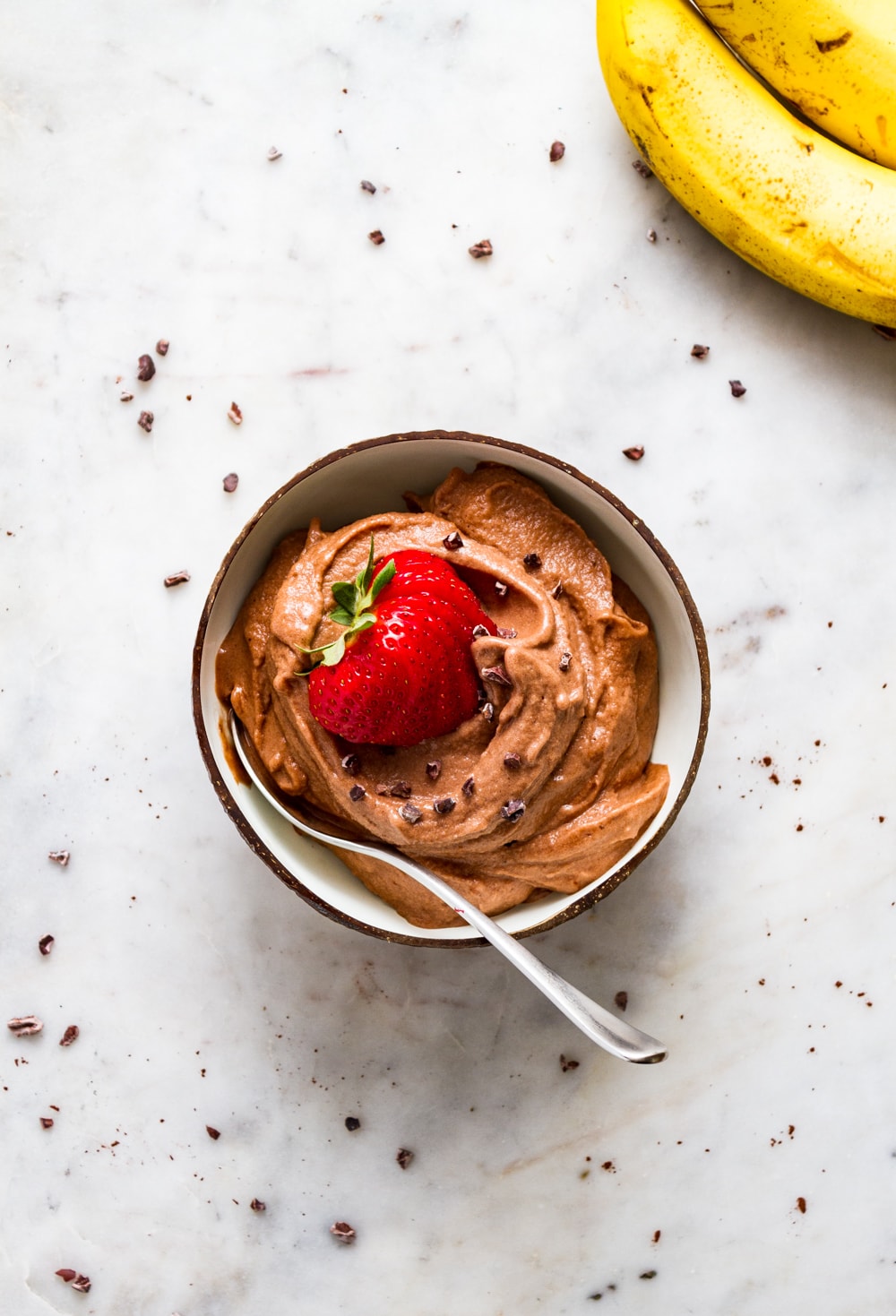 Raw banana ice cream with decadent chocolate is creamy, super easy to make, and tasty as can be!
Why had I not known of this before? What a great dessert or mono meal for that matter. I had this for dinner the other night and did not feel one bit guilty. It's super delicious, vegan, and all-around good for you!
Why We Love This Recipe!
Fat free
No refined sugars
Dairy free
Only 2 ingredients
Ready in 5 minutes or less
Churn free and No ice cream maker required
I suggest you gather your ingredients and whip up some of this nice cream for yourself. You will thank me later. :)
Be creative, and have fun experimenting with toppings and additions that work for you!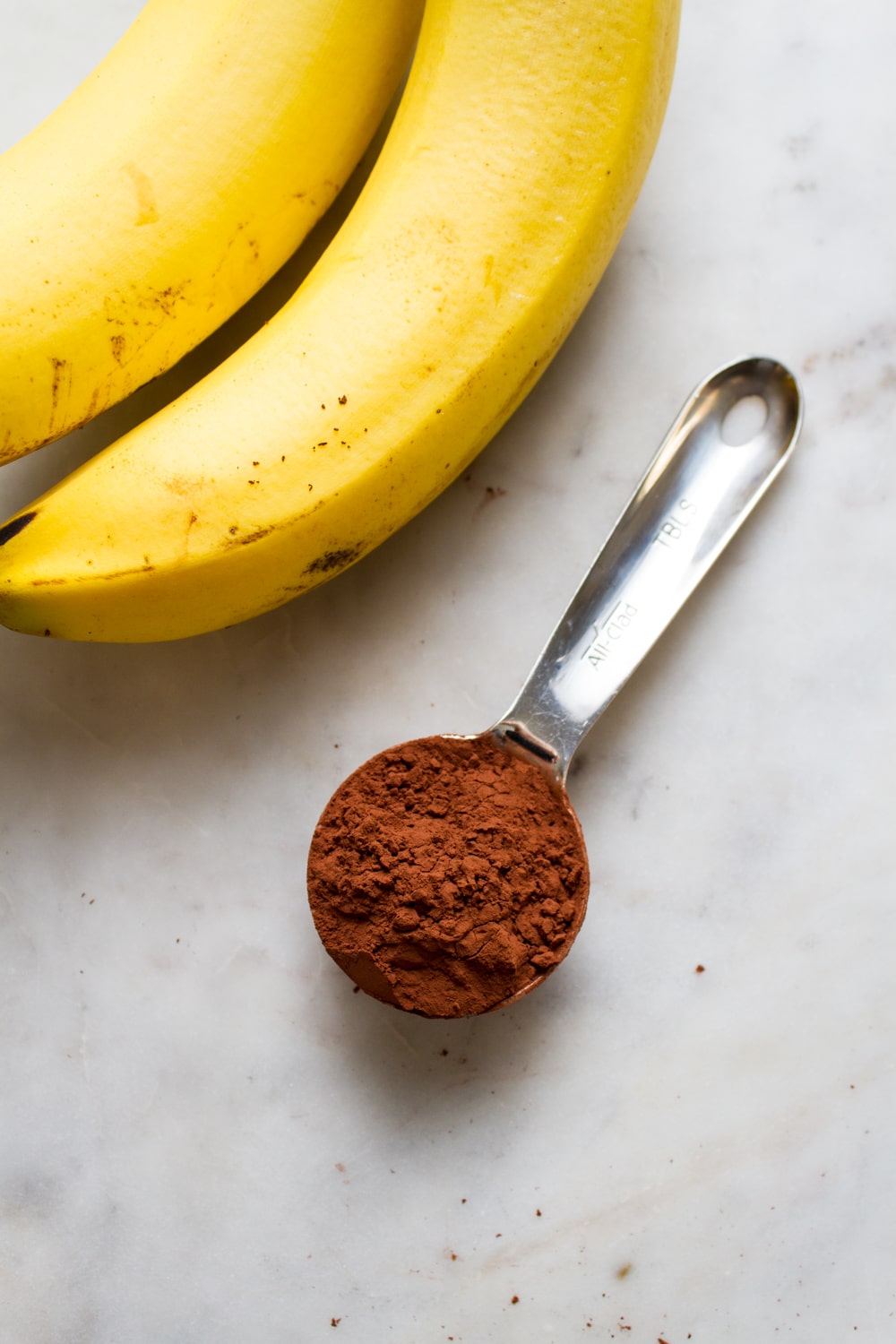 Raw Vegan Banana Ice Cream Ingredients
Bananas – freeze the ripest bananas you can, they will be sweet enough so you don't need to any sweetener.
Cocoa powder – use your favorite, whether its raw cacao, regular cocoa, or dutch chocolate. This batch was processed with dutch cocoa, which makes it ultra dark and chocolatey, but typically I use raw cacao powder.
Splash of non-dairy milk or water – can be any type of plant based milk or Vegan Cream, preferably unsweetened, this will help get the frozen mixture moving.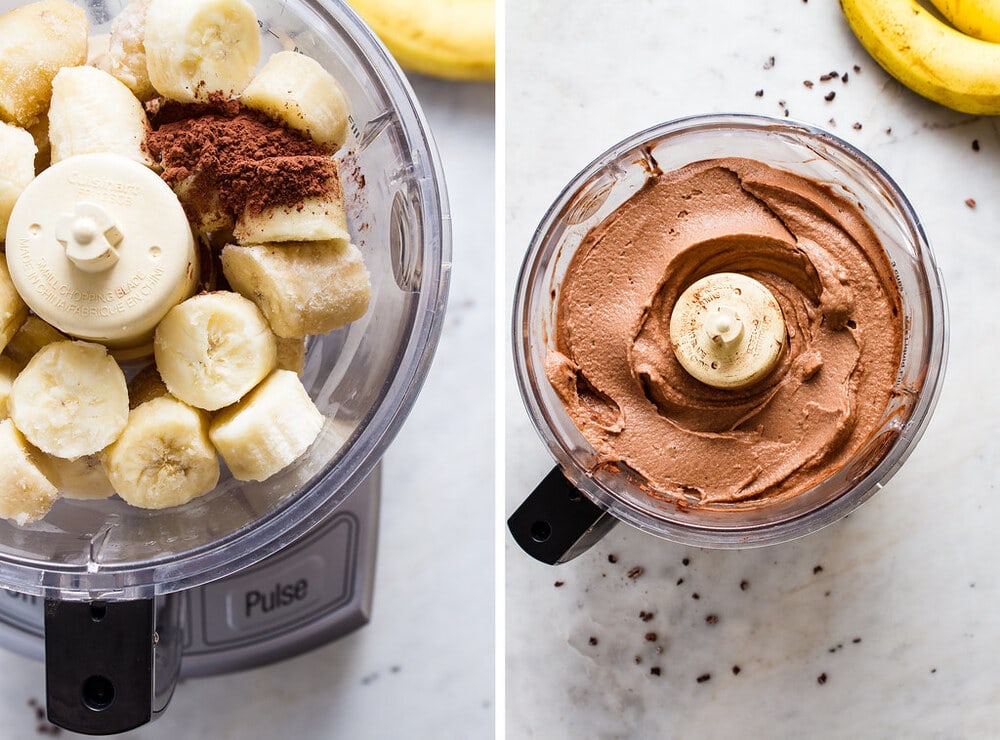 How To Make No Ice Maker Banana Ice Cream
Simply place 2 – 3 frozen bananas in your food processor or high speed blender, along with 1 tablespoon cacao powder, blend until creamy, stopping to scrape down the sides every so often. Make take 3 – 5 minutes.
Serve right away with sliced fruit, cacao nibs, nuts or seeds. Enjoy often!
Top Tips
Add protein. Add 2 – 4 tablespoons of nut butter, such as peanut, almond, cashew, or sunflower, for a nice does of protein. It will also make it ultra creamy!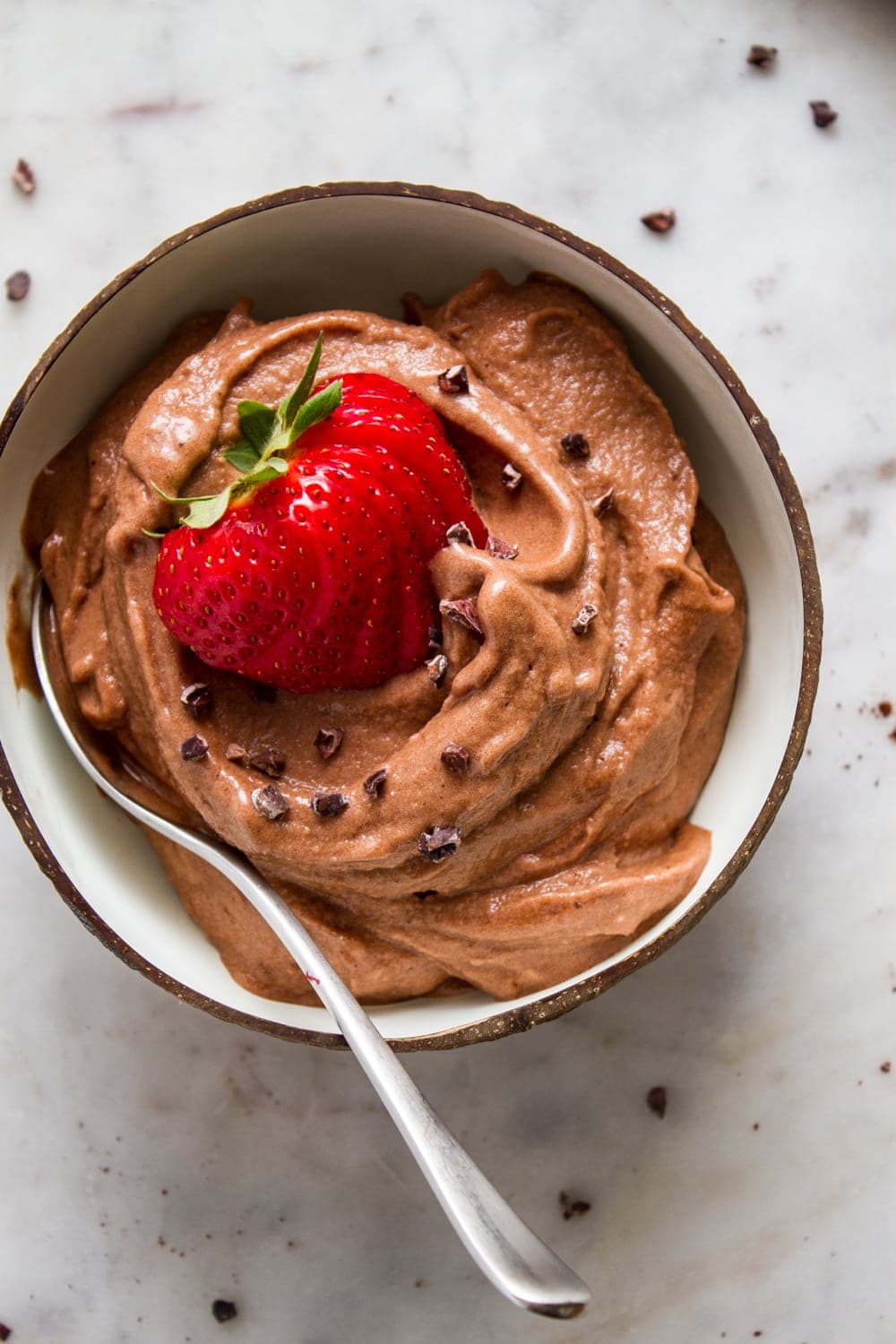 More Nice Cream Recipes!
If you try this chocolate banana nice cream recipe, please let me know! Leave a comment and rate it below. I love to hear what you think, or any changes you make.
Print
RAW CHOCOLATE BANANA ICE CREAM
Amazing chocolate banana ice cream to the rescue! No dairy, no churn, no guilt – just YUM!
3

frozen bananas
splash of almond milk or Vegan Cream, optional

1

heaping tablespoon raw cacao/cocoa powder
Optional toppings
sliced fruit

chopped nuts

cacao nibs or shredded coconut
Instructions
Break frozen bananas into small pieces. Place bananas, splash of liquid and cocoa/cacao into blender or food processor, blend until desired consistency scraping down the sides every now and then, will take anywhere from 3 to 6 minutes. Add a tad more liquids as needed.
Scoop into individual bowl/s, top with fruit, nuts, cocoa nibs or coconut flakes. Enjoy right away.
Serves one generously, with enough to share if you like. :)
Notes
A splash or two of milk or water will help the mixture move a little better when blending. For completely raw, use homemade plant milk, or a splash of water is fine too!
To Freeze: Keep this ice cream in the freezer by storing in an airtight freezer safe container. Freeze for at least six hours or overnight for a hardened ice cream, let thaw 10 min or so before scooping. Double this recipe and freeze for convenience.
Keep those bananas! Instead of throwing out bananas I always freeze them for making smoothies later and this will be a new reason to pull out a frozen banana or two. Doesn't get much simpler that this.
FOLLOW TSV on Facebook, Instagram, Pinterest, or RSS for more updates and inspiration!