RAW PASTA PRIMAVERA + MEATBALLS
Raw Pasta Primavera with walnut-mushroom meatballs, zucchini noodles, fresh veggies and tomato sauce is a healthy and delicious lunch or dinner!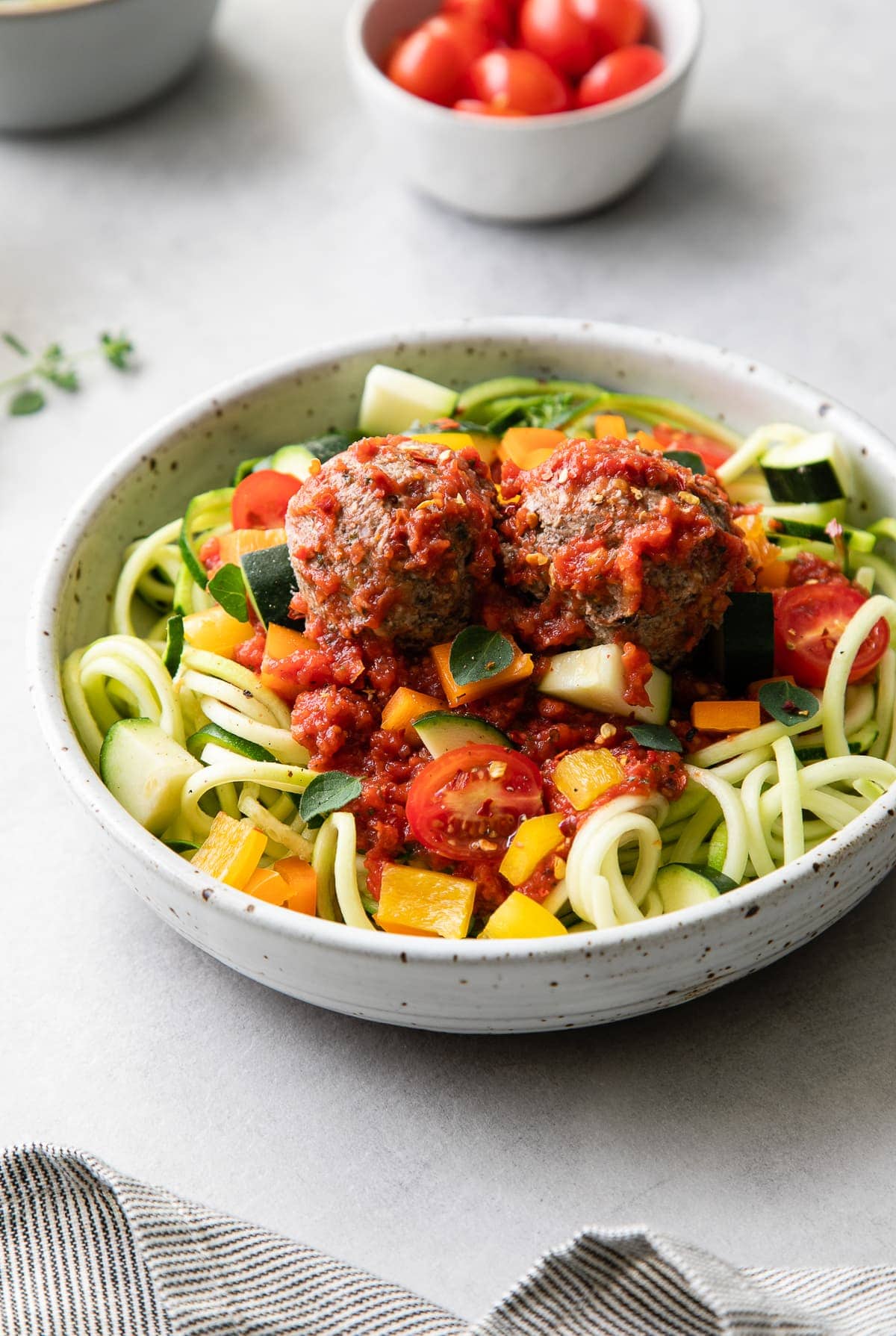 Let's un-cook something wonderful!
Need I say much about this dish except that is amazing and fresh and a nice escape from the salads of the day.
I love salads but these raw pasta dishes take it to another level of raw foods that I can really get into.
Using fresh herbs will also add to the freshness and flavor. The oregano in the meatballs was just delicious. And sprinkle some of the herbs on top too.
It's a dish full of flavors that mingle together for a tasty sensation. You may find yourself craving this raw dish again and again!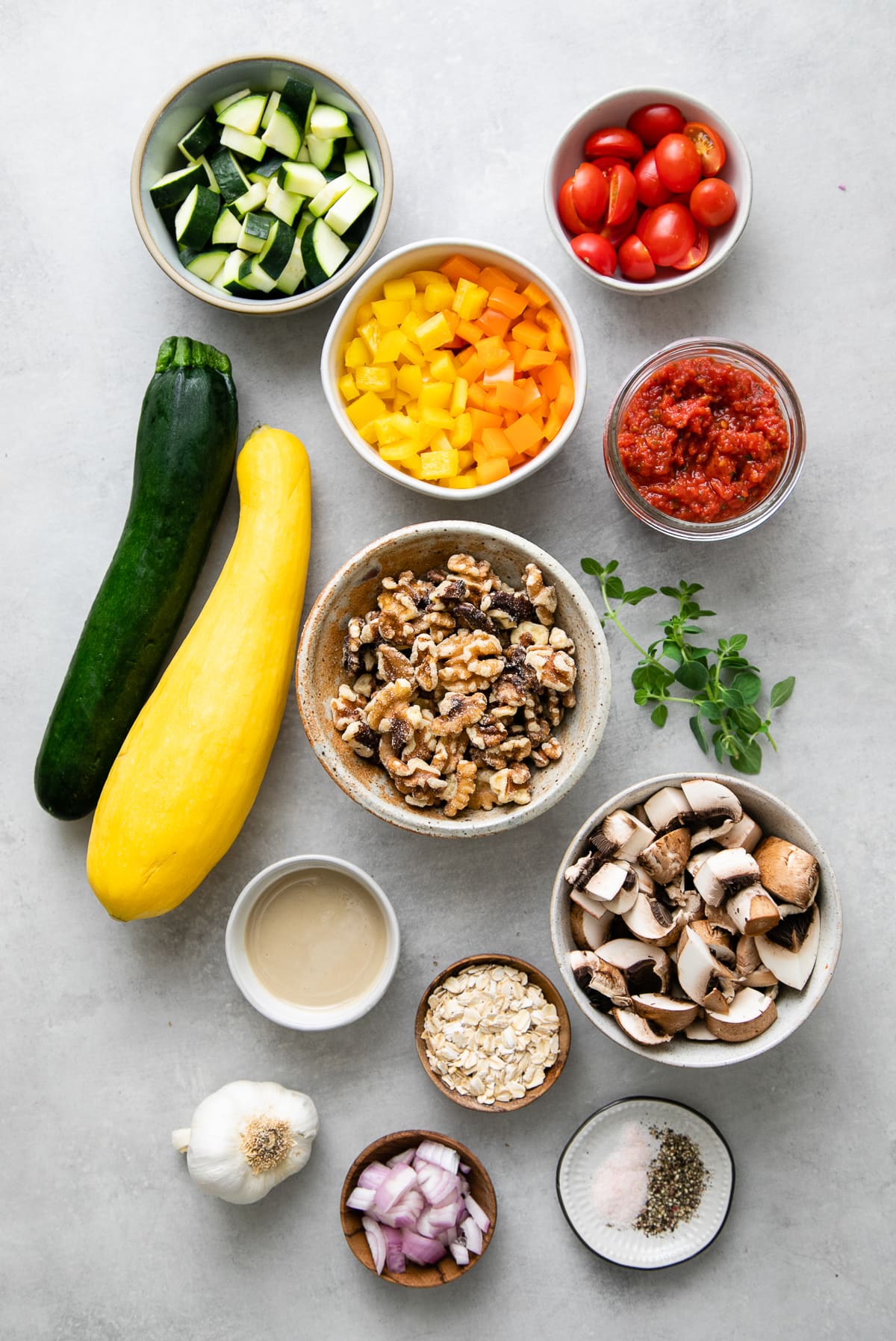 Ingredients You'll Need
In this recipe, zucchini is spiralized into noodles, raw meatballs are made with walnuts and mushrooms, veggies are diced and served with a raw marinara sauce for a raw pasta dish to enjoy anytime of year.
Here is everything you will need:
Zucchini + Yellow Squash – for the vegetable noodles
Raw Marinara Sauce (this recipe is delicious using basil)
Bell pepper – orange and yellow
Cherry tomatoes – or your favorite tomatoes diced
Mushrooms – baby bella, portobello, or white
Walnuts
Oats – old-fashioned, quick or oat flour
Garlic
Shallot
Tamari – or nama shoyu
Fresh oregano
Salt + pepper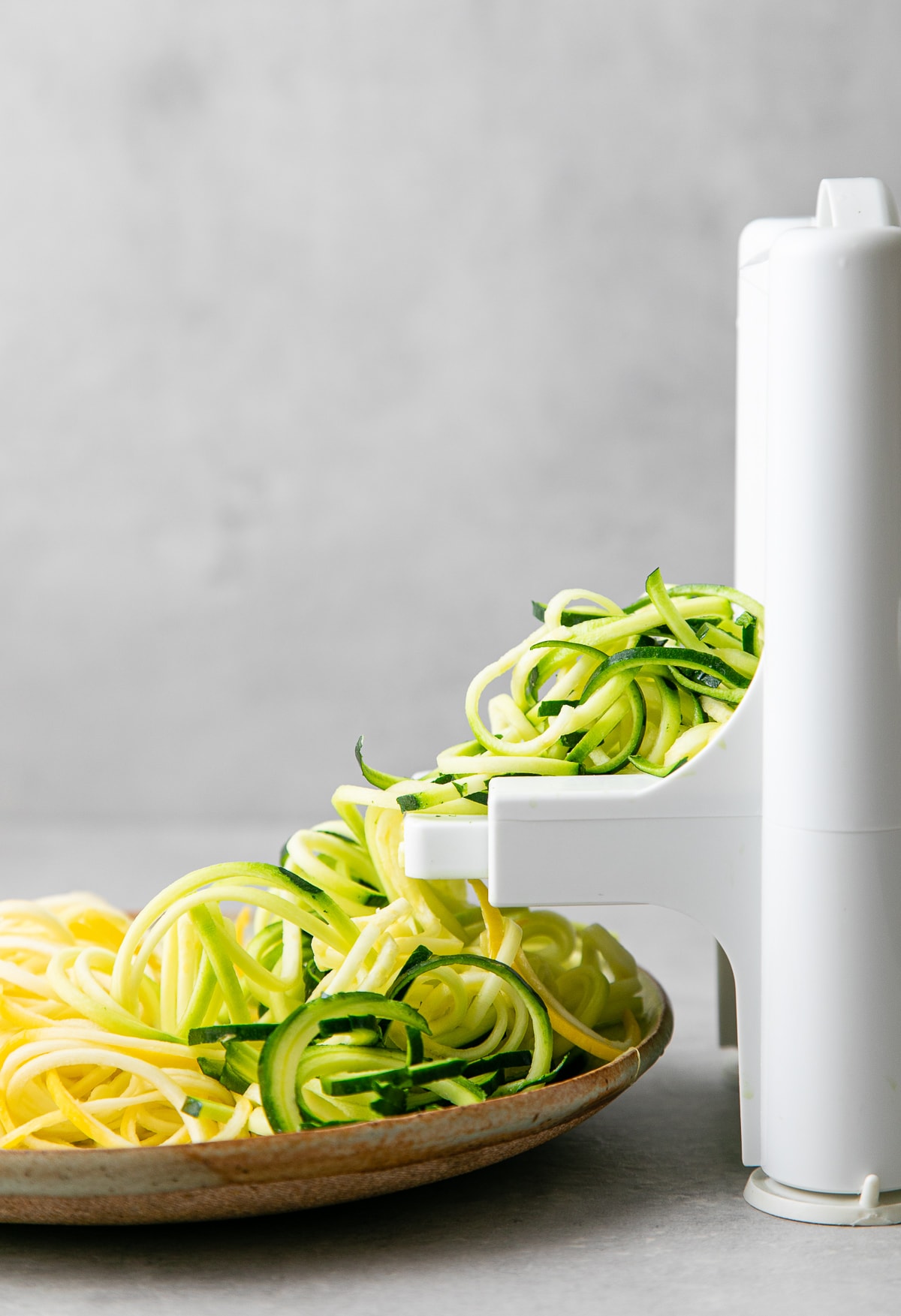 How To Make Raw Pasta Primavera
(Note – The full printable recipe is at the bottom of this post)
Prep the veggies. Spiralize or julienne (either with a julienne tool or spiralizer (affiliate links)) your zucchini & squash for the pasta. Prepare your diced veggies.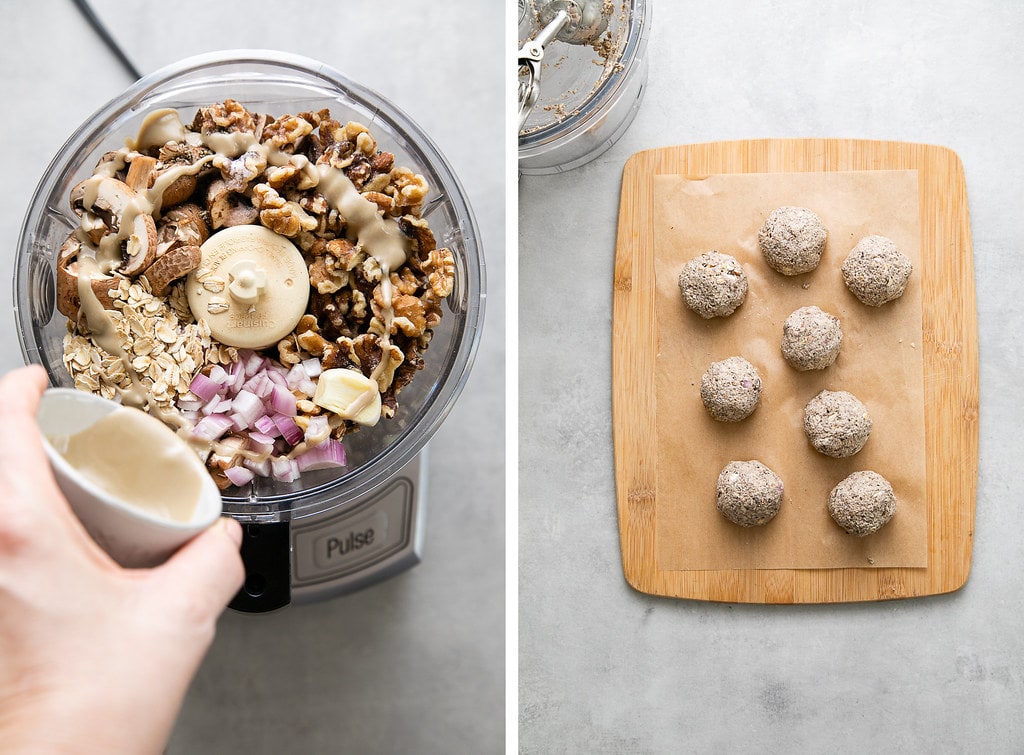 Make the meatballs. Place ingredients for the meatballs into your food processor/high speed blender, blend until well combined but still a bit chunky (not too chunky but just a very minimal amount). Scoop out and form into balls by gently flipped them back and forth between your palms then use your fingers to mold, making a nice circle shape.
Make the marinara sauce: Rinse equipment that the meatballs were made in and start the marinara sauce according to the Raw Marinara Sauce recipe. Alternatively, make the sauce a day ahead, or before the meatballs.
And that's it, it comes together in under 30 minutes for a fresh lunch or dinner!
Tips + Faqs
What do raw meatballs taste like? Made with walnuts and mushrooms, the mixture is somewhat soft, but holds a shape. You can expect the flavor to be fresh and the texture somewhat soft like a pate.
How do you store leftovers? Leftovers can be stored in the refrigerator for up to 3 days. The raw meatballs are more time sensitive and should be eaten as soon as possible. The remaining sauce and veggies will last a few extra days, if stored properly.
Serving Suggestions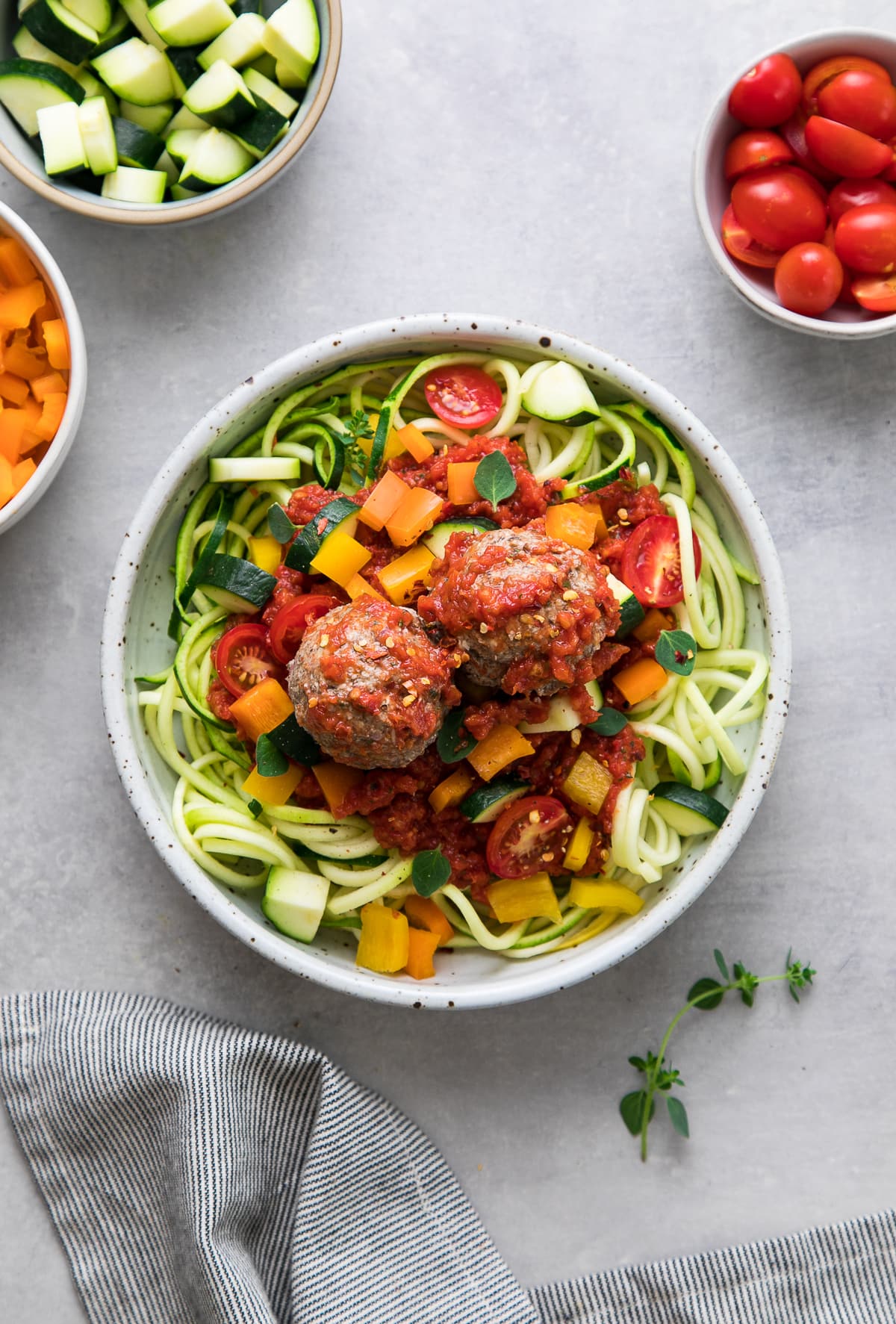 More Easy Raw Recipes
Let me know if you try this raw pasta recipe or have a question! Leave a comment and rate it below. I love to hear what you think, or any changes you make.
Print
RAW PASTA PRIMAVERA + MEATBALLS
Updated: Raw Pasta Primavera recipe originally published January 2013 and has been updated June 2020 with new photos and helpful tips.
FOLLOW TSV on Facebook, Instagram, Pinterest or RSS for more updates and inspiration!