A VERY GOOD VEGAN SPLIT PEA SOUP
Vegan Split Pea Soup is a hearty mix of green split peas, carrots, celery, onion and green cabbage simmered with flavorful herbs – it's my all-time favorite split pea soup recipe! Includes slow cooker, Instant Pot + stovetop methods.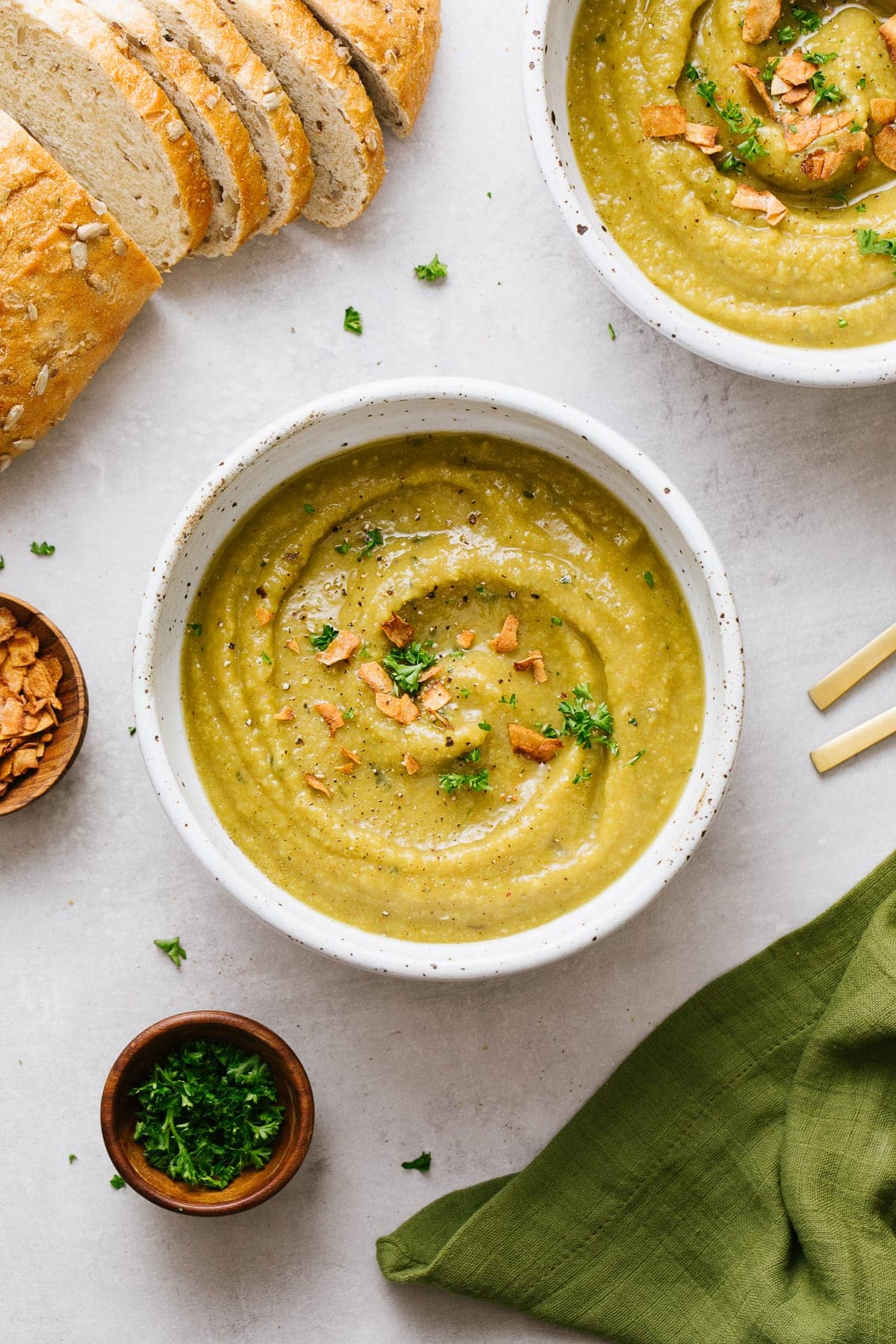 Let's start the new year with a big bowl of warm and comforting vegan split pea soup! Virtually fat-free, split peas are an excellent way to add protein and fiber to your diet.
This soup is inspired by a recipe my mom has made for many years. We just had it over the holidays and it was as good as ever!
I do have to admit after making it myself, it never seems to taste as good as my mom's. It must be that special touch she has. Even so, if she can't come and cook it for us, it's still wonderful and I know you're going to love it!
Thick and hearty, this vegan split pea soup is filled with the usual mirepoix and medley of spices, plus added cabbage for extra heftiness and flavor.
Whether you choose to cook it in your slow cooker, pressure cooker or on the stove top, it's extremely healthy and so easy to make. It's a perfect vegan soup for the chilly winter season!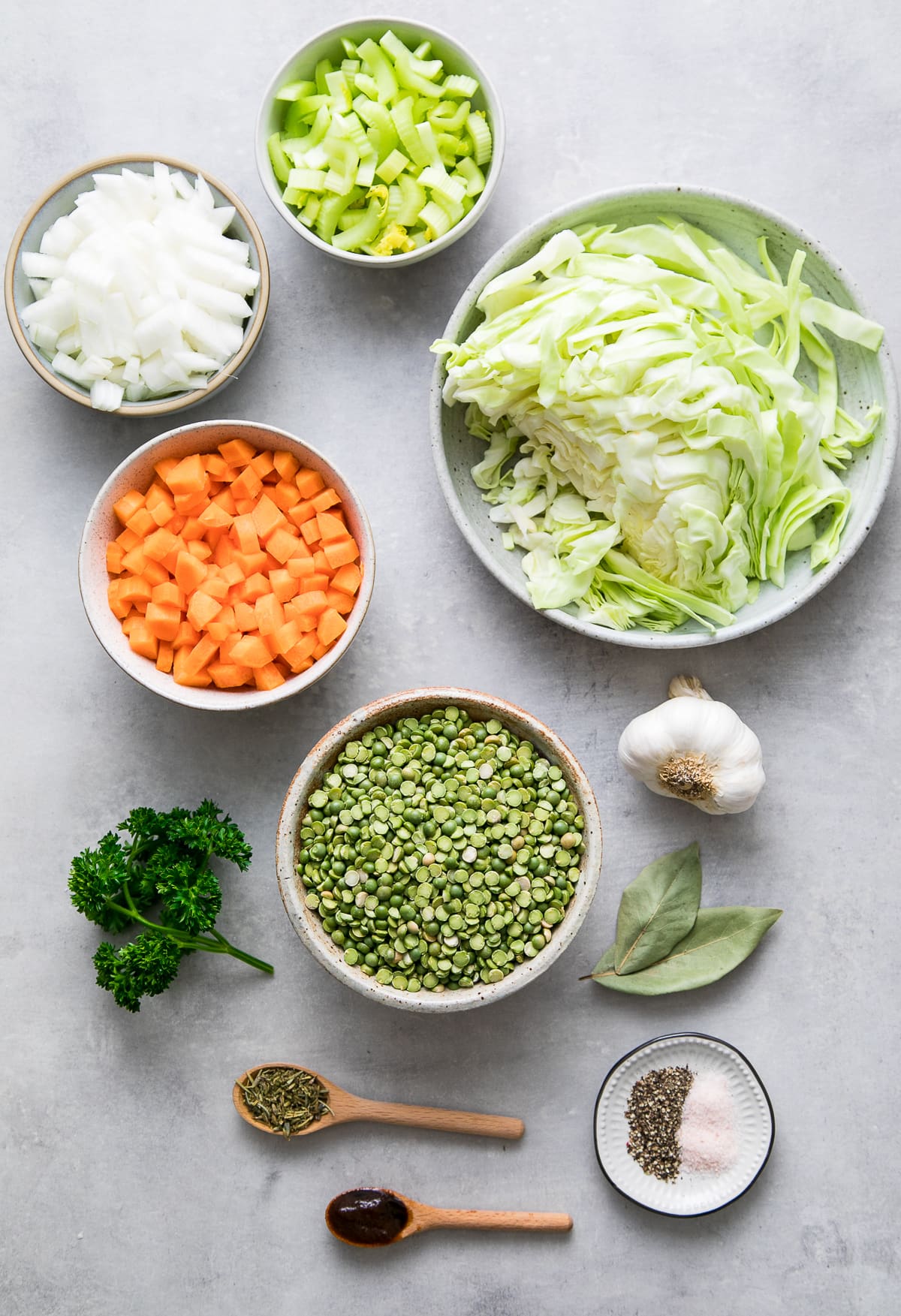 Ingredients You'll Need
In this recipe, split peas, carrots, celery, onion, cabbage, and herbs are simmered to perfection for a delicious thick and hearty vegan soup perfect for lunch, dinner or meal prep.
Here is everything you will need:
split peas
cabbage – green, napa or savoy cabbage
onion – any color will do
garlic
celery
carrots
herbs de provence + bay leaves
vegetable broth – I use and recommend 1 teaspoon Better Than Bouillon Veg Paste (affiliate link) with water as your liquid base. A jar lasts a long time and you control the amount.
Now you're ready to put it all together!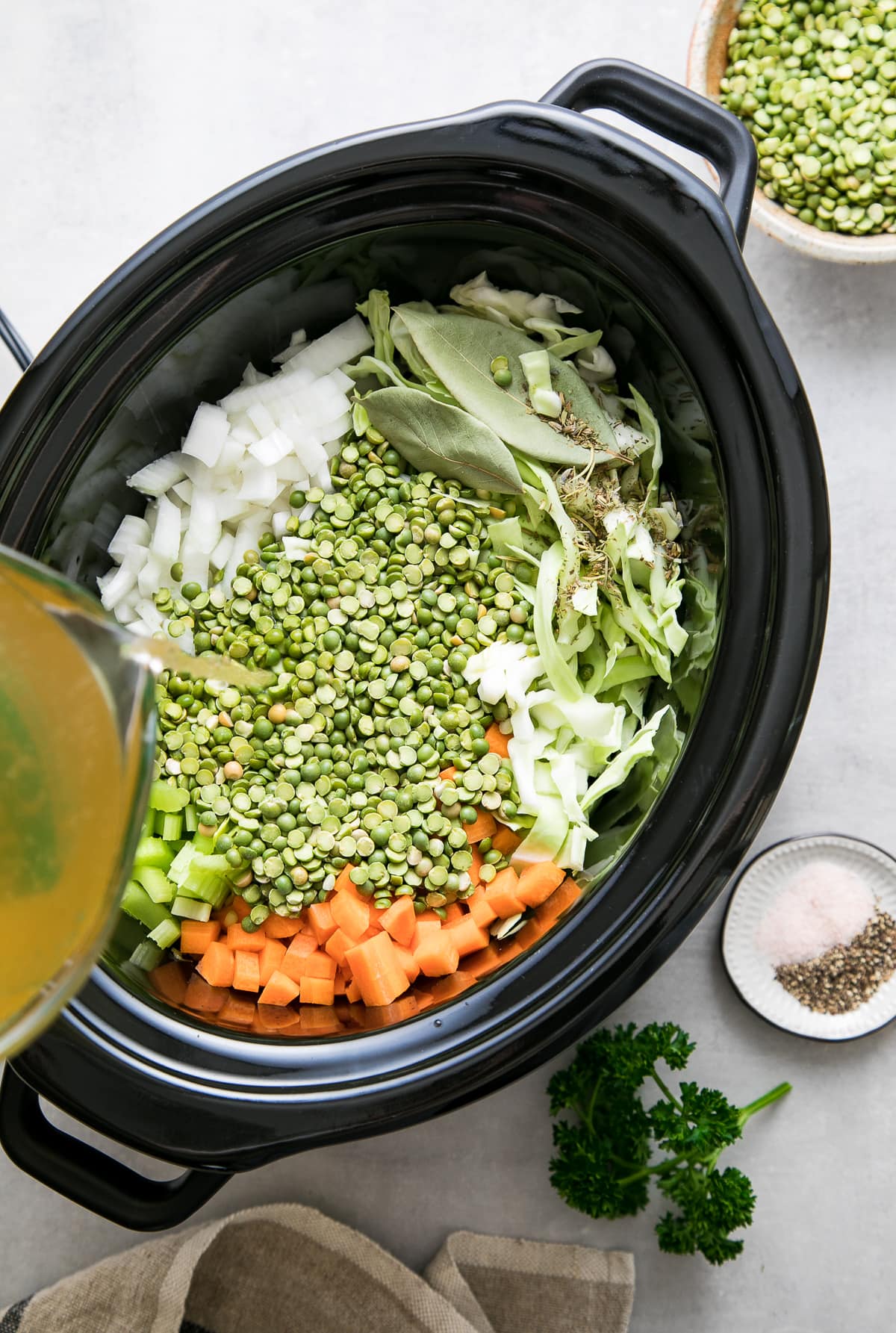 How To Make Vegan Split Pea Soup
Whether making split pea soup in a slow cooker, Instant Pot or on the stovetop, it only requires a few simple steps.
(Note – The full printable recipe, with instructions for stovetop, slow cooker and Instant Pot are at the bottom of this post)
Place the ingredients into your slow cooker (shown above), finishing with the liquids to prevent splashing.
Cook on LOW for 8 – 10 hours or HIGH for 5 – 6 hours.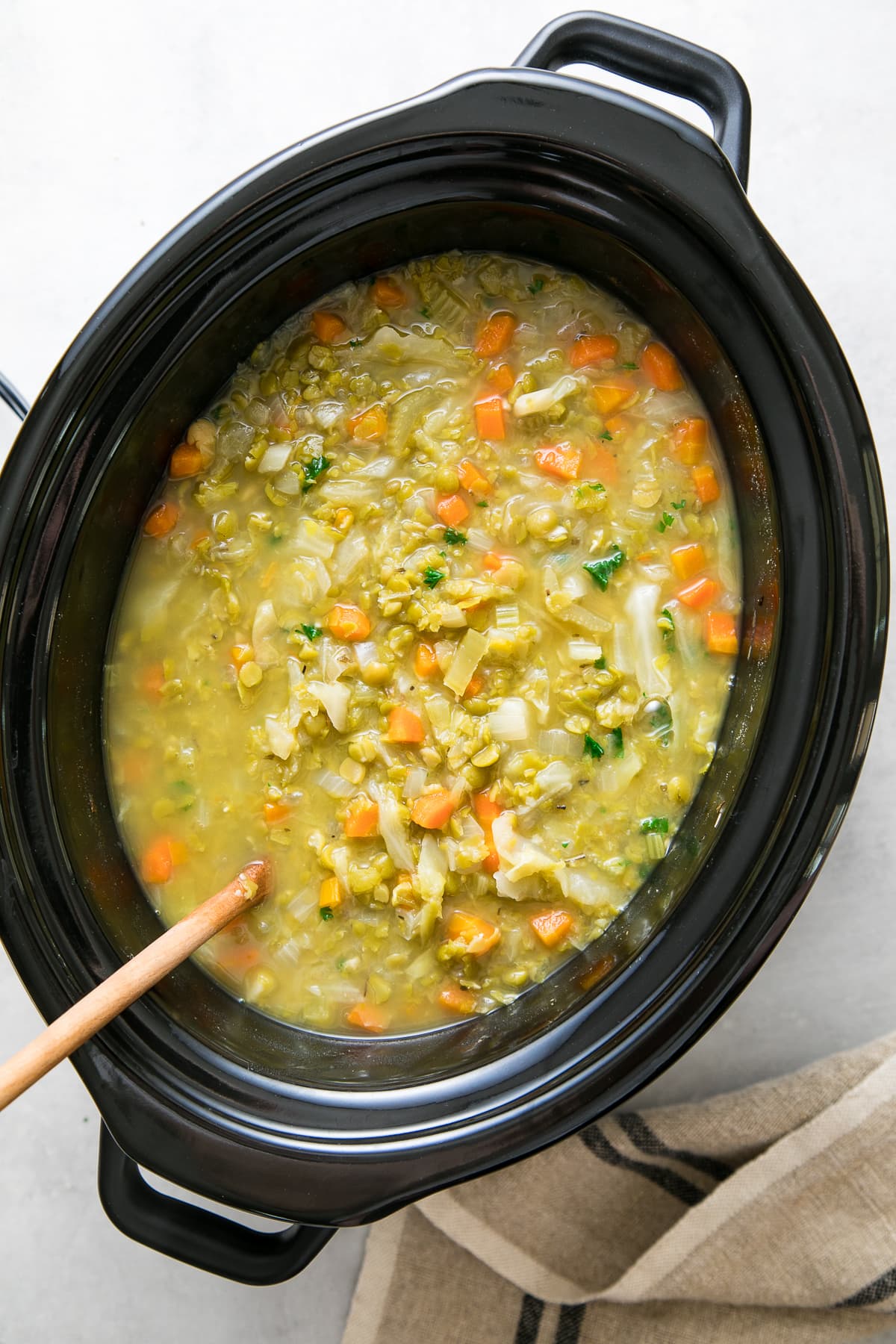 Above picture on the right shows soup once done and stirred well. Peas have broken down nicely creating a nicely textured soup.
Let it cool a bit, then remove the bay leaves.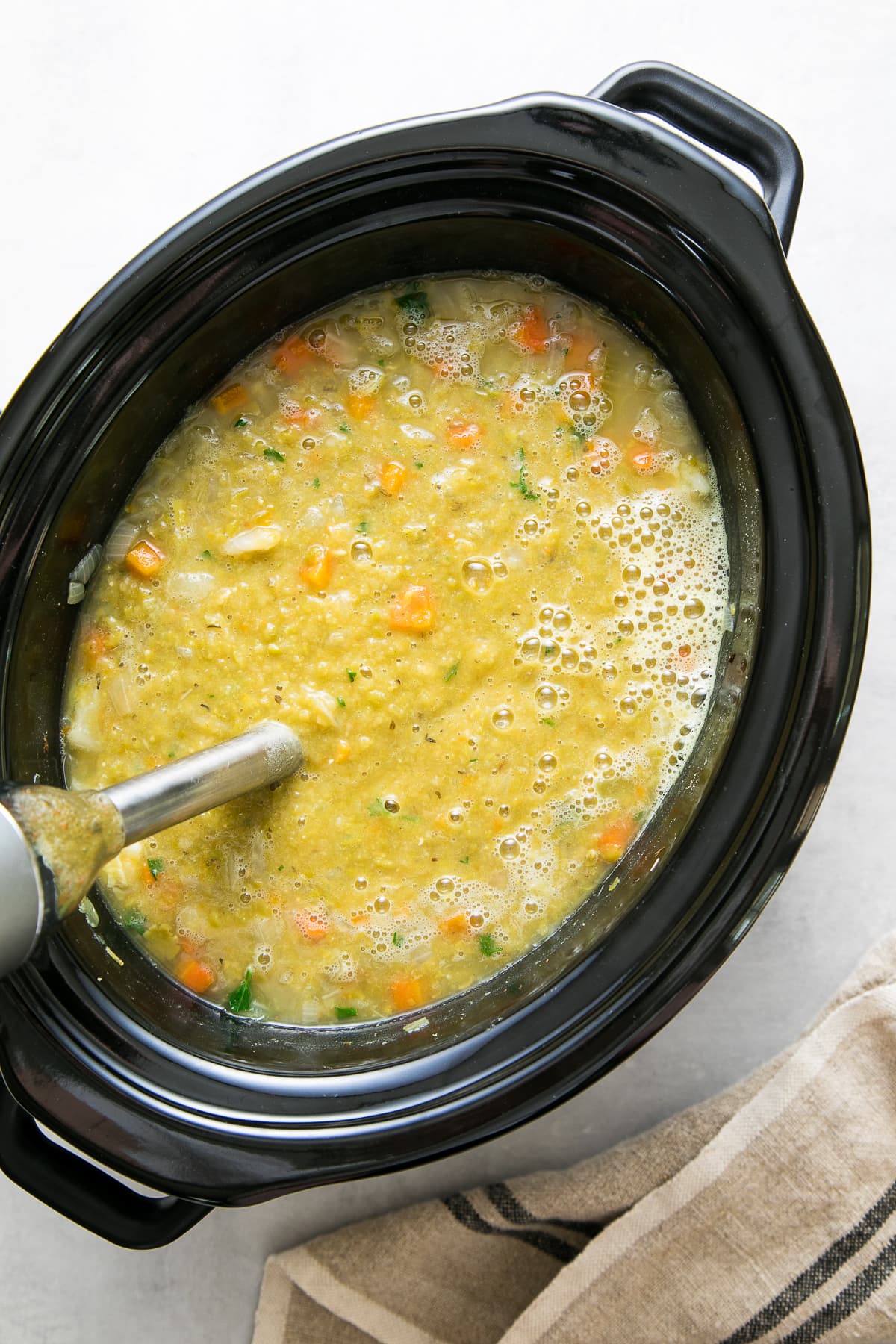 Using an immersion blender (affiliate link), puree until desired consistency. You may like to puree the soup until it is silky smooth, or blend it for just a second at a time until your desired chunkiness is achieved. You could also eat it as is if you prefer.
Top Tips
Use anywhere between 4 – 7 cups of water, depending on how thick you like your split pea soup. Using 4 cups of water will yield a super thick soup, thick enough to stand a spoon in, while adding more will thin with each cup of water added. I typically use 5 – 6 cups of liquids.
Make sure to add the split peas first, as they will cook best at the bottom of the pot.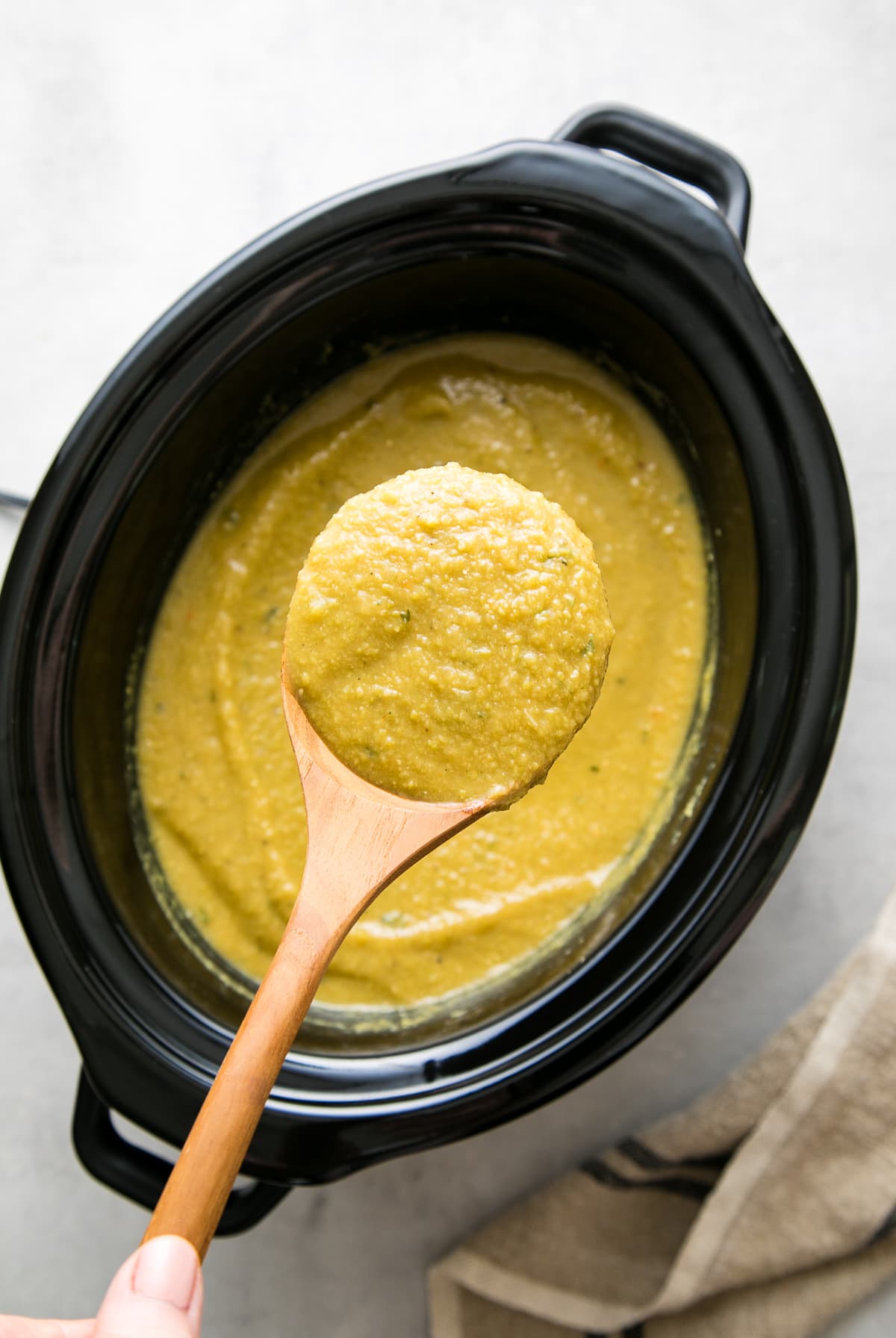 How To Store
Refrigerator: Leftovers will keep for 5 – 6 days in the refrigerator, stored in a covered container.
Freezer: This vegan split pea soup is freezer friendly and freezes well for up to 2 – 3 months. To freeze, let cool completely and store in

freezer safe containers

 (affiliate link), leaving 1/2 inch head space for expansion. You can also freeze larger portions in large ziplock bags (remove as much air as possible before zip locking). Let thaw before reheating.
Reheat: Simply re-warm on the stovetop over low heat until warmed through. Alternatively, reheat in the microwave using 30 – 60 second intervals, stirring after each, until warm.
Serving Suggestions
This split pea soup is super hearty on its own, but it never hurts to add a topping or something extra on the side. Here are a few of my favorite options:
More Easy Soup Recipes!
If you try this split pea soup recipe, please let me know! Leave a comment and rate it below. I love to hear what you think, or any changes you make.
Print
A VERY GOOD SPLIT PEA SOUP (VEGAN)
Updated: Vegan Split Pea Soup was originally published in January 2017. It has been updated with new photos and helpful tips in April 2020.
FOLLOW TSV on Facebook, Instagram, Pinterest or RSS for more updates and inspiration!