This vegan potato leek soup recipe featuring tender potatoes, mellow flavored leeks and simple herbs is made healthy and easy! With only 6 ingredients (plus a few basics), this creamy soup is made without the cream, is low-fat with an oil-free option, and ready in a quick 30 minutes.
When you're looking for an easy weeknight meal, this one-pot vegan soup brimming with potatoes and leeks is a comforting, cozy meal, and pairs well with this Vegan Ceaser Salad on the side. It's also great for meal prepping, and freezes well too!
How To Make Potato Leek Soup
Making vegan potato leek soup is so easy and only requires 3 steps, plus prepping. So gather your ingredients and let's get started!
What you'll need:
Potatoes: My favorite potatoes for this soup is Yukon gold potatoes, but russet potatoes work too. Feel free to peel your potatoes, especially if you want an ultra creamy soup. Leaving the skin on does have its nutritional benefits, but may not blend up as smooth. But if you're like me, a little chunkiness is welcome!
Leeks: Use 3 medium sized leeks, or 2 large , using the white and light green parts only. When prepping leeks be sure to rinse them well under cool running water to remove any sand or dirt that has become lodged between the leek sheaths. Here's a handy visual guide on How To Cut & Clean Leeks. Healthy Tip: When sauteing  the leeks use water instead of oil to make an oil-free soup.
Herbs: I used dried thyme, but a few fresh sprigs would be great too. I've also made this soup with one of my favorite herb blends for soup, herbes de provence, that is fantastic as well. You also find this herb in my Potato, Leek & White Bean Soup. And don't forget adding a little parsley to the soup before serving, it adds a bright, fresh flavor!
Liquids: Use vegetable broth, water or a combo of the two. Tip: For the most flavor, using all vegetable broth will yield the most flavorful broth.
Saute: Start with the leeks by sauteing them for 7 – 10 minutes. When ready, they'll be soft and tender. Tip: Make sure to keep an eye on the temperature so they don't burn.
Simmer: Now we bring it all together by adding the potatoes, herbs, bay leaves, liquids and salt, let simmer for 15 minutes. Will be ready when potatoes are soft and tender.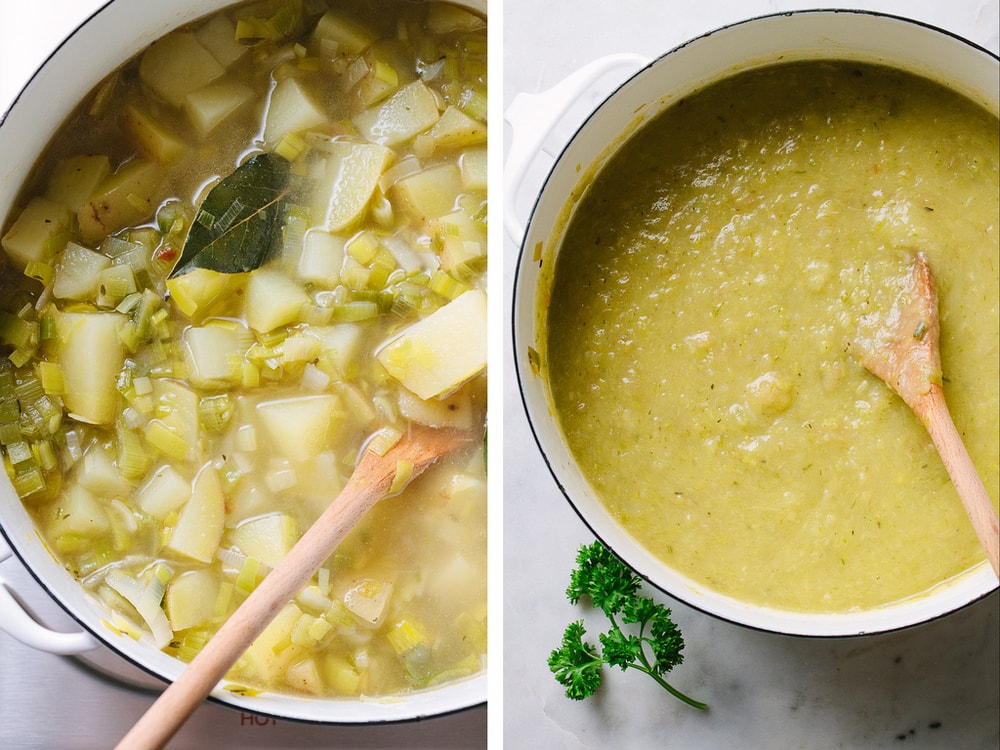 Puree: Finally, soup is done! Either eat as is (as shown above left), or puree your soup (above right) using an immersion blender or food processor. Feel free to find that happy medium between chunky and smooth!
Serve topped with garlicky chickpea croutons and chopped fresh parsley, and pair with your favorite crusty artisan bread or gluten-free Socca Flatbread to soak up the juices.
How To Store Potato Leek Soup
Leftovers can be stored in the refrigerator for up to 1 week in an airtight container. It's also freezer friendly and can be stored in the freezer for up to 3 months. Defrost the soup in the refrigerator overnight and reheat on the stovetop over medium heat until warmed through.
This Potato Leek Soup is:
dairy free
gluten free
low fat
healthy
& super easy to make
Looking for more ways to use potatoes or leeks? See all Potato and Leek recipes on TSV, you may find a new favorite!
Print
CREAMY VEGAN POTATO LEEK SOUP
Simple and hearty, vegan potato leek soup is blended to creamy smoothness and ready in 30 minutes! Recipe adapted from Simply Recipes.
Author: Julie West
Prep Time:

5 min

Cook Time:

25 min

Total Time:

30 minutes

Yield:

Serves 4

Category:

Entree, Soup

Cuisine:

Vegan
Ingredients
1 tablespoon

olive oil or 1/4 cup water (for water saute)

3

medium leeks (use white and light green parts only)

2 1/2

lbs. potatoes, cubed 1/2 inch (peeled or with skin on)

1

bay leaf

1 1/2 teaspoon

s dried thyme or Herbes de provence

4 cup

s water or low-sodium vegetable broth
mineral salt, to taste

1/4 cup

chopped parsley, to garnish
Instructions
Prep: Leeks, start by removing and discarding the root ends and thick dark green parts. Cut the leeks in half lengthwise and rinse each half under cold water, pulling apart the layers to remove any sand or debris nestled inside, slice the leeks crosswise. Alternatively, slice the leeks, then put in a colander and wash well under running water. Should yield 4 – 5 cups. Cut potatoes into 1/2 inch cubes. Feel free to peel the potatoes or leave the skin on (I left the skin on).
Saute: In a large dutch oven or pot, heat the oil/water over medium heat. Add the leeks and cook, stirring frequently, until soft and wilted, about 10 minutes. Adjust the heat as necessary so as not to brown the leeks.
Simmer: Add the potatoes, broth, bay leaves, herbs, salt to pot and bring to a boil. Reduce heat, cover and simmer on low for 15 minutes, or until the potatoes are fork tender.
Puree: Remove the bay leaves, and puree the soup using a hand-held immersion blender until smooth. Alternatively, use a regular blender to puree the soup in batches. Taste for seasoning.
Serve: Serve warm with chopped parsley and a side of crusty artisan bread.
Store: Soup can be kept in the refrigerator for up to 1 week in an airtight container. It's also freezer friendly and can be stored in the freezer for up to 3 months. Defrost the soup in the refrigerator for 12 hours or so and reheat on the stovetop over medium heat until warm.
NOTES: If using a regular blender to puree the soup, fill the jar no more than halfway and leave the hole in the lid open to let any heat escape. Pour blended soup into a clean pot. Make take two batches.