Curried Chickpea Salad – Full of flavor and texture, this vegan curry chickpea 'chicken' salad is quick and easy to make and perfect for a healthy salad, wrap, or sandwich filler!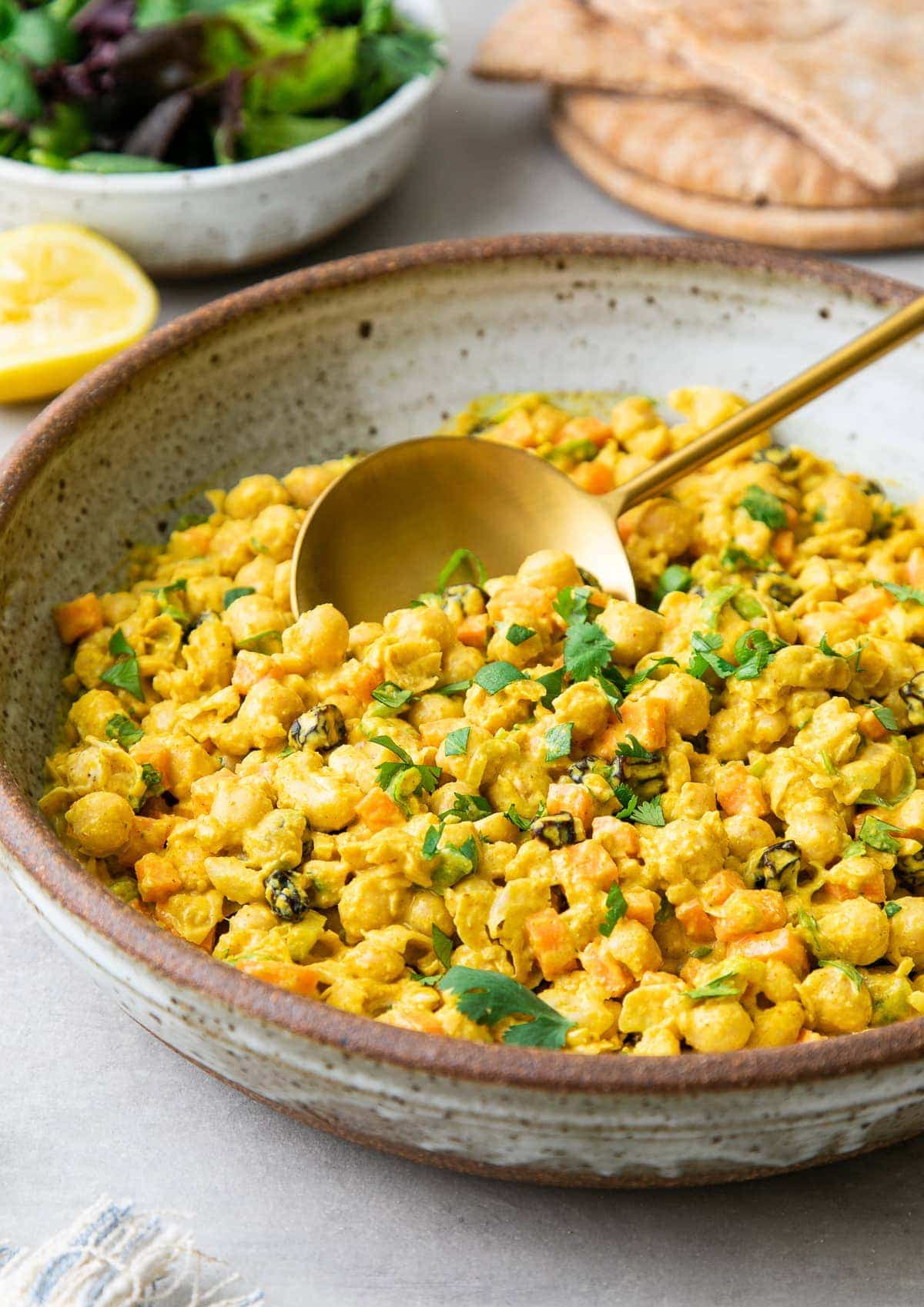 Why We Love This Recipe!
Creamy chickpea salads are 100% crave-worthy! I can literally sit and eat the whole bowl within a day.
You may already be familiar with the classic Mashed Chickpea Salad, Sonoma Chickpea 'Chicken' Salad, or this flavorful Cranberry Walnut Chickpea Salad. All are full of fiber, protein, and well-balanced!
Honestly, I can't say that I love one more than the other. They each have a different flavor and are equally delicious in my book. But if you're a curry lover, you will be smitten over this curry chickpea salad!
I love the combination of curry with the sweetness of the raisins, along with the crunch from the carrots and cashews. It's a perfect blend of flavor and texture!
The ingredients for this curry chickpea salad are simple and can be put together easily, within 10 minutes. Make it ahead and store it in the refrigerator for up to a week for easy-to-go lunches or to have on hand for snacking.
But I can almost guarantee this will not be in your fridge for that long. It will be gone almost as soon as you make it!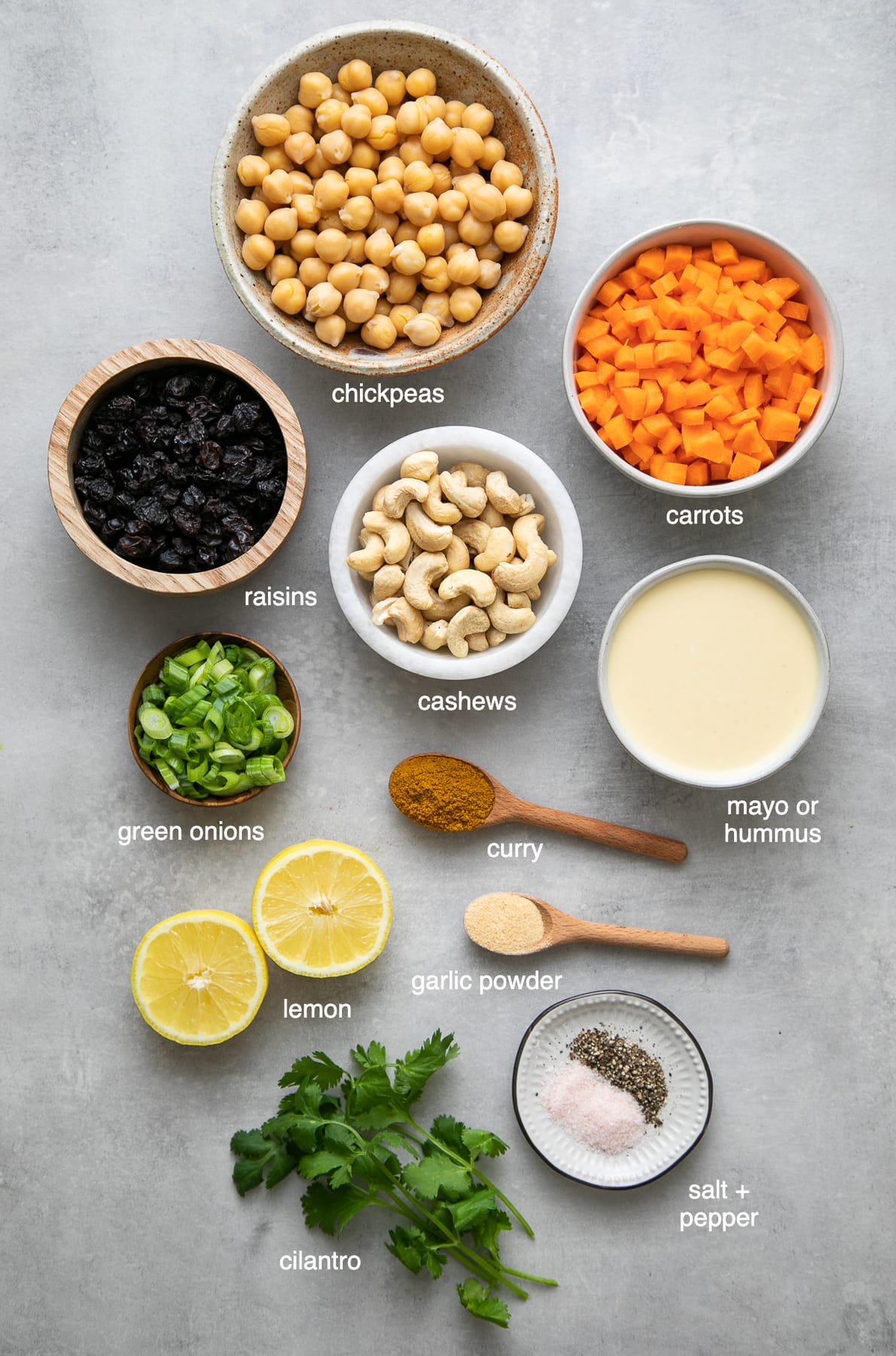 Ingredient Notes
Inspired by a trip to Trader Joe's, I saw their Curry Chicken Salad and made us all a vegan version. The ingredients came from the ingredient list on the package and did not disappoint!
Here is everything you will need:
Chickpeas – use canned or fresh cooked
Carrots – replace with diced red bell pepper for variation
Raisins – adds a touch of sweetness, offsetting the curry
Green onions
Cashews – omit if you have nut allergies
Vegan Mayo – use store bought or use this easy homemade vegan mayo (can also sub with thinned hummus or tahini, as noted in the recipe card)
Cilantro – adds a touch of herbaceousness, can omit if you're not a fan
Lemon – adds overall brightness
Curry + garlic powder
Salt + pepper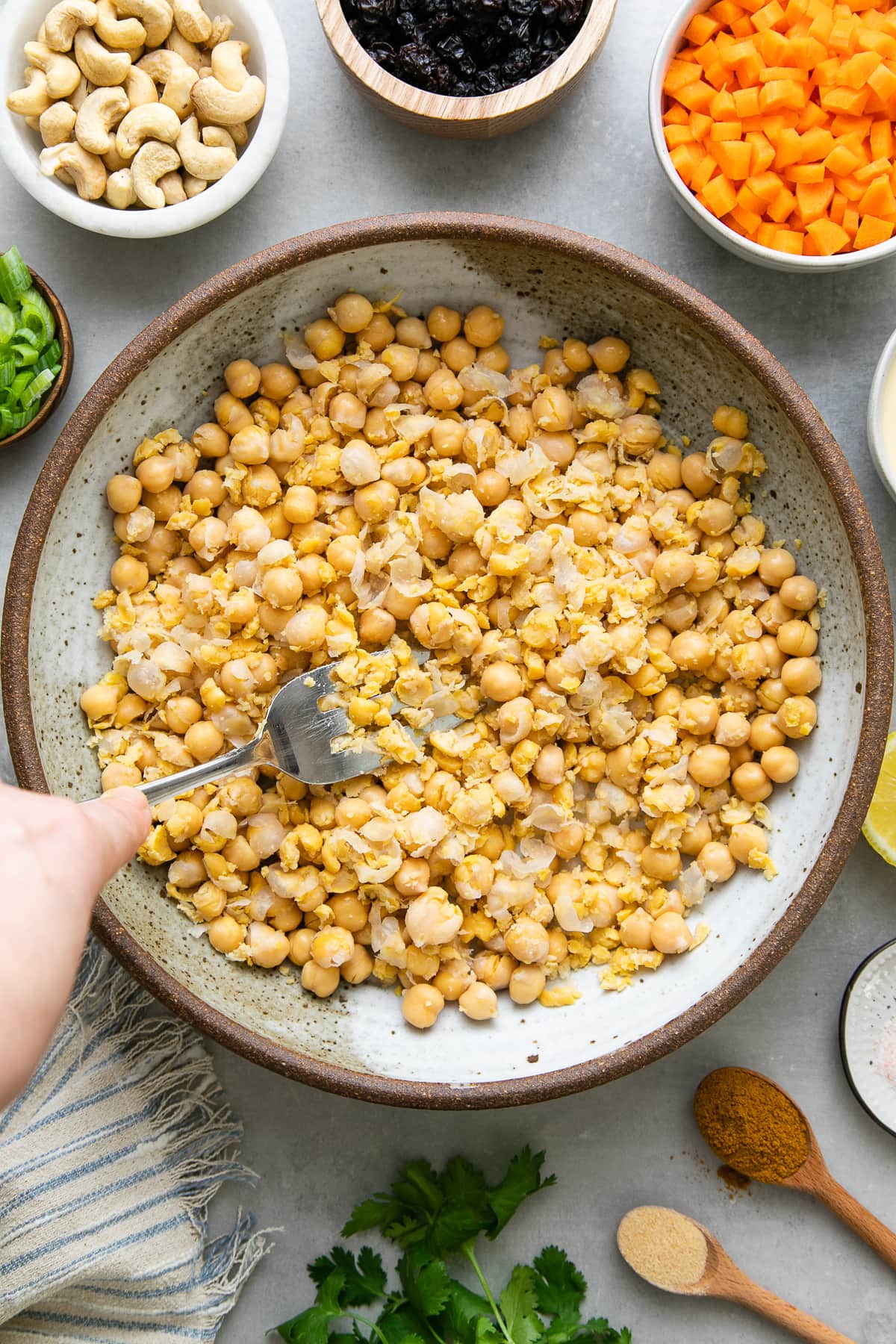 How To Make Curry Chickpea Salad
Mash chickpeas (or leave them whole): In a medium mixing bowl, add chickpeas and roughly mash about 1/2 – 2/3 of the beans with the back of a sturdy fork or potato masher.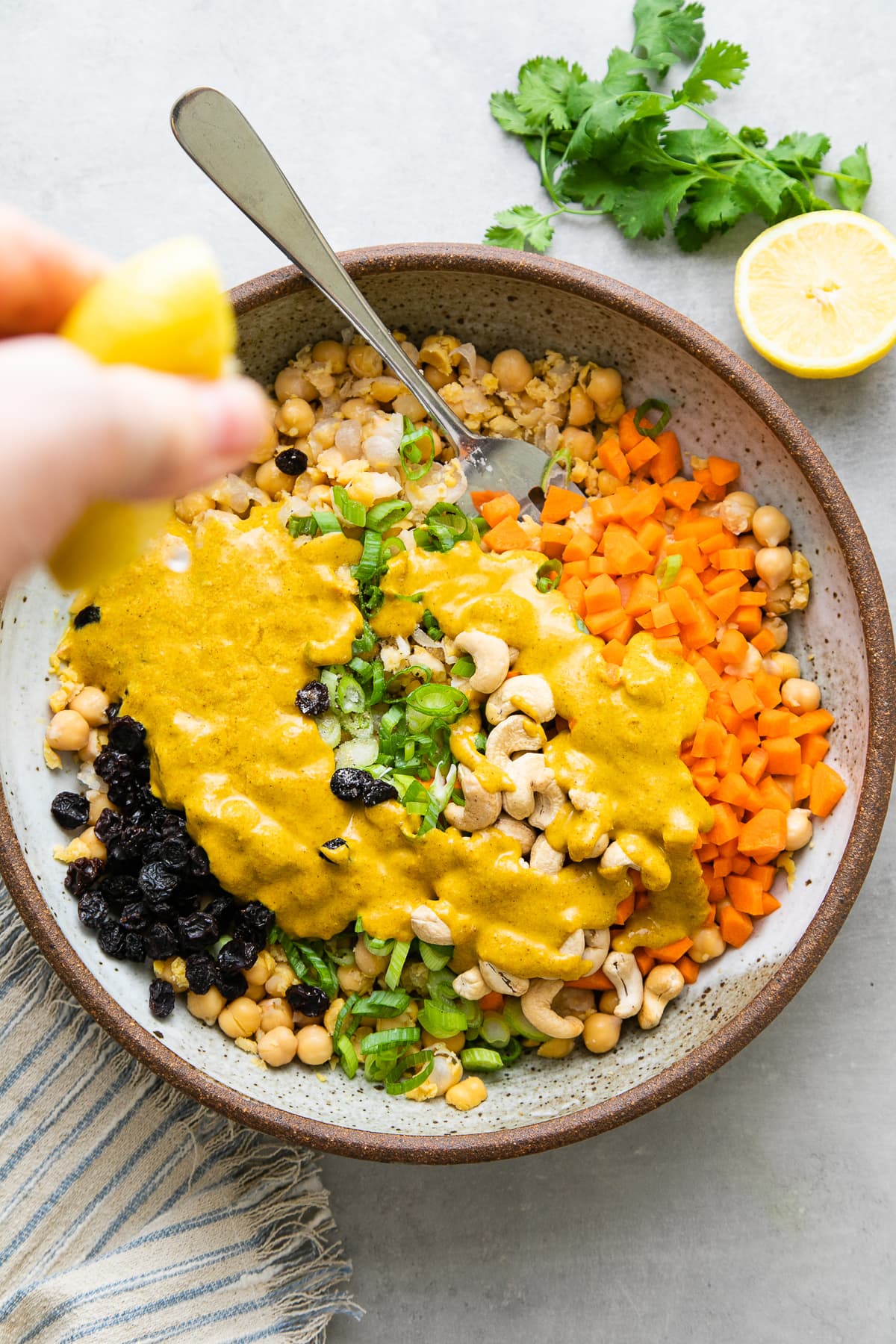 Dressing: Whisk together the vegan mayo or thinned hummus/tahini with curry and garlic powder.
Assemble: Add in the carrots, scallions, raisins, cashews, and pour dressing over top along with a big squeeze of lemon, mix well to combine. Taste for flavor, adding salt and pepper to taste.
Top Tips
Mash the chickpeas or leave them whole. Mashing is great when using as a sandwich filler, helping it to bind together. Leaving them whole is great too!
Add a little zing. Vary up the dressing by adding a tablespoon or so of apple cider or white wine vinegar for a slight tang.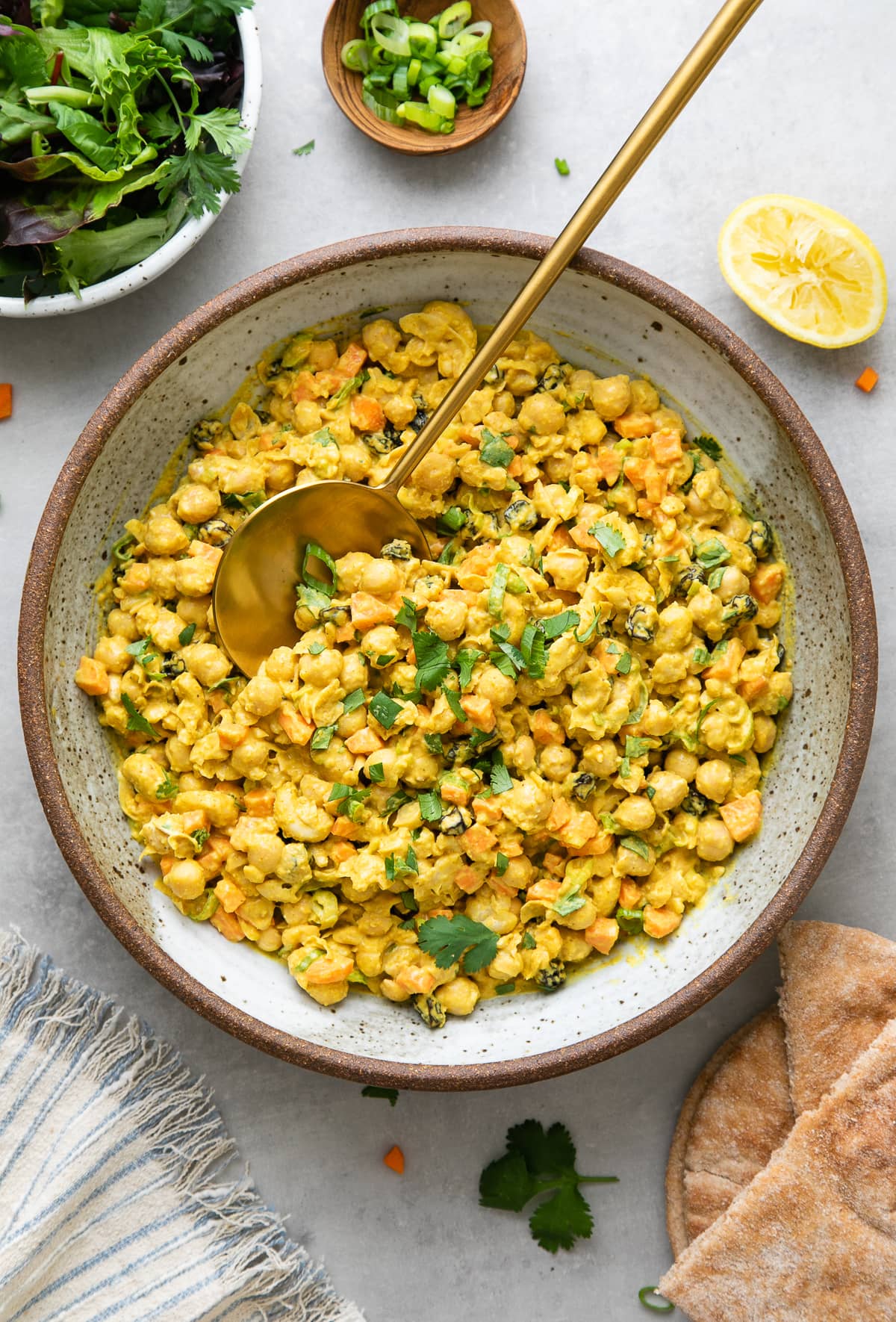 How To Store + Meal Prep
Refrigerator: Leftovers can be stored in the refrigerator for up to 5 – 6 days in a covered container.
Meal prep: Curried Chickpea Salad is great for meal prep, using any of the suggestions below, and can be stored in serving size portions for grab-n-go meals or snacks.
How To Serve Curried Chickpea Salad
Enjoy this salad alone or on a bed of leafy greens.
Scoop it up with fresh sliced red bell peppers or crackers.
Turn it into a hearty Curried Chickpea 'Chicken' Salad Sandwich.
Make lettuce wraps (shown below) or roll up in tortillas with leafy greens.
It's great with fresh grapes for sweetness and juiciness.
However you choose to serve your curried chickpea salad, I encourage you to gather your ingredients and give it a try.
I think you will find it to be as good as the other chickpea salad recipes here. In fact, it may just become your new favorite!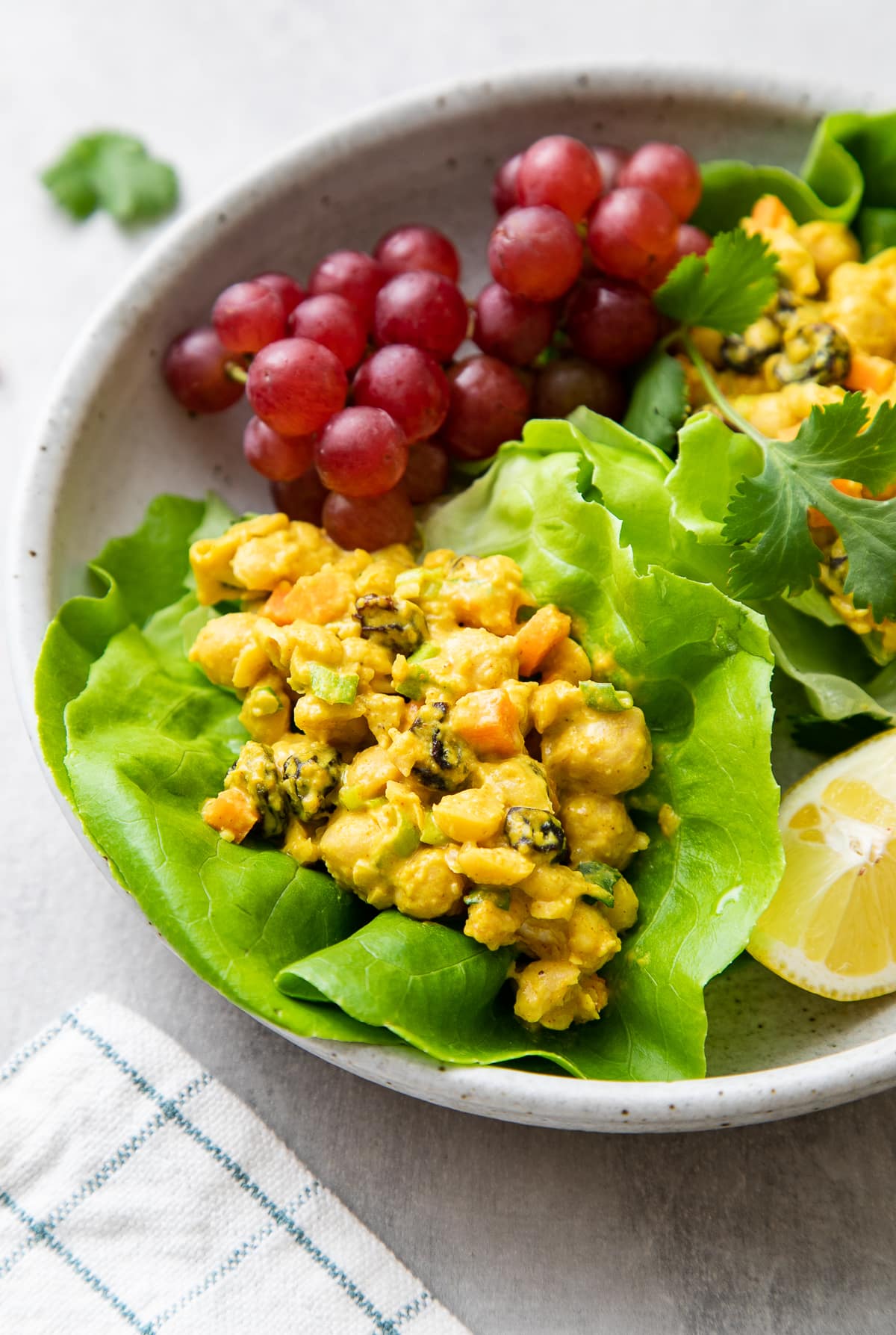 More Easy Chickpea Salad Recipes
If you try this healthy chickpea salad recipe, please let me know! Leave a comment and rate it below. I love to hear what you think, or any changes you make.
Print
BEST CURRIED CHICKPEA SALAD
Updated: Curried Chickpea Salad was originally published in January 2014. It has been retested and updated with new photos and helpful tips in June 2020.
FOLLOW TSV on Facebook, Instagram, Pinterest, or RSS for more updates and inspiration!