Nourish Bowls – Keep warm and nourished with this nutrient dense Roasted Nourish Bowl recipe featuring sweet potatoes, brussels sprouts, chickpeas, fresh spinach, quinoa and avocado! It's easy to make and ready in under 1 hour.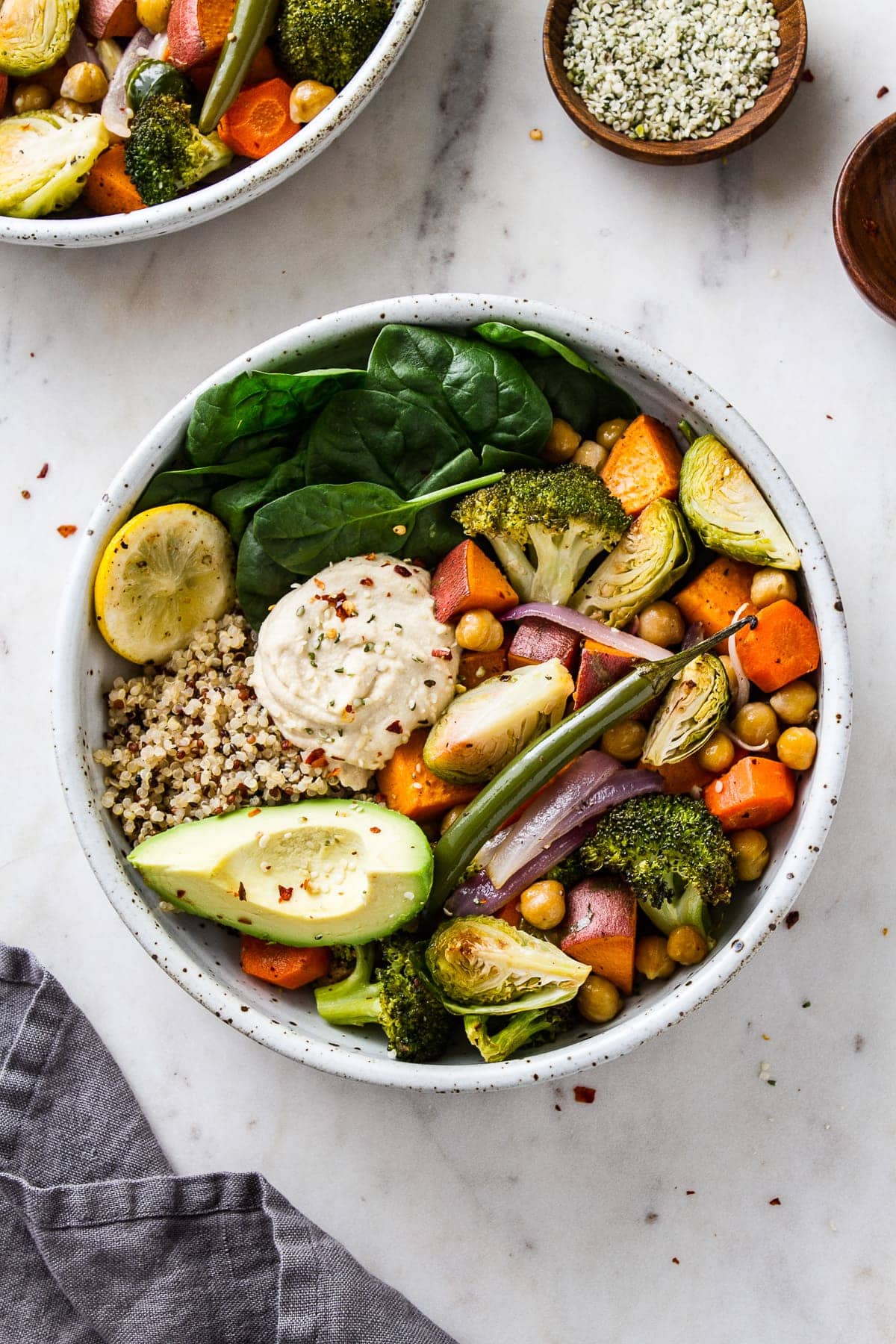 Last spring I shared this Everyday Nourish Bowl recipe which is full of fresh vegetables and thought it'd be a good idea to have a roasted version here too for the cooler months. It's just as well-balanced and delicious!
This time of year as the season changes from summer to autumn I find myself craving warm baked goods and just about anything roasted. At the moment I've been obsessed with making these pumpkin and banana breads.
Between easy vegetable bowl recipes, like this Roasted Nourish Bowl, that are great for lunch, dinner and meal prep, and my breads that I eat in the morning (and as a snack or dessert), I'm ready for the cooler months to come. And if you're anything like me, you'll appreciate the simplicity of this nutrient dense nourish bowl!
Enjoy every bite, and be warm & well-nourished!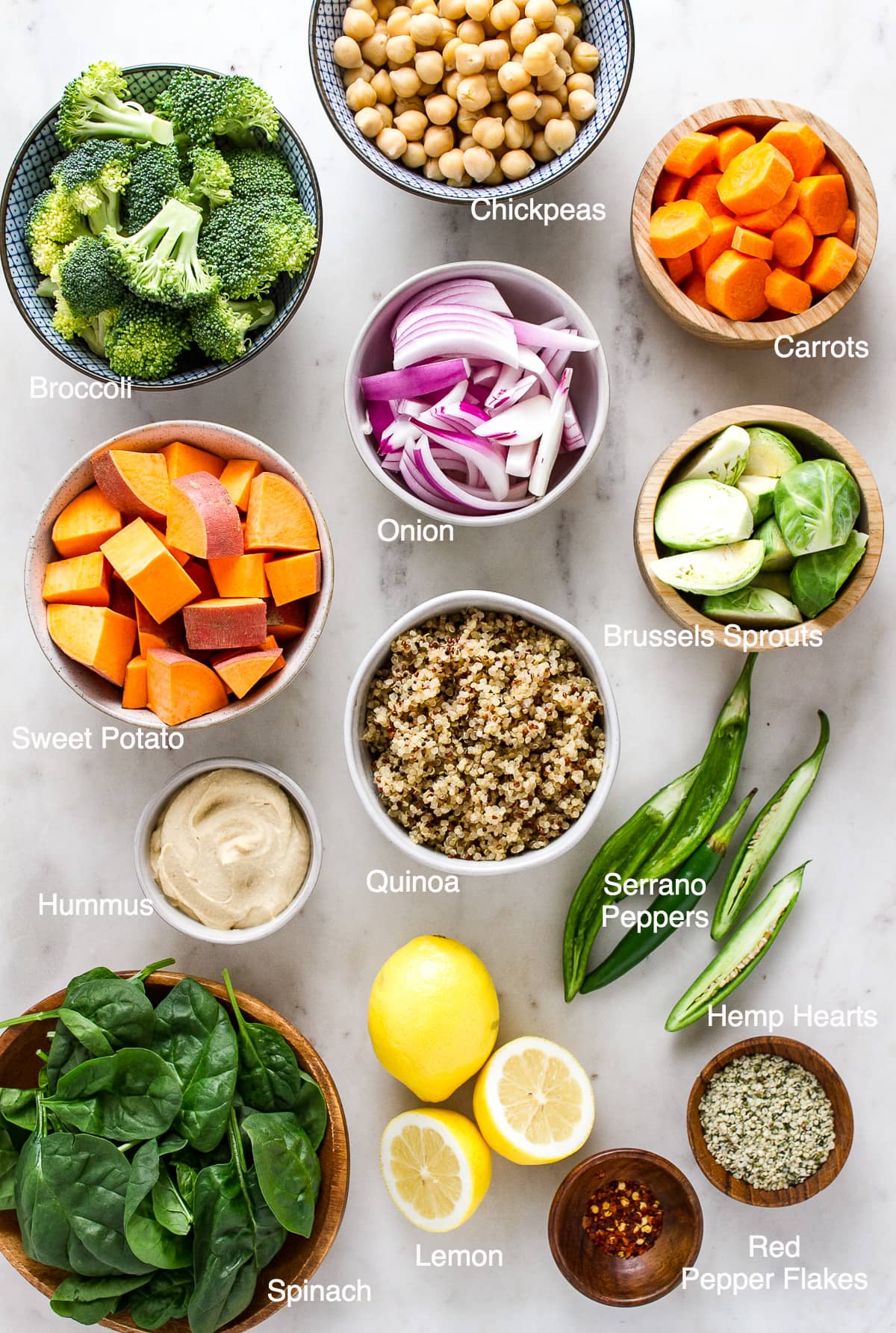 Ingredients You'll Need
There a quite a few vegetables in this nourish bowl recipe. If you can't get them all in that's ok, a various few will be enough. Feel free to add or subtract ingredients building your own nourish bowls.
Olive oil. Use your favorite oil or flavor infused oil.
Sweet potato. Leave the skin on for the most nutrition, just be sure to scrub them before cutting.
Carrots. Use baby carrots for ease as you can roast them whole.
Brussles sprouts. If you don't care for brussles sprouts, use 1 small beet (red or yellow).
Broccoli florets. Use cauliflower if you prefer.
Red onion. Any color will do, use your favorite or what you have on hand.
Serrano chilis. Serrano peppers are optional. I personally love the heat they give and they are wonderful roasted! You can sub 3 jalapeno peppers as well.
Chickpeas. Use canned for ease or freshly cooked.
Lemons. Roasted lemons are a great way to add a little extra flavor to roasted vegetables.
Grain. I paired my nourish bowls with quinoa, but feel free to use white, black or brown rice, farro, or your preferred grain.
Hummus. If you don't have hummus on hand or want to vary it up, try using these dressings and sauces instead: Lemon-Tahini Dressing, Sriracha Cashew Sauce, or tahini based Dynamite Sauce.
Hemp hearts. Adds a healthy dose of omegas and other essential vitamins and minerals.
Red pepper flakes. Add a touch of more heat and sprinkle of color.
Mineral salt & fresh cracked pepper. Season to taste.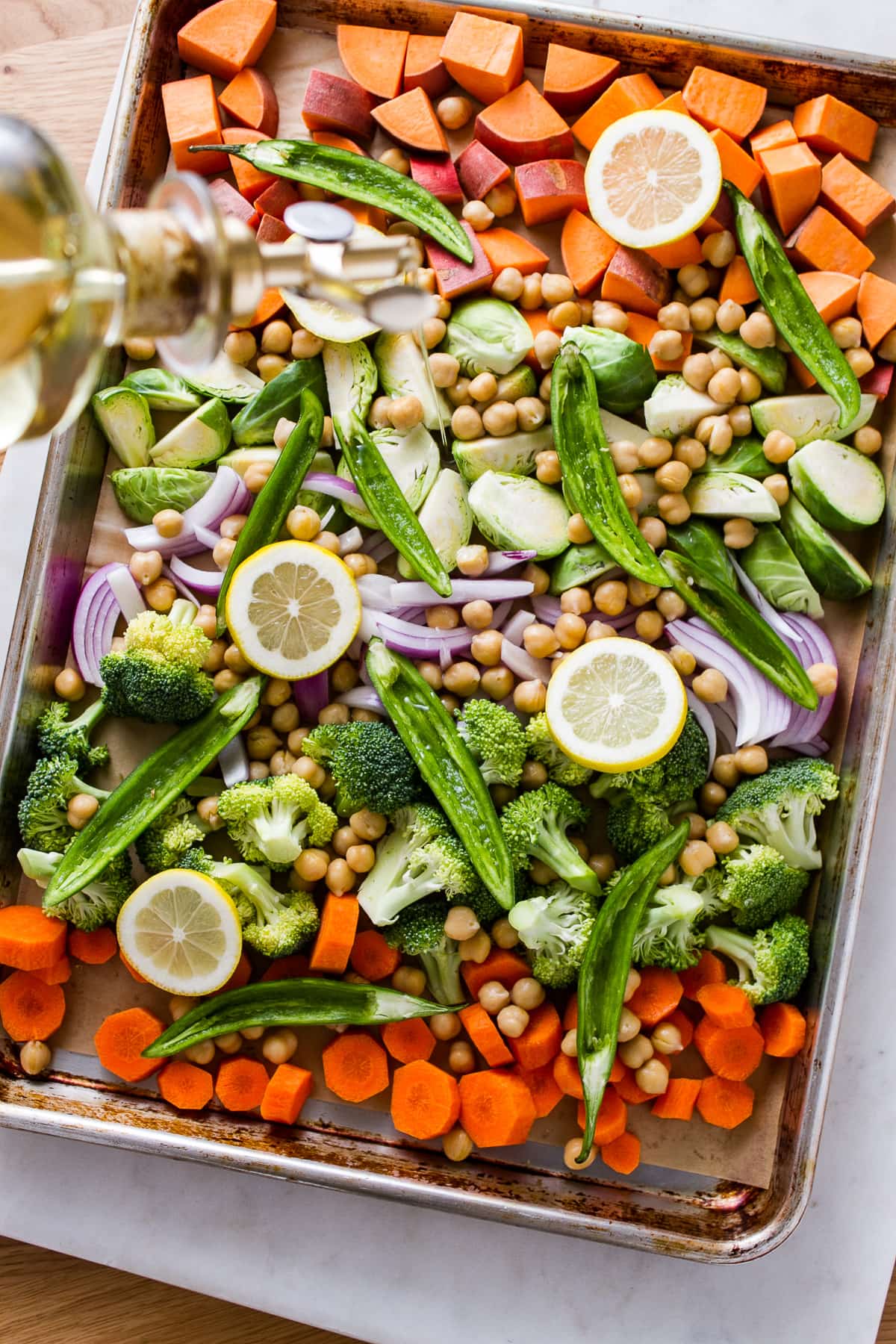 How To Make Roasted Nourish Bowl
Simply chop your veggies, add them and your beans to a roasting pan, toss in a little oil (or not), add a little salt & pepper and roast for 35 – 40 minutes at 400 degrees. Once done, your vegetables should be nice and browned on the edges and fork tender.
In individual bowls, serve vegetables with 1/3 cup quinoa, handful of spinach, sliced avocado and a nice dollop of hummus. Top with a sprinkle of red pepper flakes, hemp hearts a squeeze of roasted lemons.
And that's it, a sheet pan style nourish bowl that's a complete & nutrient dense meal!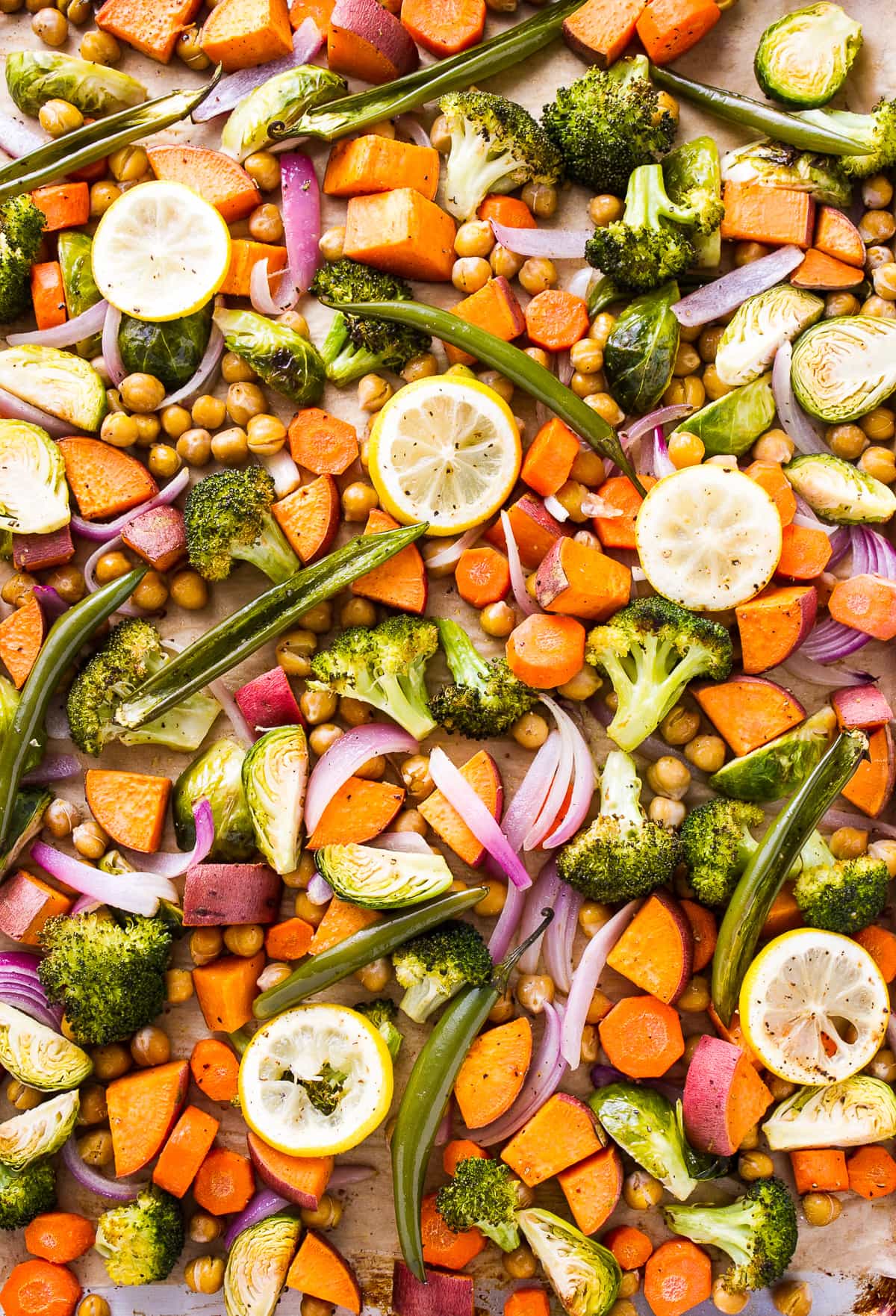 How To Store Leftovers
Leftovers can be stored in the refrigerator for up to 4 – 5 days in a covered container. For meal prep, these multi-use glass containers (affiliate link) work great!
More Recipes You'll Love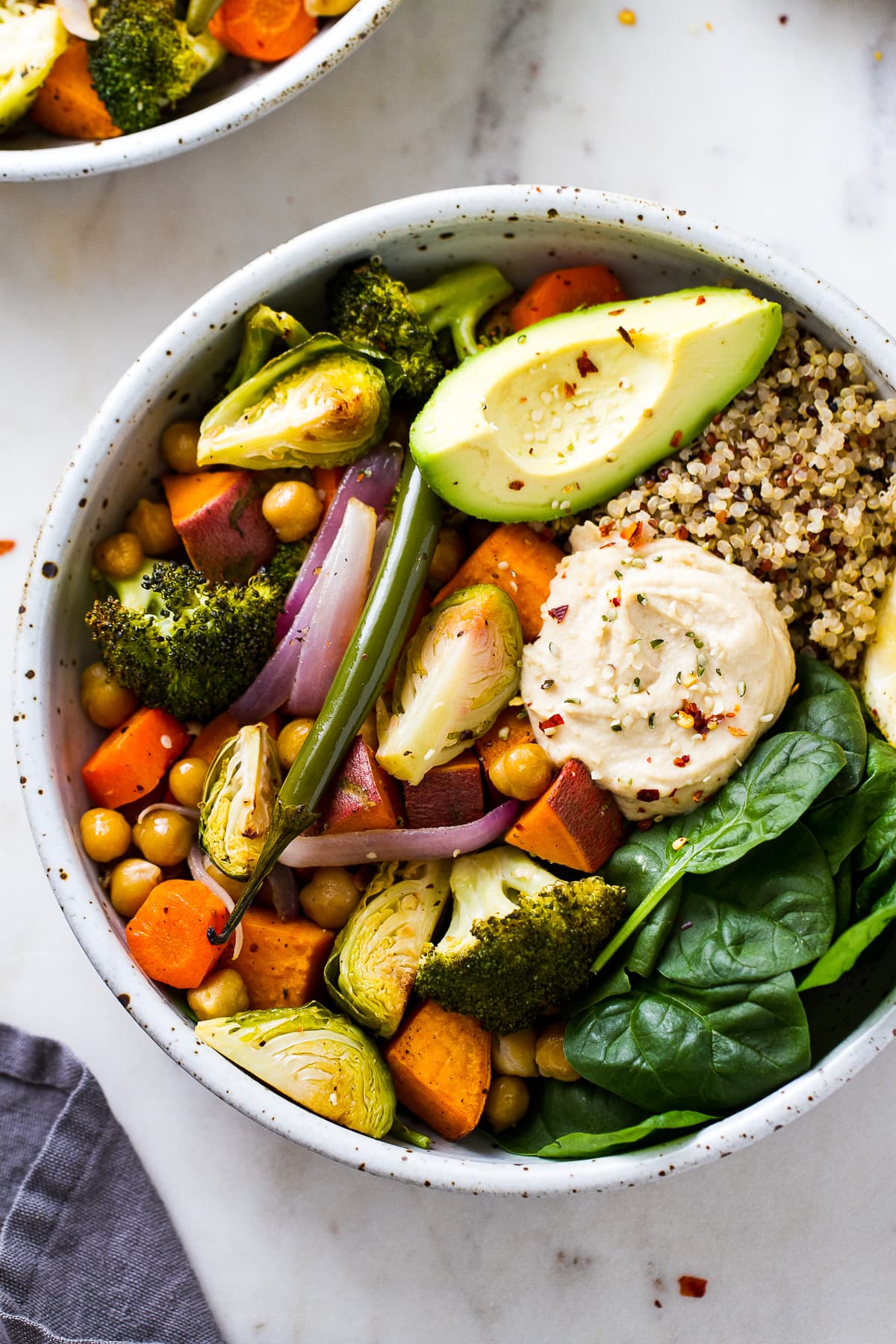 If you try this roasted nourish bowl recipe, please let me know! Leave a comment and rate it below. I love to hear what you think, or any changes you make.
Print
Updated: Roasted Nourish Bowls originally published October 2014 and has been updated November 2019 with new photos and helpful tips. Enjoy!
FOLLOW TSV on Facebook, Instagram, Pinterest or RSS for more updates and inspiration!