Homemade Almond Flour Crackers are made with just almond flour, flaxseed meal, water, and salt for a healthy and delicious snack that's fun and easy to make!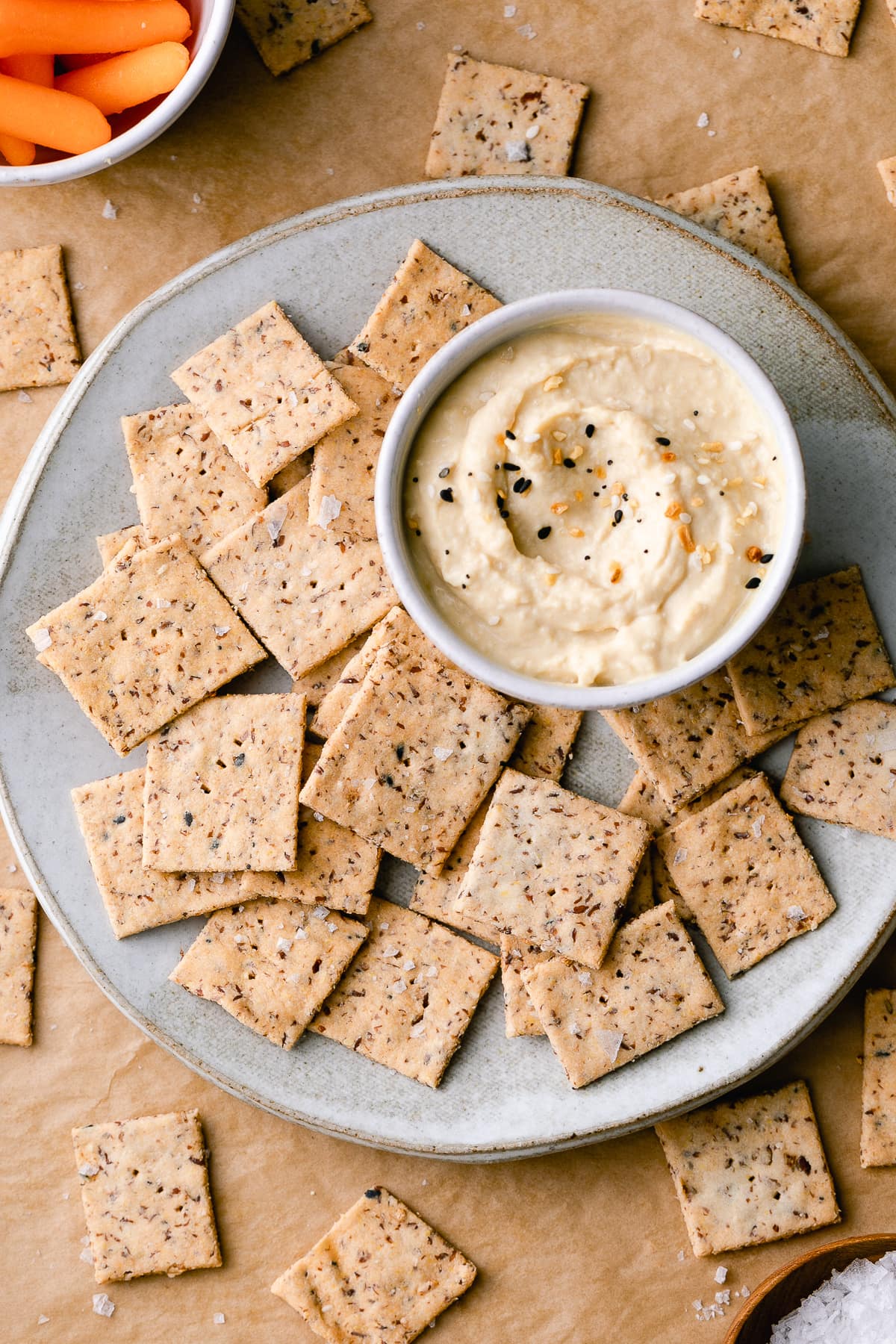 Why We Love This Recipe
Nutritious. Almonds are a healthy alkaline food that carries excellent nutrition. They are low in cholesterol and a great source of vitamin E, riboflavin, magnesium, and manganese.
Ideal for various diet types. Ground almond flour makes a terrific base for crackers making them grain-free, gluten-free, and perfect for low-carb diets! Plus, with 4 ingredients, they are 100% vegan and oil-free.
Easy to customize. Keep your almond flour crackers simple, or add whatever herbs or spices you might like to get creative.
Great for snacking. Eat them alone, or pair them with hummus and veggie sticks for a light and healthy snack. Serve with grapes or fresh fruit of choice for a little sweetness.
I hope these little crackers inspire something within!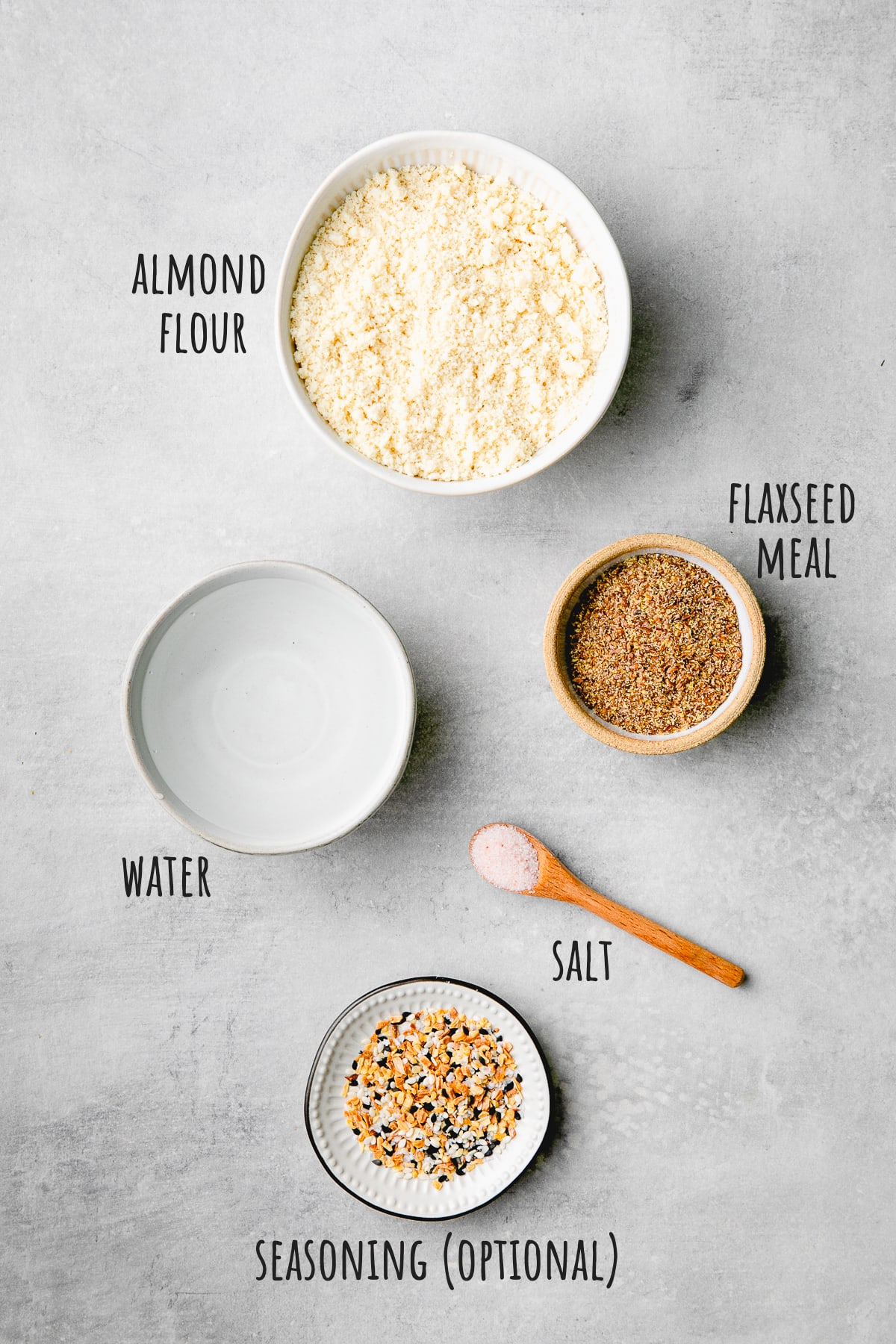 Ingredient Notes
Similar to wheat thins but made with almond flour, these easy grain-free crackers require only simple 4 ingredients!
Here is everything you will need (measurements are in the recipe card below):
Almond Flour – Use store-bought or make your own using raw almonds, as noted in the recipe card below. You can use either fine almond flour or almond meal.
Flaxseed Meal – Added as a binder while also adding healthy omegas, fiber, vitamins, and minerals.
Salt – I love and use pink mineral salt, but sea salt and regular salt will work as well. For a finishing touch, flaked sea salt adds a nice touch.
Seasoning (optional) – Use your favorite seasoning. I love adding rosemary, everything but the bagel seasoning, or simple salt and pepper. Get creative, using your favorite herbs and spices. A few ideas would be garlic powder, onion powder, oregano, thyme, etc.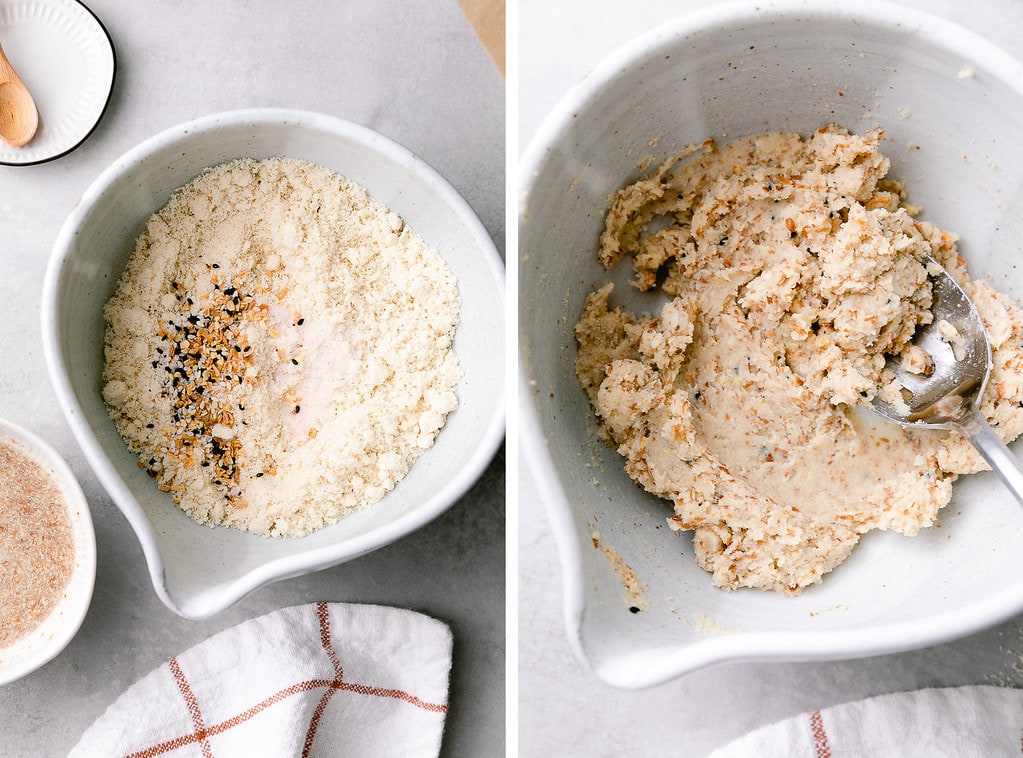 How To Make Almond Flour Crackers
In a medium sized bowl, combine the almond flour, flax egg mixture, salt, and any optional seasonings. Dough will be somewhat moist and should like the above right photo.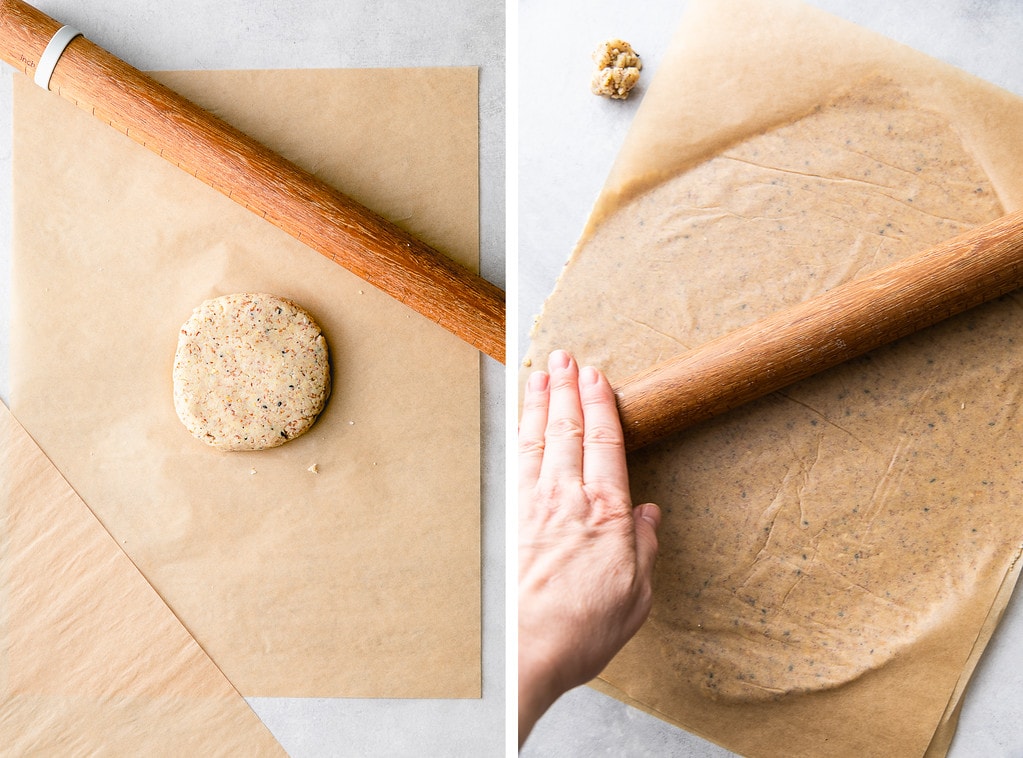 Grab two pieces of parchment paper and a rolling pin (affiliate links).
Roll the dough into a ball or square shape and place it on the center of a piece of parchment paper. Top with the remaining paper. This will help keep the dough from sticking to the rolling pin.
Roll the dough, flattening it to about 1/8 inch thick. Remove any dough that squeezes out of the sides so you can reroll later. Remove the top piece of paper.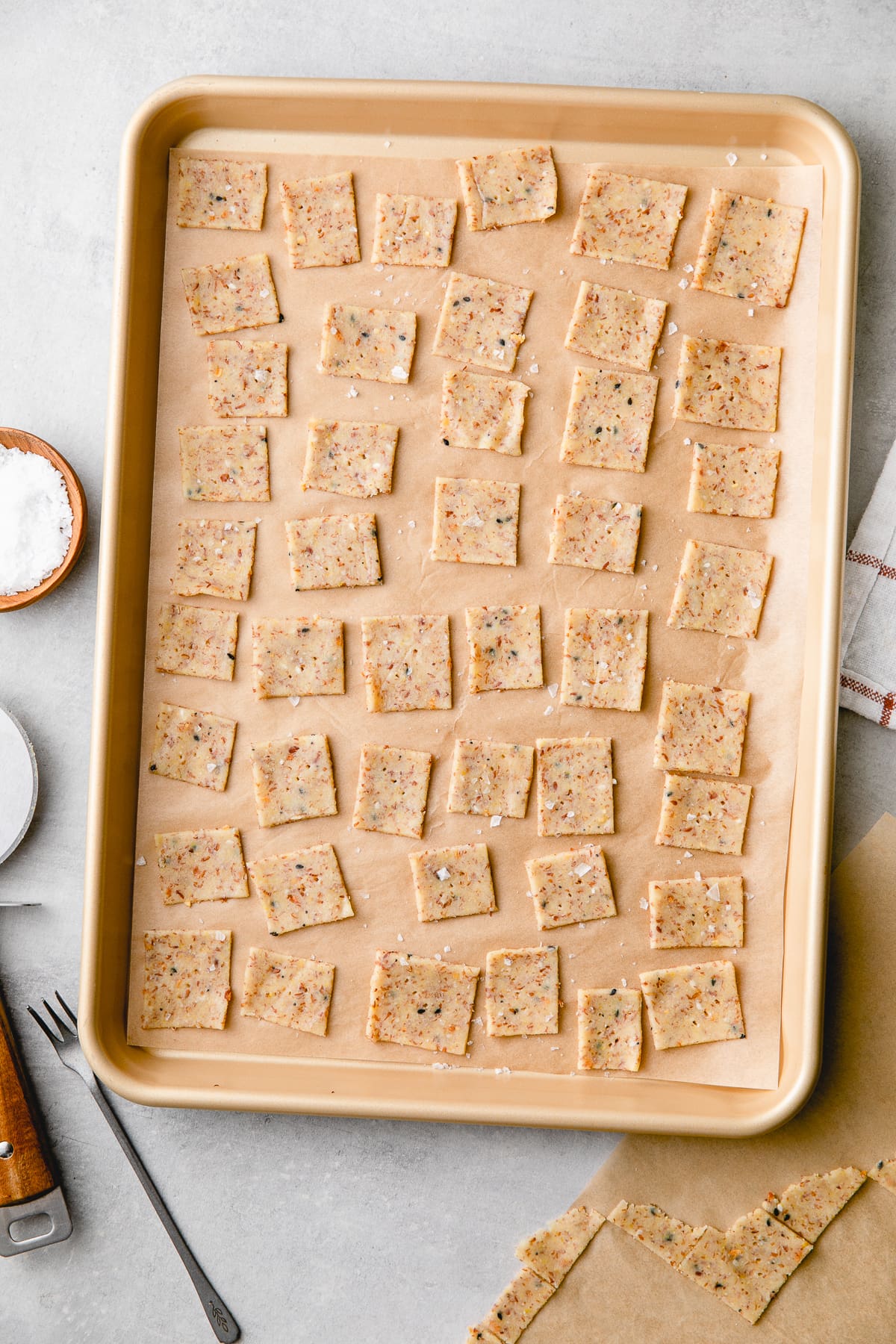 Using a pizza cutter, cut 1-inch strips into square or diagonal shapes.
Make an air vent by piercing the top of each cracker with a toothpick or small fork.
Transfer crackers to a lined baking sheet and bake for about 15 minutes at 350 degrees F.
Let cool and enjoy!
Top Tips
Parchment paper is helpful when making these crackers. It allows you to roll the dough with ease and transfer the crackers to the baking sheet. Although I prefer to separate and transfer the crackers individually, you can just pick up the parchment and slide it onto a baking sheet before separating the crackers if you prefer.
The thinner the dough is rolled, the crispier the crackers will be. If your dough is on the thicker side, you'll end up with soft crackers. For these crackers, I find 1/8″ is perfect.
Reroll the scraps. After cutting the cracker shapes, you'll have rough edges that you re-roll and cut again.
Serving Suggestions
Great on their own, these grain-free crackers also pair well with various dips and spreads. Here are a few of our favorite options:
How To Store Homemade Crackers
Stored properly, almond flour crackers will last up to 1 – 2 weeks. To store, allow them to cool completely and transfer to an airtight container. Keep on the counter for up to 1 week and in the refrigerator for up to 2 weeks.
More Healthy Snack Recipes!
If you try this grain-free cracker recipe, please let me know! Leave a comment and rate it below. I love to hear what you think, or any changes you make.
Print
Almond Flour Crackers
Almond Flour Crackers made with 2 main ingredients (plus water and salt) are gluten-free, grain-free, and oil-free for a healthy and delicious vegan snack!
Author: Julie | The Simple Veganista
Prep Time:

15 min

Cook Time:

15 min

Total Time:

30 minutes

Yield:

Serves 8

Category:

Snack

Method:

bake

Cuisine:

American, Vegan
2 tablespoons

flaxseed meal

4 tablespoons

water

1 cup

almond flour or almond meal, packed

1/2 teaspoon

salt
Optional add-ins:
1 tablespoon

fresh or dried herbs (finely chopped) or flavor blend (I love Everything but the Bagel)

1 tablespoon

sesame seeds
Instructions
Preheat oven to 350 degrees F. Line a baking sheet with parchment paper.
Flax mixture: In a small bowl, mix the flaxseed meal and water. Set aside for 10 minutes, stirring every so often. The mixture will be gooey when ready. This is the binder for the mixture (and it includes healthy omega's!).
Almond flour: You can buy almond flour or make it close enough at home. In a blender/food processor, grind 1 and 1/4 cup raw almonds into a fine powder or meal type consistency – it doesn't have to be perfect, but the finer, the better.
Make the dough: In a medium-size bowl, combine the almond flour, flax mixture, salt, and optional seasonings.
Shape and roll: Form the dough into a ball and place it on a flat surface lined with parchment paper. Cover with another piece of parchment paper, press down with your hand to flatten and finish rolling with a pin to about 1/8 inch thick. The thinner, the better and more crispy the crackers will be. Remove top layer of paper.
Cut into squares: Using a pizza cutter or knife, cut squares or diagonals into whatever size you like. Using a toothpick or small fork, poke the center of each cracker to allow steam to escape during baking (so they don't puff up). Top with a little coarse sea salt.
Bake: Line the baking sheet with the leftover parchment paper. Carefully transfer each cracker to the baking sheet and bake for 10 – 15 minutes. After the first 10 minutes, keep an eye on them, removing the ones around the edges that are done. They will ever so slightly darken and turn golden, you don't want it too dark, or it may have a burnt flavor. When done, let cool.
Yields 50 – 1 inch – crackers, but your results may vary depending on how you cut them.
Store: Crackers can be stored in an airtight container for up to 7 days on the counter or in the pantry. For longer storage, keep in the refrigerator for up to 2 weeks.
Keywords: almond flour crackers, gluten-free crackers, lo-carb crackers
Updated: This recipe was originally published in October 2012. It has been retested and updated with new photos and helpful tips in May 2021.
FOLLOW TSV on Facebook, Instagram, Pinterest, or RSS for more updates and inspiration!