Crispy Baked Kale Chips – So easy to make, homemade kale chips are crispy, delicious and can be customized with spices and herbs!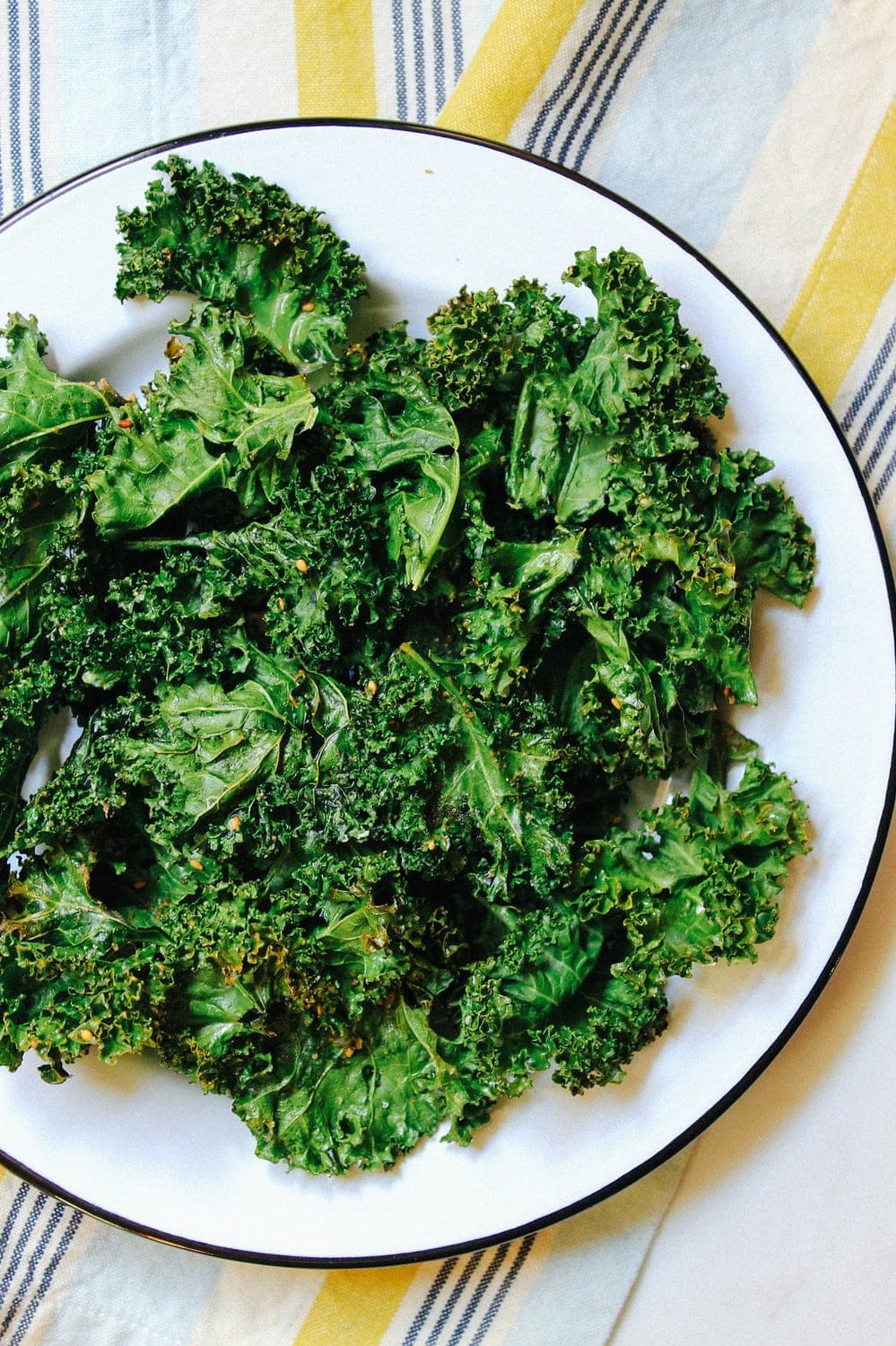 Crispy baked kale chips are one of my favorite ways to eat kale!
Healthy and nutritious, they bake up light and crispy, making for a perfect snack. I can easily sit and eat a whole batch of kale chips at one time!
Bundles of kale comes reasonably priced. I was able to pick up a couple bundles of kale for $1 each, that's a great price for this nutritionally packed leafy green, making it an affordable, healthy snack!
Having healthy snacks on hand is always a plus. Along with this kale chips recipe, here's a few of my favorites:
They all make for great snacks to have around the house or take on the go!
So let's get to it and make some crispy baked kale chips!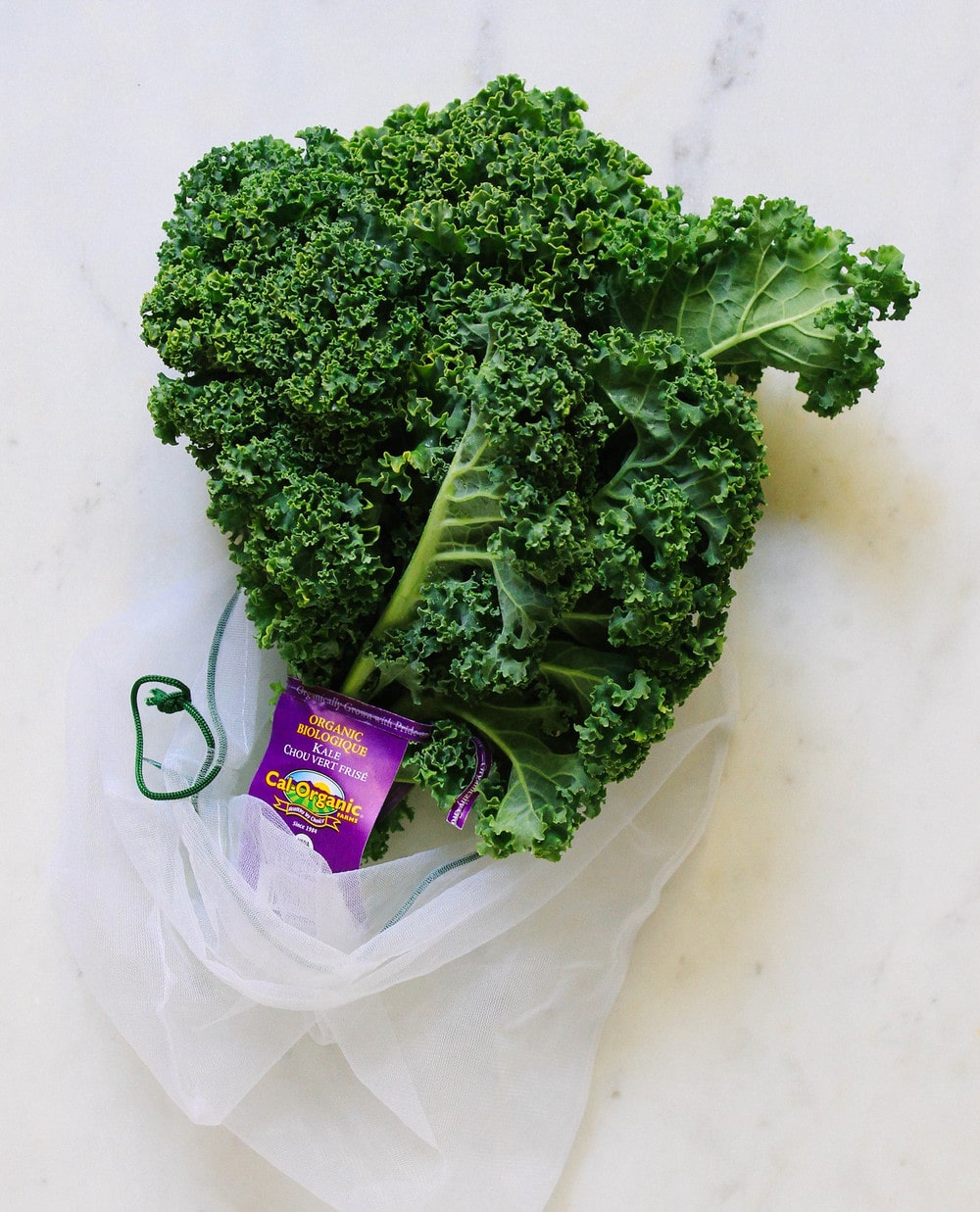 Ingredients You'll Need
Kale (curly or flat)
Olive oil
Salt
Types Of Kale To Use
All varieties of kale will work when making kale chips, so choose your favorite. For this recipe I used curly kale. You can also use the more flat leaf kale, known as – lacinato, tuscan, dinosaur kale, cavolo nero, and black kale. I've played around using both curly and flat kale. Both types make for light & crispy baked kale chips.
Optional Seasonings
Add flavor to your kale chips with different seasonings. Here's a few suggestions to get you started.
for the batch shown here, I've used za'atar, garlic powder, mineral salt and pepper
for spicy, try using cayenne pepper or chipotle and pink salt
a garlic sea salt blend would be great
the simplicity of just salt & pepper is fantastic too
add a sprinkle of nutritional yeast for a 'cheezy' flavor
brown sugar & mineral salt for a sweet & salty flavor
Have fun and be creative!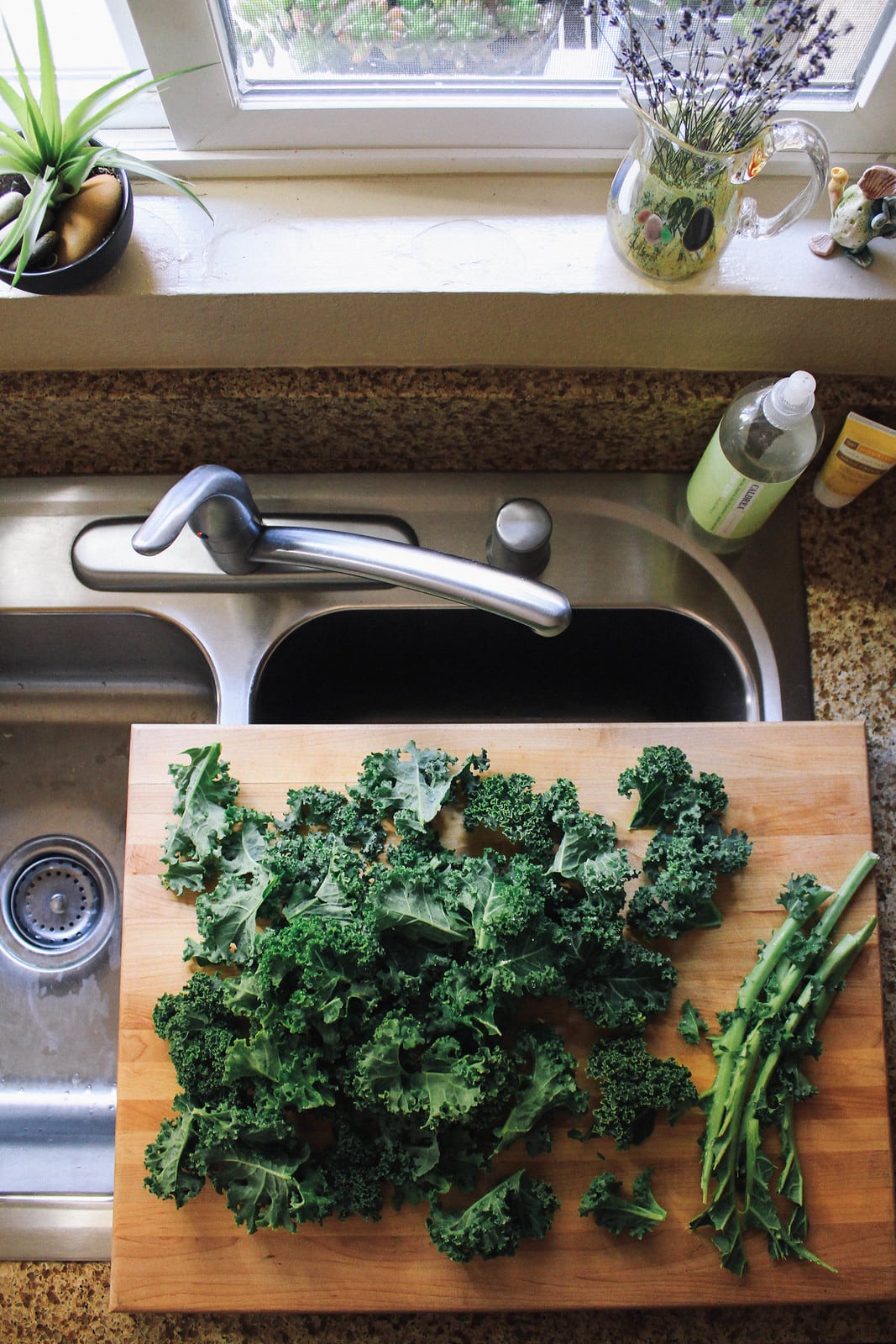 How To Make Crispy Baked Kale Chips
Making kale chips is super easy and take less than 30 minutes to make.
Start by washing and drying the kale stalks, remove the hard center stem, and tear the kale leaves into 1 or 2 inch pieces (shown above).
Add kale to a large mixing bowl, massage with olive oil and then toss with seasonings of choice (shown above).
Lay your freshly tossed kale chips on a baking sheet (shown below) and bake for about 10 minutes, keeping an eye on them after 6 minutes to keep them from being over baked.
And that's it – once done you'll have yourself a perfect batch of light & crispy kale chips. Get ready to devour the whole batch because you can't eat just one, two or three!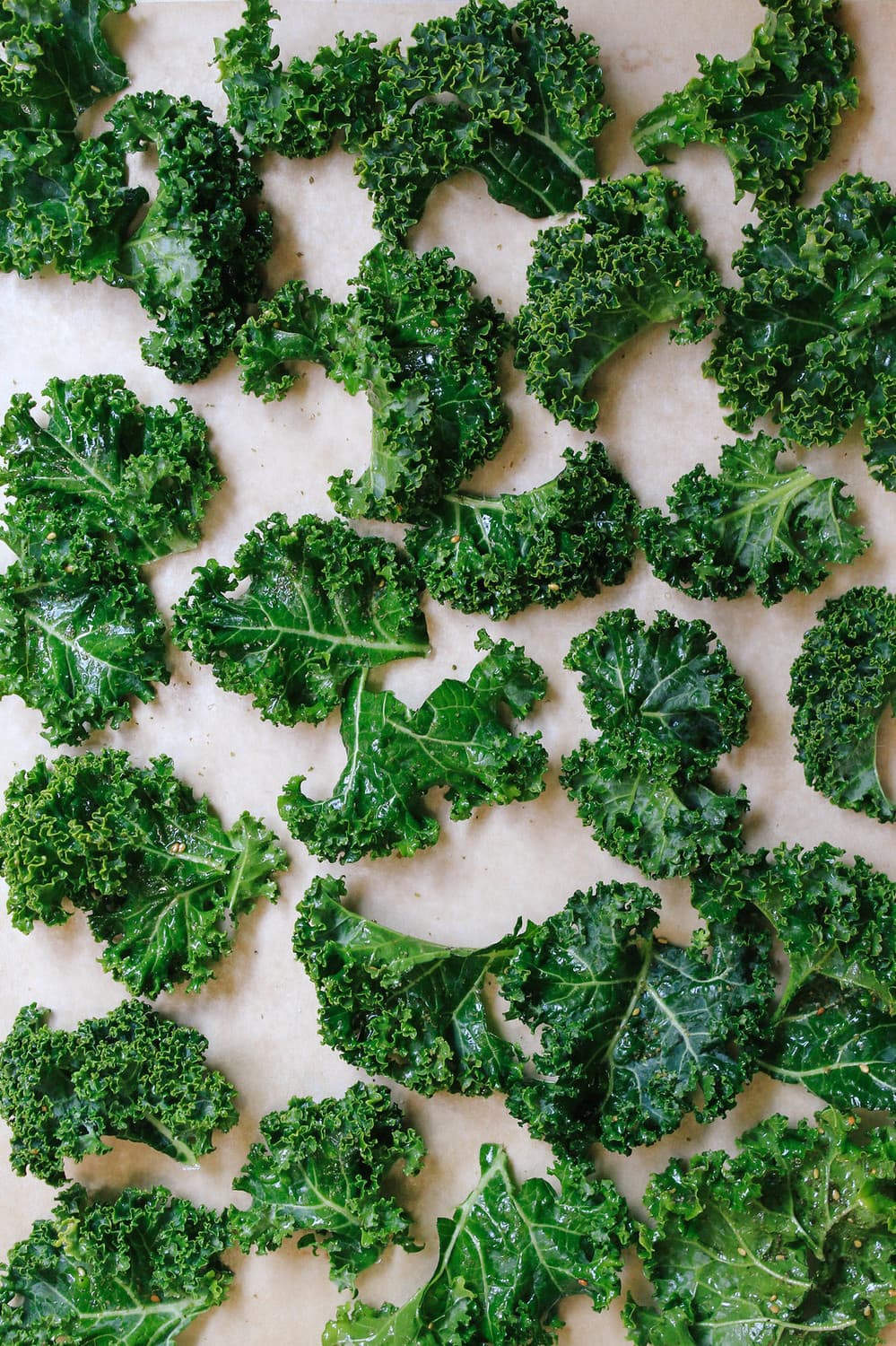 How To Store Homemade Kale Chips
Store kale chips in an airtight container and eat within 5 – 6 days.
Serving Suggestions
Serve these crispy kale chips as a snack or use them crumbled up as toppings or as a side another main dish. Here are a few of my favorite options:
More Ways To Use Kale
Kale is the powerhouse of the leafy greens, here are a few great kale recipes to add to the meal rotation. You just may find a new favorite!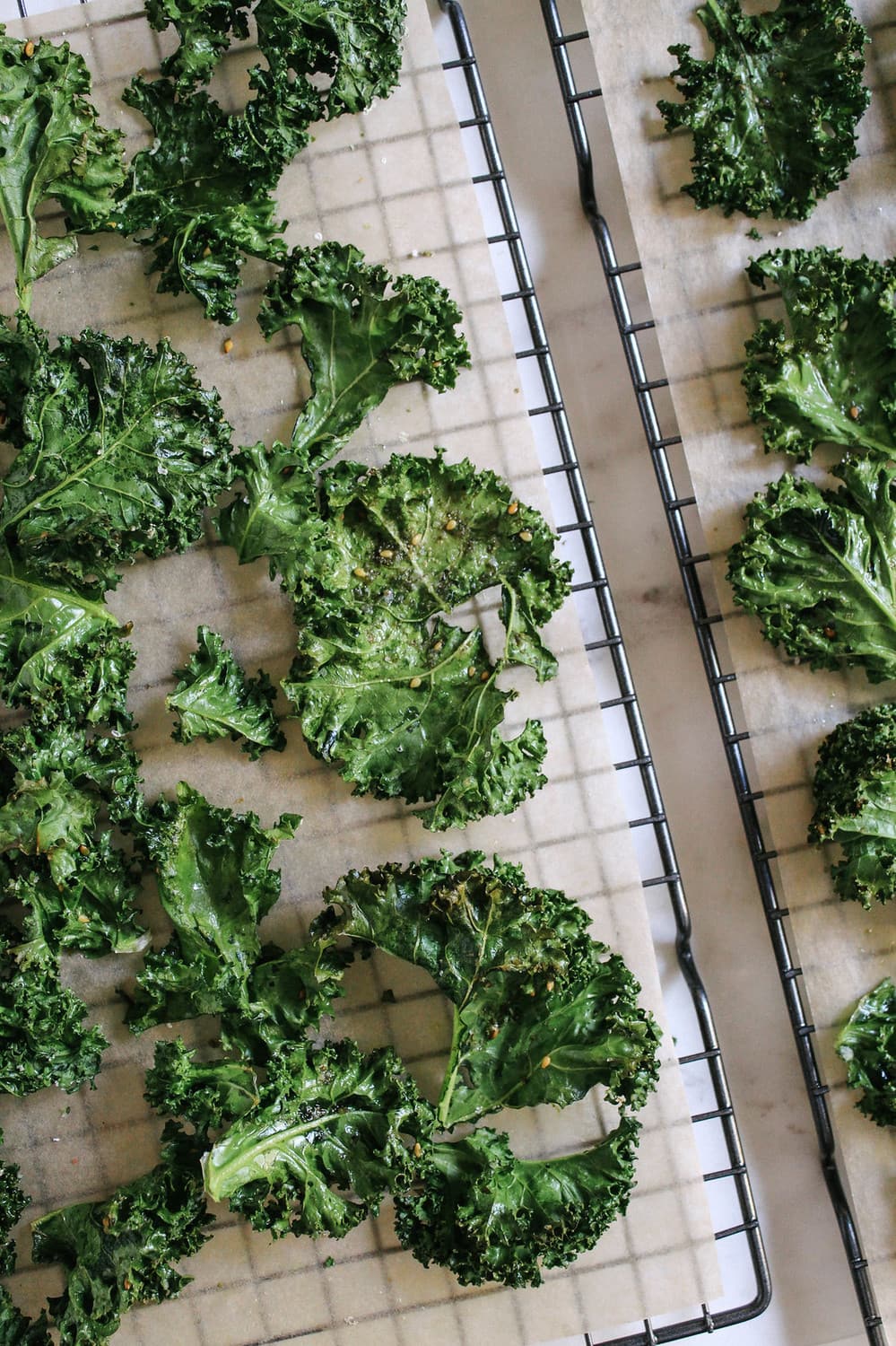 If you try this kale chips recipe, please let me know! Leave a comment and rate it below. I love to hear what you think, or any changes you make.
Print
CRISPY BAKED KALE CHIPS
Simple and flavorful, crispy baked kale chips are a delicious, healthy alternative to chips!
1

bunch of kale (curly or flat)

1 tbsp

olive oil (I usually use a little less)
Flavor options:
mineral salt

cracked pepper

garlic powder

nutritional yeast

za'atar

spice blend (cajun or chili powder)

or whatever you feel like using…
Instructions
Preheat oven to 325 degrees F.
Prep: Wash kale thoroughly and pat dry. Remove leaves from stem and break up into the medium sized chunks, about 1 – 2 inch pieces.
Add oil + seasoning: Put leaves into a large bowl and drizzle with olive oil. Massage until coated. Add herbs/spices and toss to coat.
Layer: Lay pieces on a baking sheet lined with parchment paper making sure to keep a little space between. Don't overcrowd them or they may not cook evenly and take longer to cook. Use two baking sheets if needed.
Bake: Place them in the oven on the middle rack for about 10 min. Check after 6 minutes or so and flip any that seem to be browning too much on the edges.
Notes
Different types of kale cook differently and you should watch your oven after 10 min until you have perfected your chip. Lacinato kale may cook a little faster and should be watched closely after 10 minutes.
Nutritional information is calculated with 1 bunch of kale and 1 tablespoons olive oil. Spices and additional topping are not calculated as that will depend on what you are using.
RECOMMENDED EQUIPMENT: I love my Silpat or these parchment liners for lining this rimmed baking sheet (affiliate links). And for cooling kale chips, these wire racks are great.
FOLLOW TSV on Facebook, Instagram, Pinterest or RSS for more updates and inspiration!