BLACKENED TOFU WITH SAUTEED KALE & QUINOA
Blackened Tofu seared with a spicy cajun-creole style seasoning and served with savory sauteed kale and quinoa makes a quick & easy weeknight or weekend meal ready in 30 minutes!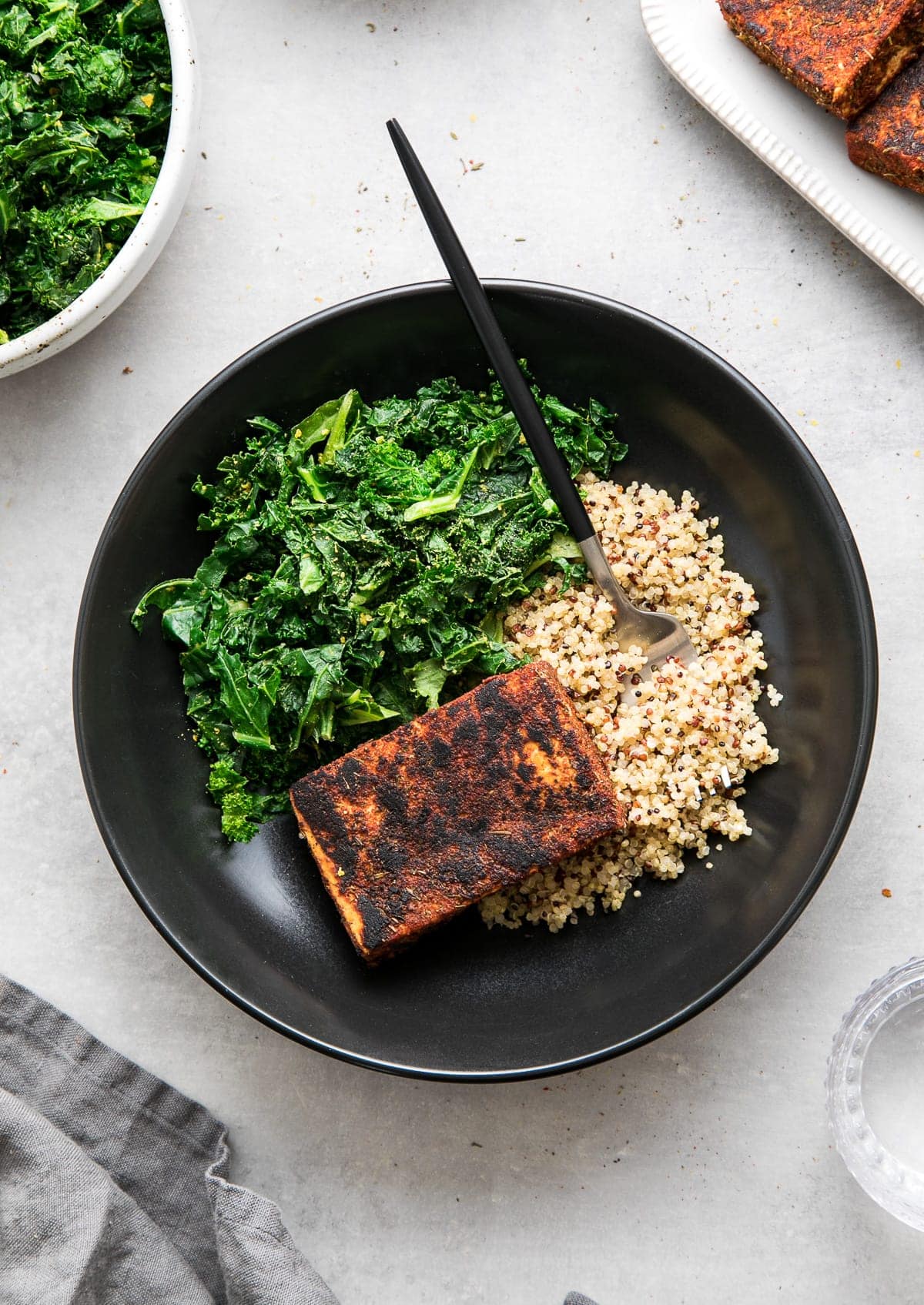 Blackened tofu features tender slabs of tofu dredged in a cajun style seasoning and cooked until blackened and crispy.
It pairs perfectly with this sauteed kale cooked with savory nutritional yeast and garlic. It's my absolute favorite way of eating kale!
And then there's quinoa, my favorite grain of all time, making an appearance and rounding out this meal with added fiber and protein.
Blackened tofu, sauteed kale and quinoa….I'm loving these Superfoods. :)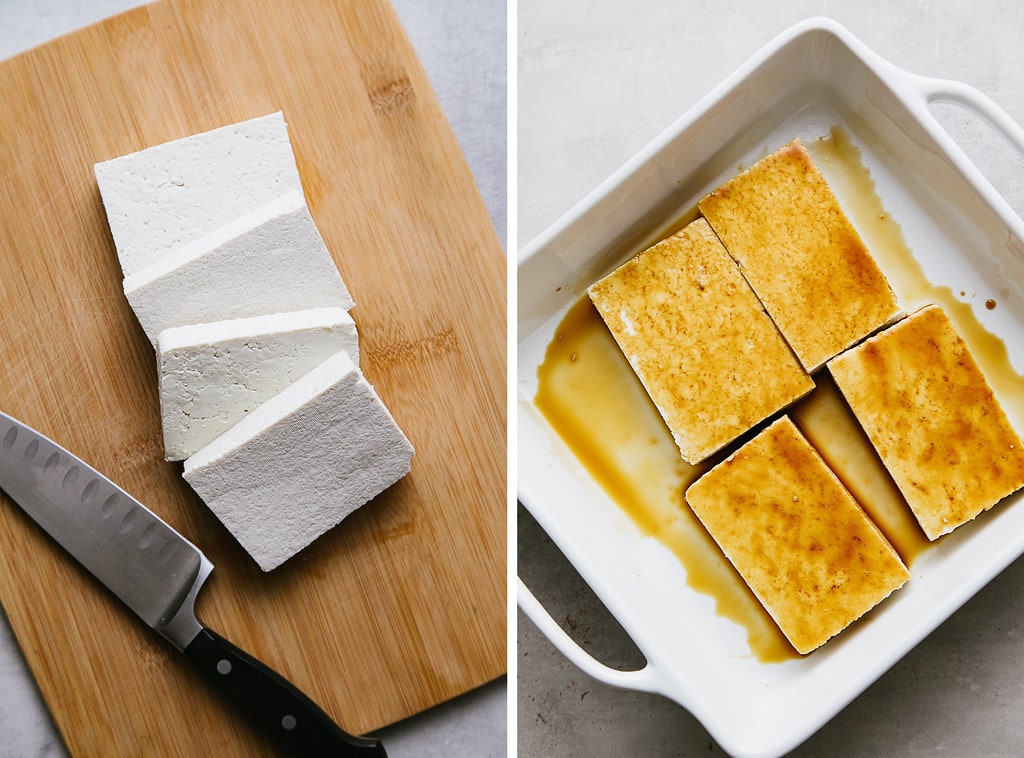 How To Make Blackened Tofu
Start by slicing the tofu into 4 large slabs.
Place the tofu slabs in a flat bottom dish with tamari, and let marinate while your making the seasoning blend.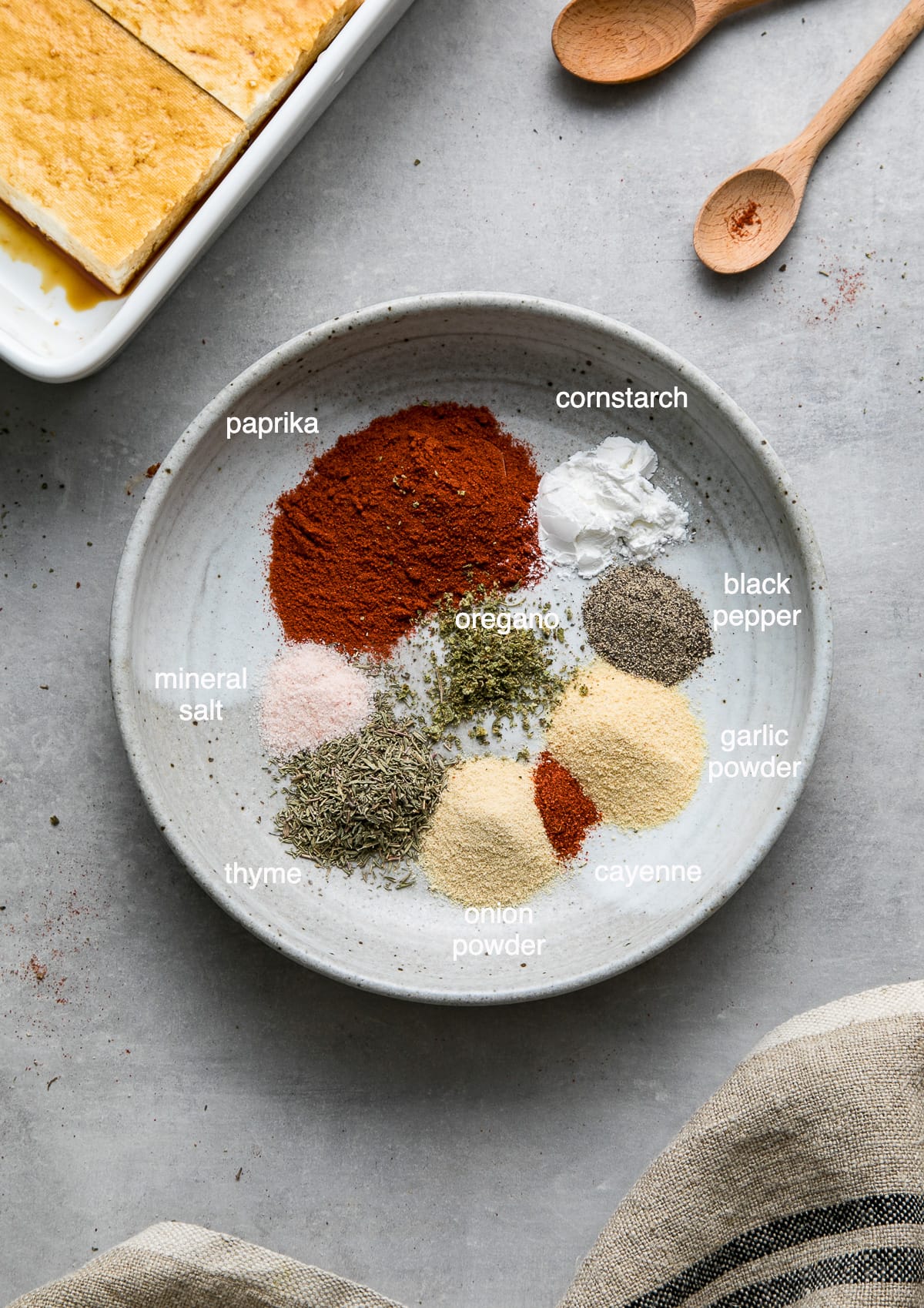 In a flat bottom bowl, add paprika, cornstarch, black pepper, garlic powder, cayenne, onion powder, thyme, oregano, and mineral salt.
Mix the spices and herbs.
Press the tofu into the mix, coating it well on all sides.
Cook in flat bottom skillet until blackened and crispy on each side as shown below.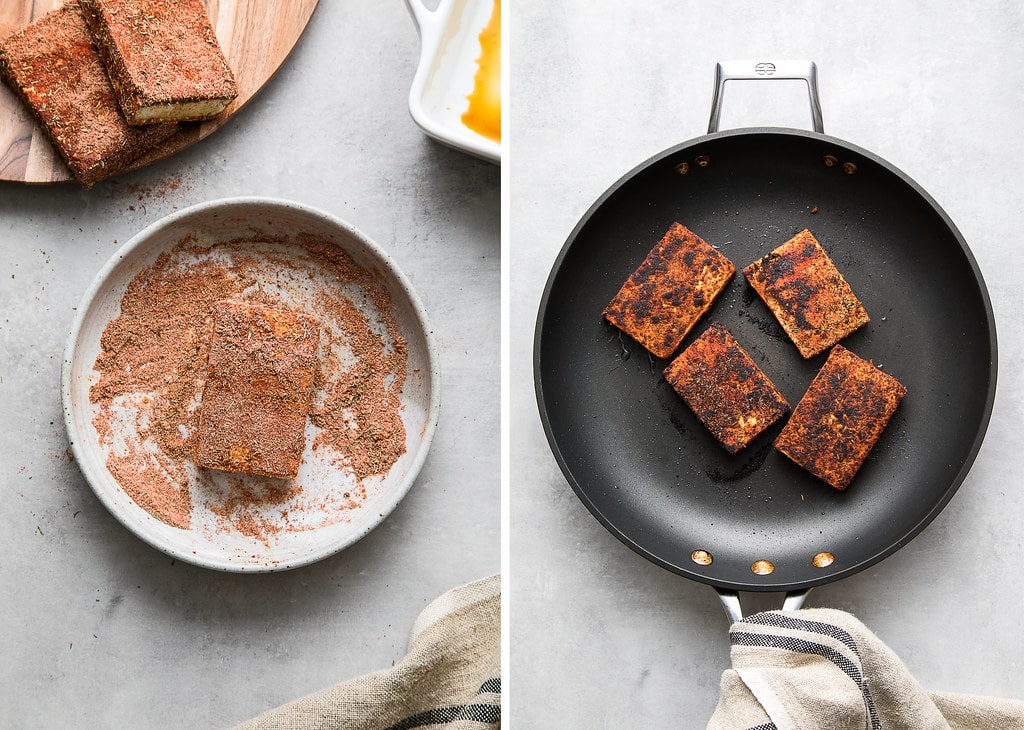 What Is The Best Tofu For This Recipe?
My favorite tofu for this blackened tofu recipe is super firm high protein tofu. It's solid, making the texture firmer and 'meaty'. Another plus, because it's so solid it doesn't need to be pressed, just open the package and cut into slabs. After trying firm, extra firm and high protein tofu (if available in your area), the latter wins hands down and makes a world of difference!
Why Is Cornstarch In The Seasoning?
Adding cornstarch to seasoning mix keeps the spices from clumping. And it helps the mixture stick to the tofu, creating a crust while cooking. If you don't have it on hand, no worries you'll be fine without it. I've made this several times without cornstarch with no issues.
What To Serve With Blackened Tofu?
This cajun inspired blackened tofu is pretty versatile and can be served with a variety of sides making it a complete & satisfying meal. Here are a few of my favorite serving suggestions: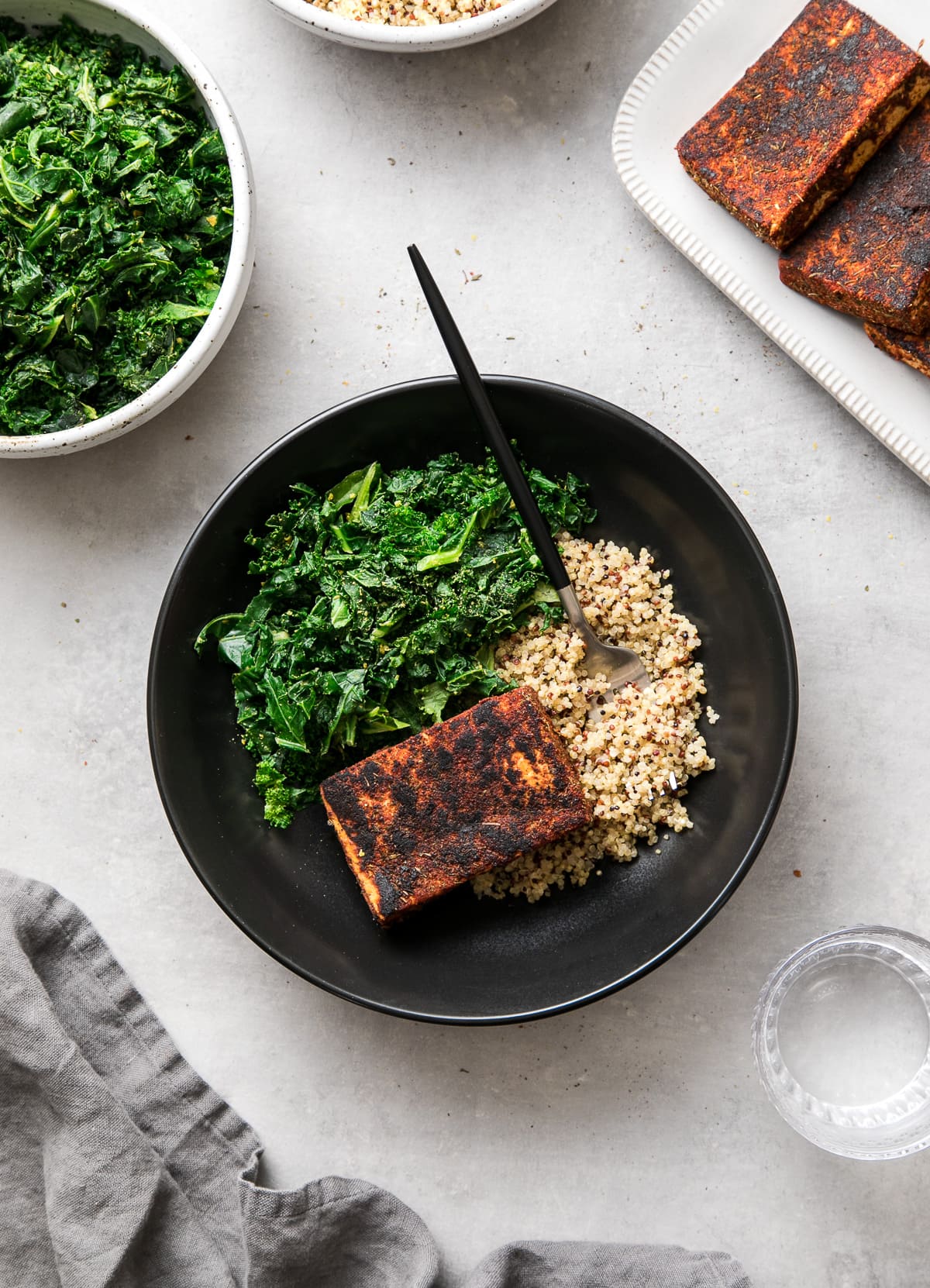 More Recipes You'll Love
If you make this easy tofu recipe, please let me know! Leave a comment and rate it below. I love to hear what you think, or any changes you make.
Print
CRISPY BLACKENED TOFU WITH KALE + QUINOA
Blackened Tofu with savory sauteed kale and quinoa makes a quick & easy weeknight or weekend meal!
Quinoa
1

cup

dried quinoa (I used tri-color from Trader Joe's)

1 3/4

cups

water

1/2 teaspoon

garlic powder
salt, to taste
Blackened Tofu
1

block (14-16 oz) organic tofu, super firm (pref) or extra firm

2 tablespoons

tamari, coconut amino's or light soy sauce

1 tablespoon

olive oil
Spice Blend
2 teaspoons

paprika

1/2 teaspoon

black pepper

1 teaspoon

cornstarch, optional

1 teaspoon

garlic powder

1 teaspoon

onion powder

1/2 teaspoon

salt

1 teaspoon

thyme

1/2 teaspoon

oregano

1/8 teaspoon

cayenne pepper
Sauteed Kale
chopped kale, I used 10oz organic package from Trader Joe's

2 tablespoons

of nutritional yeast

1/2 teaspoon

garlic powder

1 tablespoon

olive oil or

1/4 cup

water or veg broth
salt, to taste
Instructions
Quinoa:
Rinse your quinoa under cool running water to remove dust (if you forego this step your quinoa may have a bitter taste).
In medium pot add quinoa, garlic powder pinch of salt and water, bring to a boil. Reduce heat, cover and simmer for 15 min.
Once done, uncover, stir and let set for 10 minutes to cool and soak up any excess water.
Fluff before serving. It will be a perfect quinoa, fluffy and sprouted.
Tofu prep:
Open and drain tofu.
Slice tofu into 4 large slabs, or whatever size you prefer.
Press tofu between paper towels or kitchen cloth to remove excess moisture.
In a shallow dish place tofu and tamari and let set while mixing the blackening seasoning, turn after a few minutes to let the other side soak.
Blackened Seasoning:
In a flat bottomed medium size bowl, combine all spice blend ingredients and mix until blended. This is fairly spicy so you may consider using less black pepper and/or cayenne.
Place tofu pieces in spice blend, press gently to get a good coating, turn and repeat on all sides.
Cook tofu:
In saute pan, heat oil over medium-high heat, add coated tofu and cook 5 minutes on each side.
Sauteed Kale:
In large wok or saute pan heat oil over medium heat, add kale and saute for 2 minutes, stirring frequently.
Sprinkle nutritional yeast and garlic powder over top, turning and moving the kale around to get all the spices mixed well throughout the kale.
Continue stir frying for another four to 5 minutes, or until bright green and just wilted. You may leave a cover on for a minute here and there in between stir frying to help soften the kale. When kale turns bright green it's about ready to be removed from heat. Test a piece and see if it's too your liking, if not saute a little longer. Some may like it crisp and some may like it softer.
Serves 4
For a change, the blackened tofu would also be great with classic sides like this Vegan Macaroni Salad, Vegan Potato Salad or Vegan Cornbread.
Store: Leftovers can be kept in the refrigerator for up to 5 days, in a covered container.
Notes
Cornstarch is optional. It helps to keep the spices from clumping, and also works to help build up a crust on the surface of the tofu. But I've made this several times without it with great results.
Nutrition information is calculated using 1 tablespoon oil.
Keywords: blackened tofu, vegan tofu recipe
Updated: This Blackened Tofu recipe was originally published in August 2012. It has been retested and updated with new photos and helpful tips in January 2020.
FOLLOW TSV on Facebook, Instagram, Pinterest or RSS for more updates and inspiration!