Purely delicious and easy to make, these family favorite Crispy Smashed Potatoes are ultra crispy on the outside, soft and fluffy on the inside!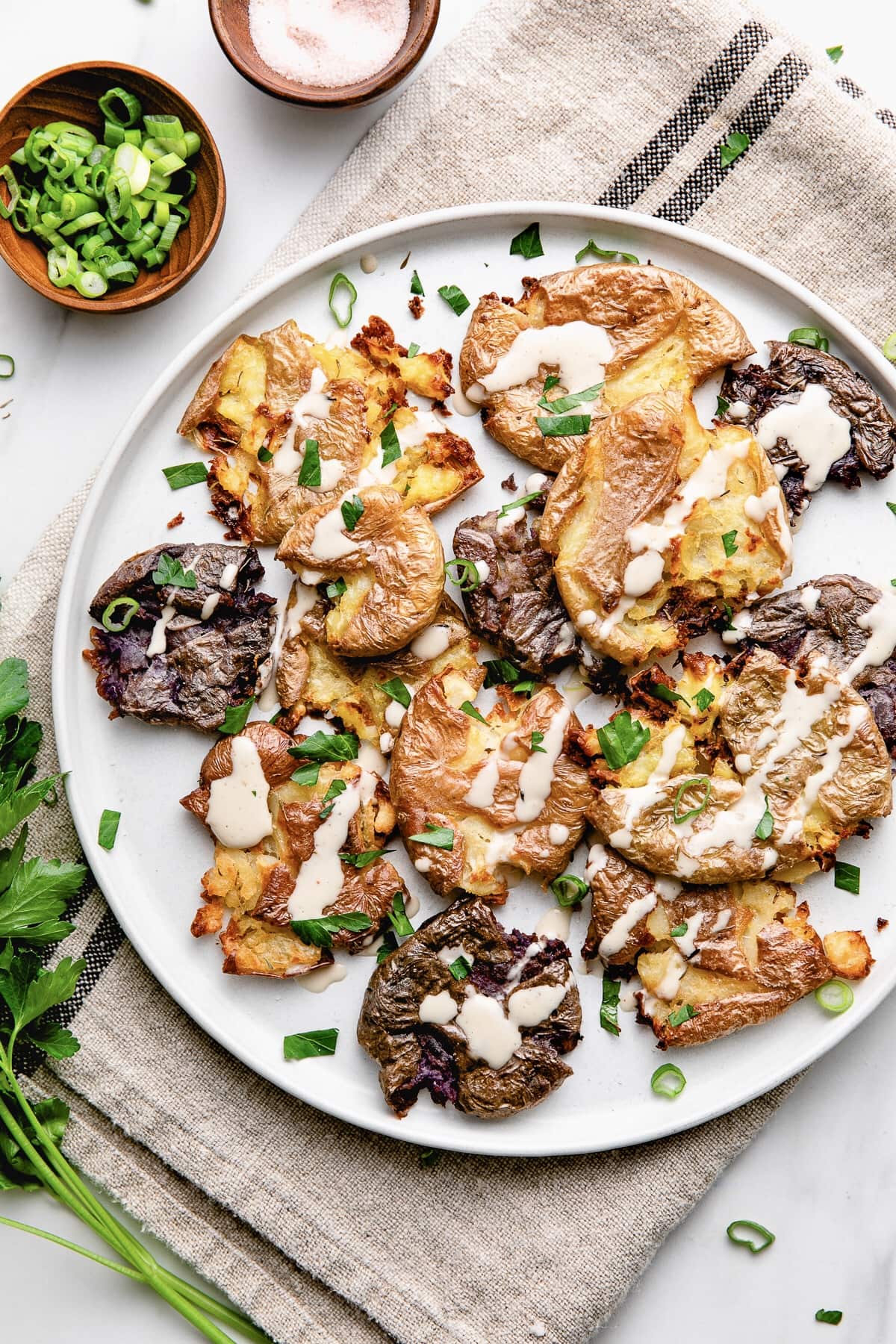 Why We Love This Recipe!
It's an easy one pan recipe. This recipe is a little different than most and only requires one pan. I opted to make this a recipe for no-boil crispy smashed potatoes, because one less pot to wash is always a plus!
Better than fries! Crispy smashed potatoes are better than french fries in my book and remind me a lot of hash browns, cooking up crispy on the outside and tender on the inside. If you love hash browns, you're going to love these too!
Kid Friendly. These smashed potatoes are one of my daughters favorite things ever, next to these Vegan Stuffed Shells! I think she could live on both of them.
So let's get to it and make smashed baby potatoes!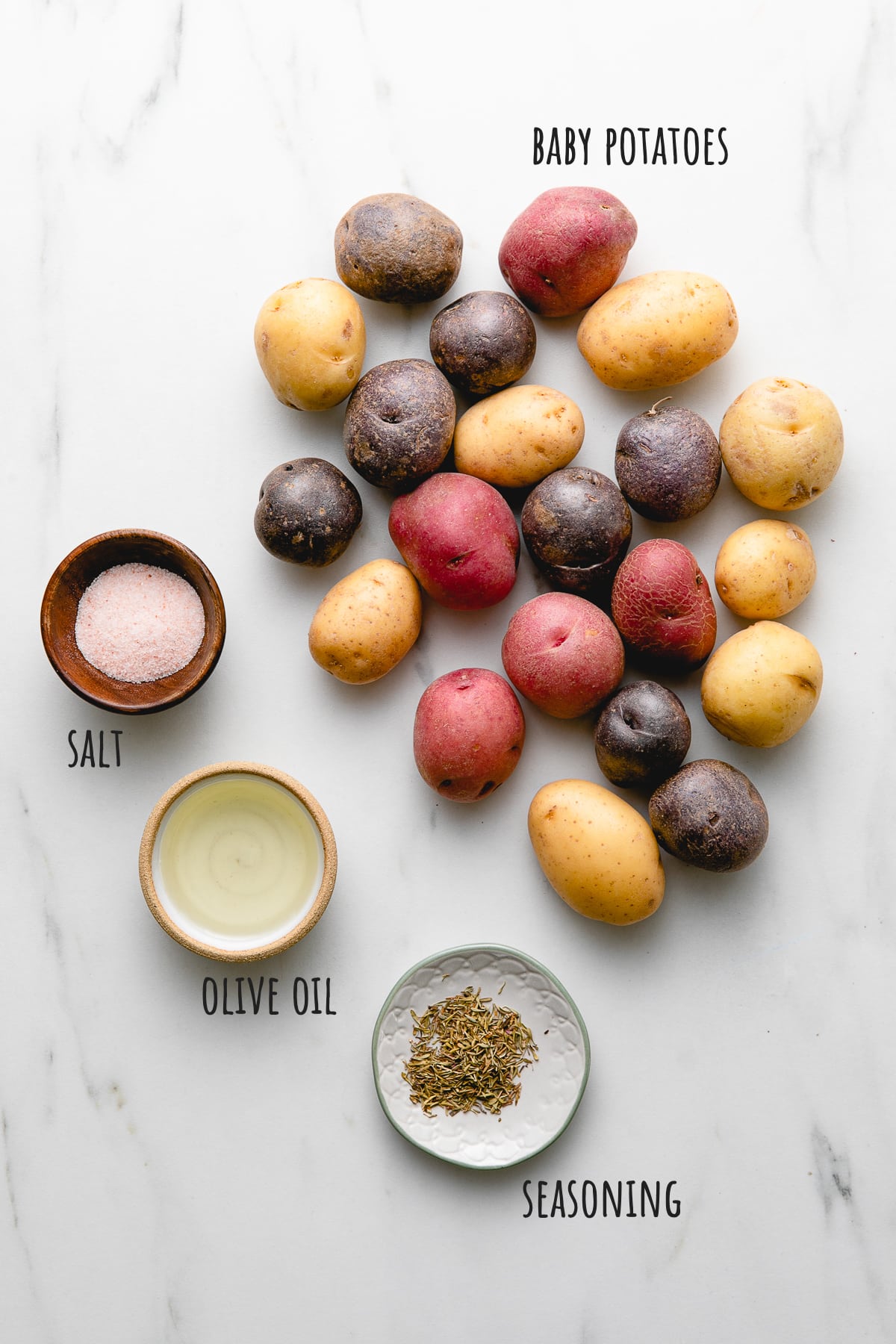 Smashed Potatoes Ingredients
In this recipe, baby potatoes are tossed in oil, roasted, smashed, seasoned and roasted again until the edges are nice and crispy.
Here is everything you'll need, including ingredient variations (measurements are in the recipe card below).
Baby potatoes – I recommend small or petite, baby potatoes for the easiest results. Any color or combo of potatoes will do – white, yellow, red, or purple.
Olive oil – A good quality olive oil is recommended. If you prefer, use grapeseed, canola, or any other high heat neutral flavored oil.
Salt – Season to taste.
Seasoning – The beauty of this recipe is that you can keep it simple or change up the seasoning as often as you like. One of my favorite combos is thyme and garlic powder.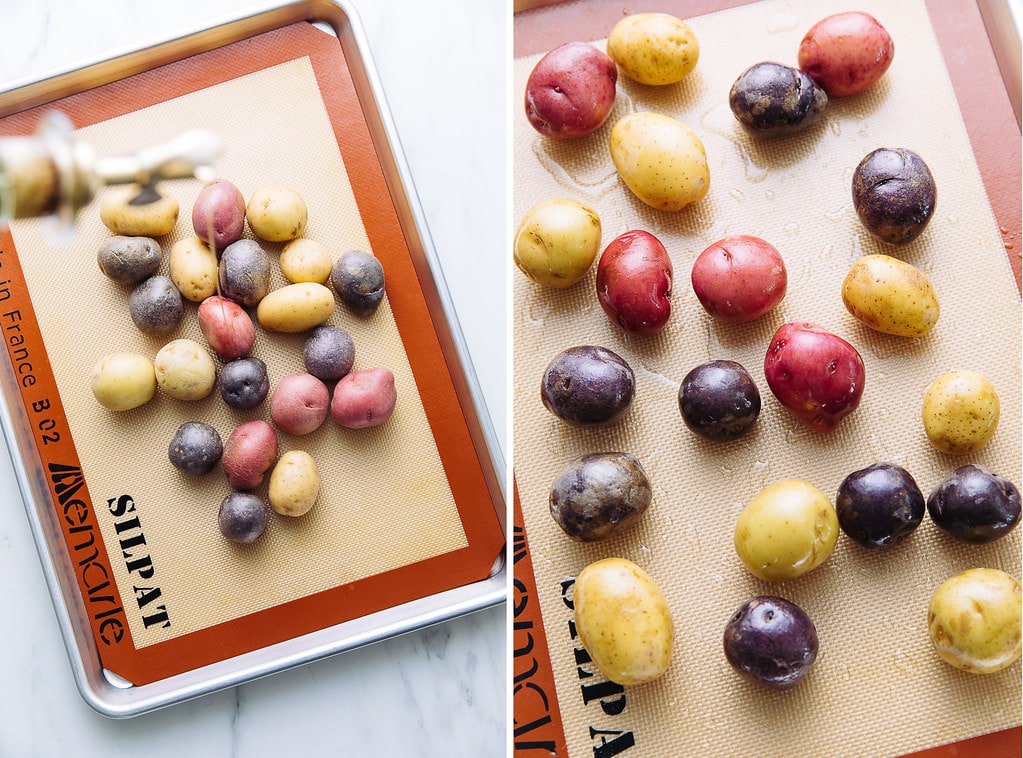 How To Make Crispy Smashed Potatoes
Here is a quick overview of the process of making smashed crispy potatoes. See the recipe card below for the full printable instructions.
Start by preheating the oven good and well, to 450 degrees.
Scrub the potatoes (if needed), place them on a rimmed baking sheet and give them a nice coat of olive oil. Spread evenly giving a little space between each.
Bake for 25 minutes.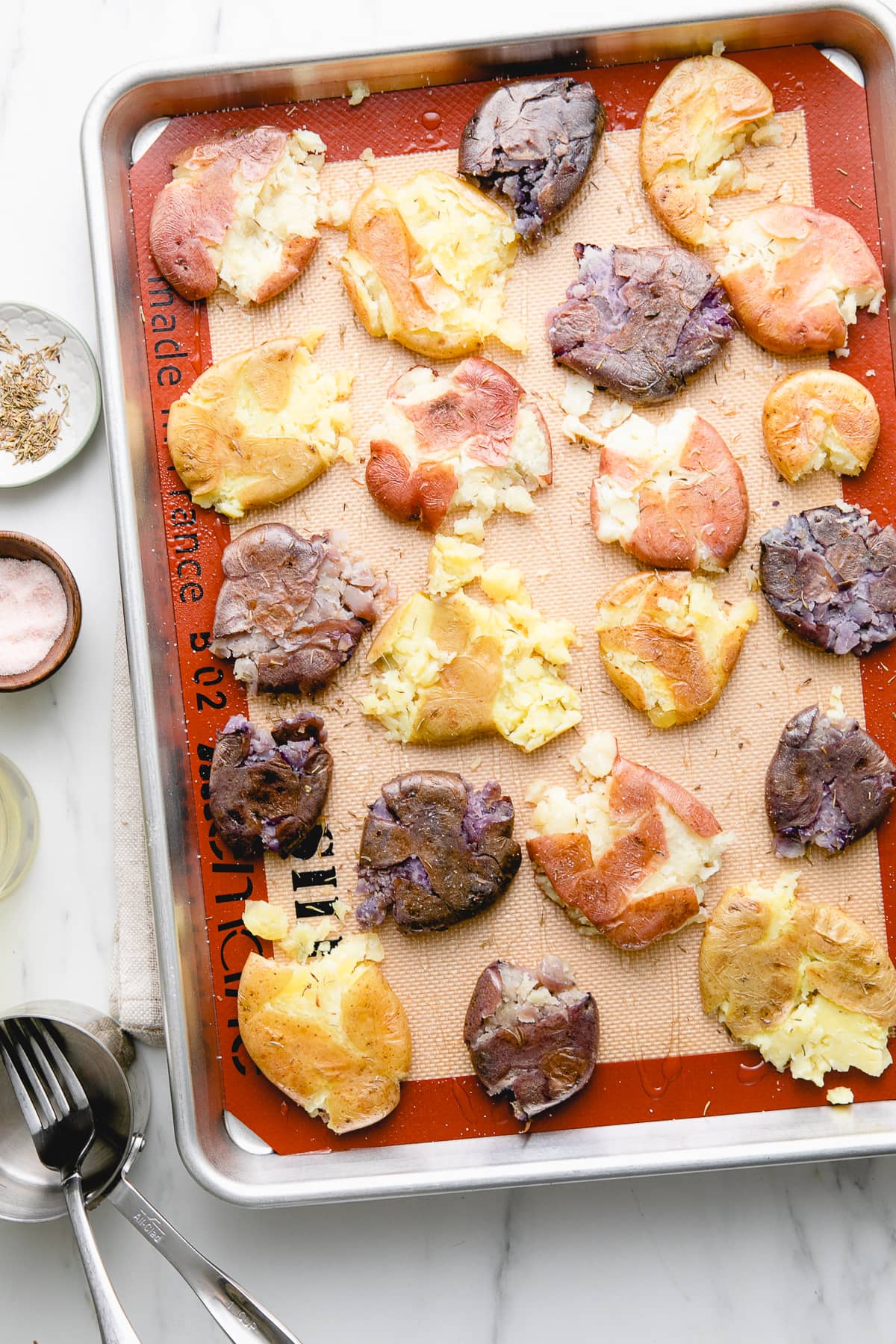 After 25 minutes, pull out the baking sheet and give the potatoes a good smash using the bottom of a flat mug or large measuring cup.
Brush with oil, sprinkle with mineral salt and herbs, place back in the oven for another 20 – 25 minutes to brown and crisp up to perfection.
And voila – delicious, vegan crispy smashed potatoes for you and me.
Who needs to boil when we can roast all the way through!
Top Tips
Smash the potatoes between and 1/4 – 1/2 inch. If smashing them on the smaller side, it's ok if they fall apart a little since they should crisp up and stick together once finished.
Oil-free option. You can make these crispy potatoes oil free by simply omitting the oil and following everything else. You may even like to brush them vegetable broth. Serving with a creamy sauce will do wonders!
Using larger potatoes? I only tested with smaller baby potatoes, if using larger ones bake an extra 10 – 15 minutes before trying to smash to ensure they are soft.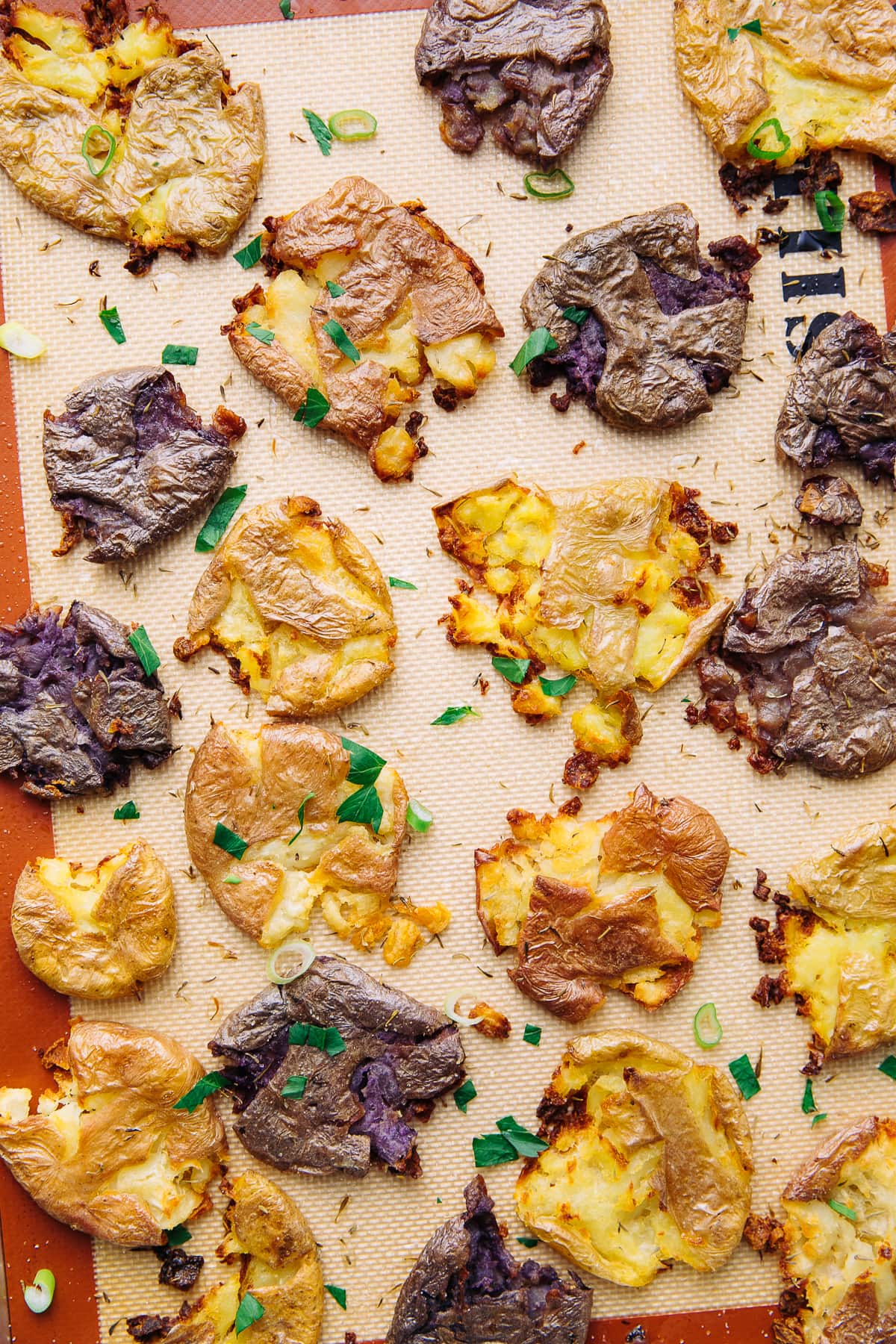 Serving Suggestions
Enjoy these crispy smashed potatoes as a mono meal or share as an appetizer or snack.
Serve drizzled with Tahini Sauce, Sriracha Cashew Cream Sauce, or dip in Vegan Cashew Sour Cream or Vegan Ranch, or as my daughter likes – ketchup.
Pair with a Tofu Scramble and vegan sausage on the side, like Field Roast.
More Easy Potato Recipes!
Potatoes are inexpensive, available all year around, and can be used in a variety of recipes. Take a look at these other vegan recipes using potatoes, you may find a new favorite!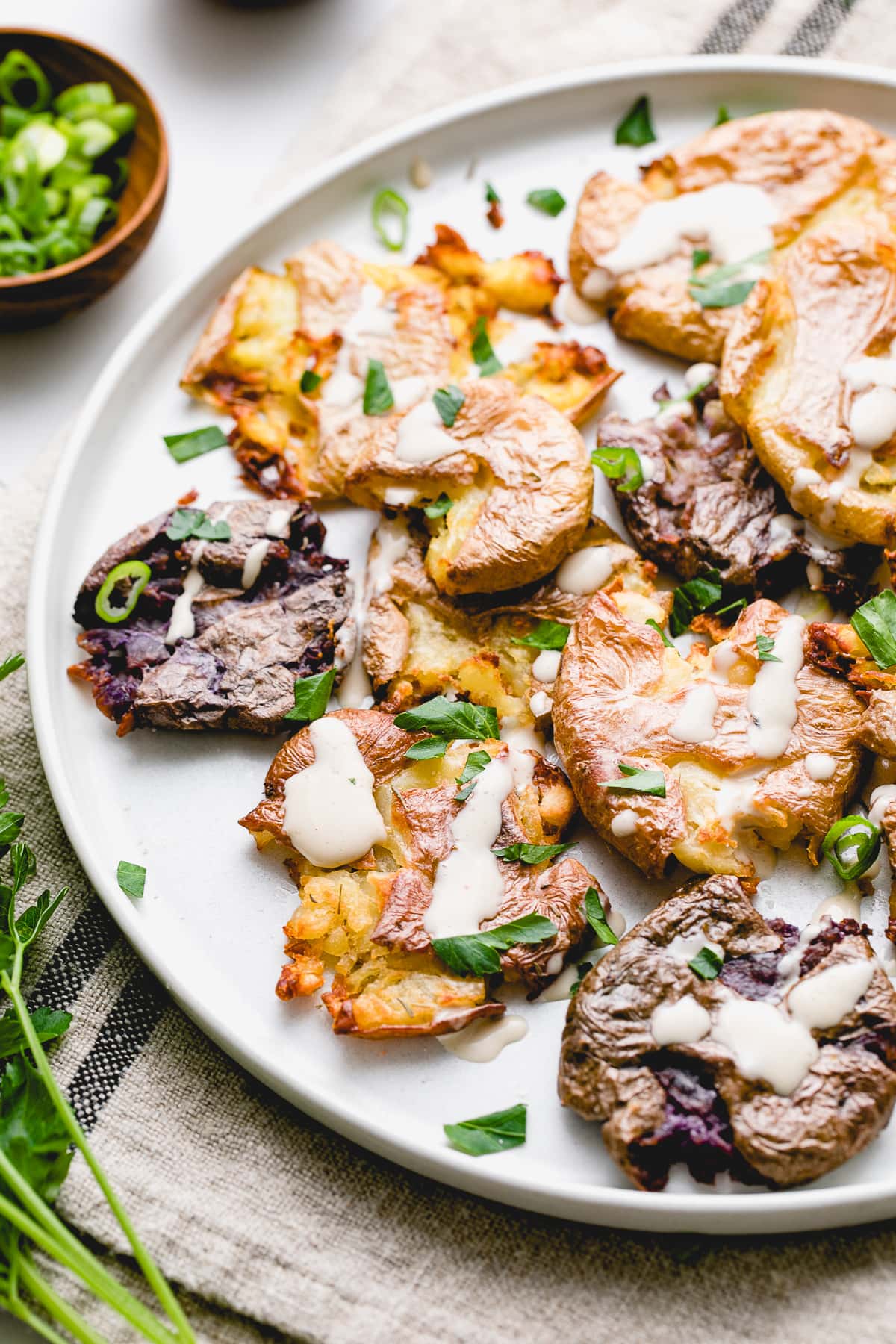 If you try this easy potato recipe or have a question, please let me know! Leave a comment and rate it below. I love to hear what you think, or any changes you make.
Print
CRISPY SMASHED POTATOES
These Crispy Smashed Potatoes are every bit as good as they sound – and then some! This is a no-boil recipe using smaller sized baby potatoes.
Author: Julie | The Simple Veganista
Prep Time:

5 min

Cook Time:

50 min

Total Time:

55 minutes

Yield:

Serves 4

Category:

Side, Snack

Method:

roast

Cuisine:

American, Vegan
Potatoes
1

lb. baby potatoes (red, white, gold or purple)

3 tablespoons

olive oil

1/2 teaspoon

mineral salt
Optional seasonings
1 teaspoon

thyme or za'atar

1/2 teaspoon

garlic powder

1/2 teaspoon

onion powder
To serve
2

scallions, thinly sliced

1/4 cup

chopped parsley
Instructions
Preheat oven to 450 degrees F.
Line a baking sheet with silpat, parchment paper or lightly grease with oil.
Prep potatoes: Add potatoes to the center of a baking sheet, drizzle with oil and toss to coat. Arrange potatoes spread out leaving a little room between potatoes. 
Roast 1: Place in the oven on the center rack and bake for 25 minutes (if using larger potatoes cook 30 – 35 minutes).
Smash: Carefully remove the sheet pan from the oven, using a flat bottom item (I used the bottom of a 1 cup measuring cup) or back of a big spatula, smash potatoes. Smash to about 1/2 inch, a little smaller if you can without them falling apart too much. Gently use a fork to help remove potatoes that may stick to your smasher of choice. It's ok if they fall apart a little, they should crisp up and stick together once finished.
Roast 2: Place potatoes back in the oven and continue to bake for an additional 20 – 25 minutes, until edges are deliciously golden and crispy looking. Bake longer if you prefer very crispy potatoes!
Serve: Place potatoes on individual plates and drizzle with sauce and top with greens. Or serve however you like!
Serves 4 – 6
Store: Leftovers can be stored in the refrigerator for up to 5 days. Reheat in the toaster oven or oven at 350 degrees until warmed through.
Notes
Oil-free option: Omit the oil or use a little vegetable broth to brush the potatoes. You may even consider using the below method as the potatoes will retain a bit more moisture when roasting.
If you prefer you can boil the potatoes first. Fill a large pot with potatoes, add enough water to cover with 3 inches over, bring to a boil, reduce heat to medium and cook until potatoes are tender, about 15 – 20 minutes. Transfer to a baking sheet, brush with olive oil and sprinkle with salt and herbs of choice, bake in preheated oven for 25 – 30 minutes. Bake longer if you like very crispy potatoes. You can try for yourself both ways and see if you tell the difference between cooking styles.
Updated: Smashed Crispy Potatoes was originally published in September 2015. It has been retested and updated with new photos and helpful tips in March 2021.
FOLLOW TSV on Facebook, Instagram, Pinterest, or RSS for more updates and inspiration!