12 Super Smoothie Recipes (Healthy + Delicious)
Smoothie Recipes 🍹 – Healthy and easy to make, each one is packed with wholesome ingredients, making them a fantastic option for a quick breakfast, post-workout snack, or an afternoon pick-me-up!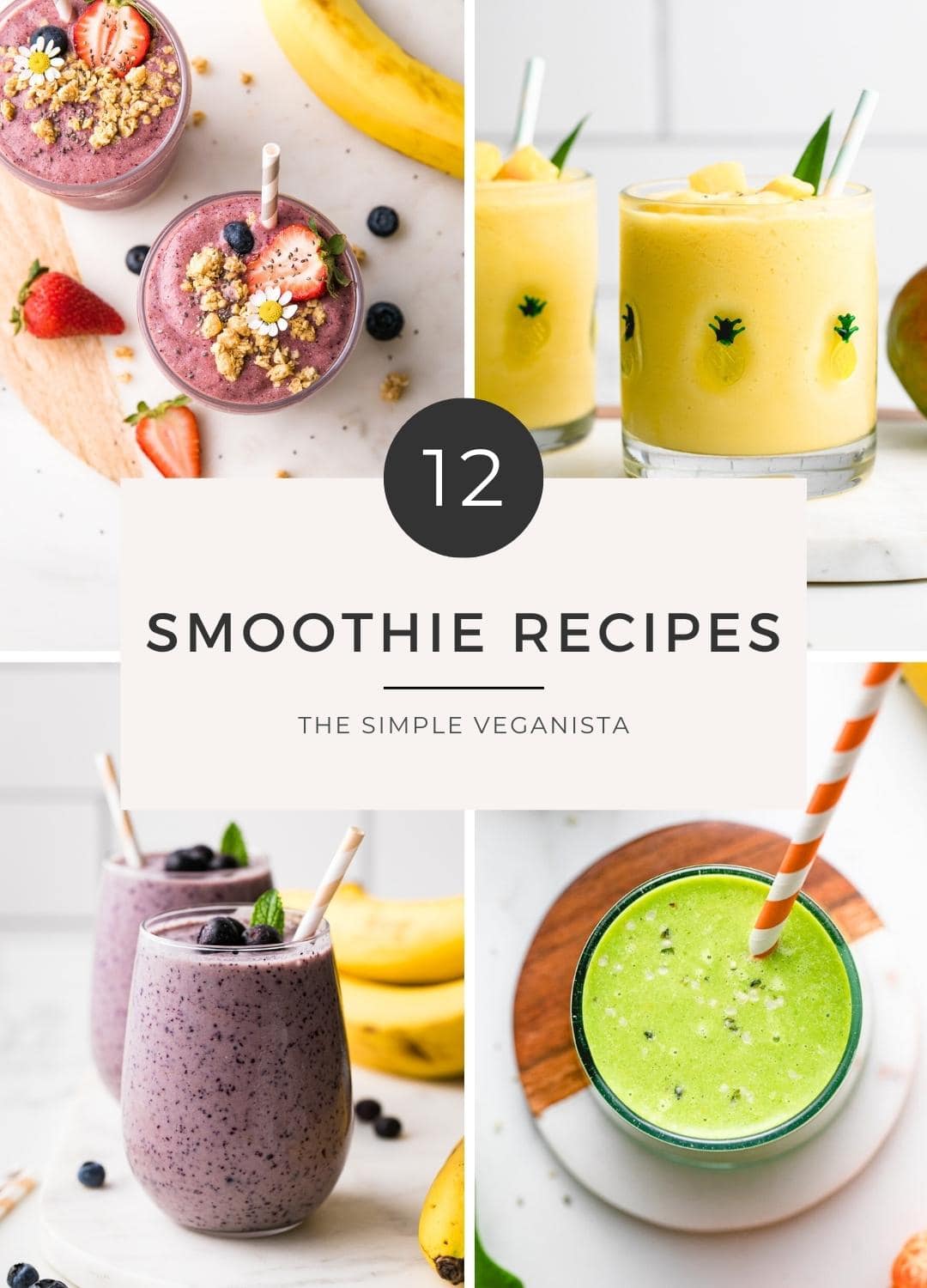 Why We Love Smoothies!
I am thrilled to share with you an irresistible collection of smoothie recipes that I have been making for years. As a food enthusiast, I'm always on the lookout for ways to fuel my body with nourishing, delicious, and easy-to-make meals. Enter: the humble smoothie!
Now, I know what you might be thinking. Smoothies? Isn't that a little… basic? But trust me when I say that these smoothie recipes are anything but ordinary.
I've spent countless hours (and many, many bananas) perfecting the ultimate combinations of flavors, textures, and wholesome ingredients to bring you a collection that will leave your taste buds happy and your body nourished.
One of the things I especially adore about smoothies is their versatility. Whether you're a fruit fanatic, a veggie devotee, or somewhere in between, there's a smoothie recipe to satisfy your cravings.
Plus, they're easily customizable to suit your dietary preferences or to accommodate whatever you have on hand in your kitchen.
So, let's grab our blenders and embark on this smoothie journey together! Cheers to a healthier, happier, and more delicious life—one smoothie at a time!
🌟 Best Smoothie Recipes
Scroll your way to your next delicious smoothie! Each recipe includes full nutrition information in the recipe card, and most include tips and substitution ideas!
🙌 Pro Tips to Up Your Smoothie Game!
I can't resist sharing some tips and hacks to help you elevate your smoothie game to new heights! As you embark on your smoothie-making adventures, keep these nuggets of wisdom in mind, and I promise your blending experience will be smoother than ever (pun intended).
Freeze your fruit: If you're anything like me, you've likely faced the sad fate of overripe fruit on the counter. Fear not! Just chop and freeze them for later use. Not only does this reduce waste, but it also means you'll have chilled, ready-to-blend ingredients for a perfectly frosty smoothie—no ice required.
Blend like a pro: To achieve a silky-smooth texture, start your blender on low speed and gradually increase it to high. This helps break down the ingredients more effectively and prevents overtaxing your blender's motor.
Dress up your greens: For those of you who might be hesitant to toss a handful of spinach or kale into your smoothie, I have a trick up my sleeve. Try blending your greens with your liquid base first, then add the rest of your ingredients. This ensures a silky-smooth texture, so even the pickiest of eaters won't detect a hint of green.
Sweeten smartly: If you find your smoothie needs a touch of sweetness, opt for natural sweeteners like honey, maple syrup, or dates. And for a secret weapon, try a pinch of cinnamon or a drop of vanilla extract to enhance the flavors without added sugar.
Prep ahead: Simplify your mornings by prepping smoothie ingredients in advance. Portion out fruit, greens, and any other add-ins into individual containers or resealable bags and store them in the freezer. When you're ready to blend, just grab a prepped bag and get going!
Embrace toppings: Let's be honest, we eat with our eyes first. So, don't be afraid to dress up your smoothie with a sprinkle of granola, a drizzle of nut butter, or a scattering of fresh fruit. It's the little details that transform your smoothie from a simple drink into something extraordinary.
With these tips and tricks in your back pocket, you'll be well on your way to smoothie success. Happy blending!
More Recipe Roundups