30+ Easy Vegan Dinner Recipes (Satisfying + Flavorful)
We've crafted these easy Vegan Dinner Recipes to be simple, wholesome, and packed with flavors that'll delight your taste buds and nourish your body!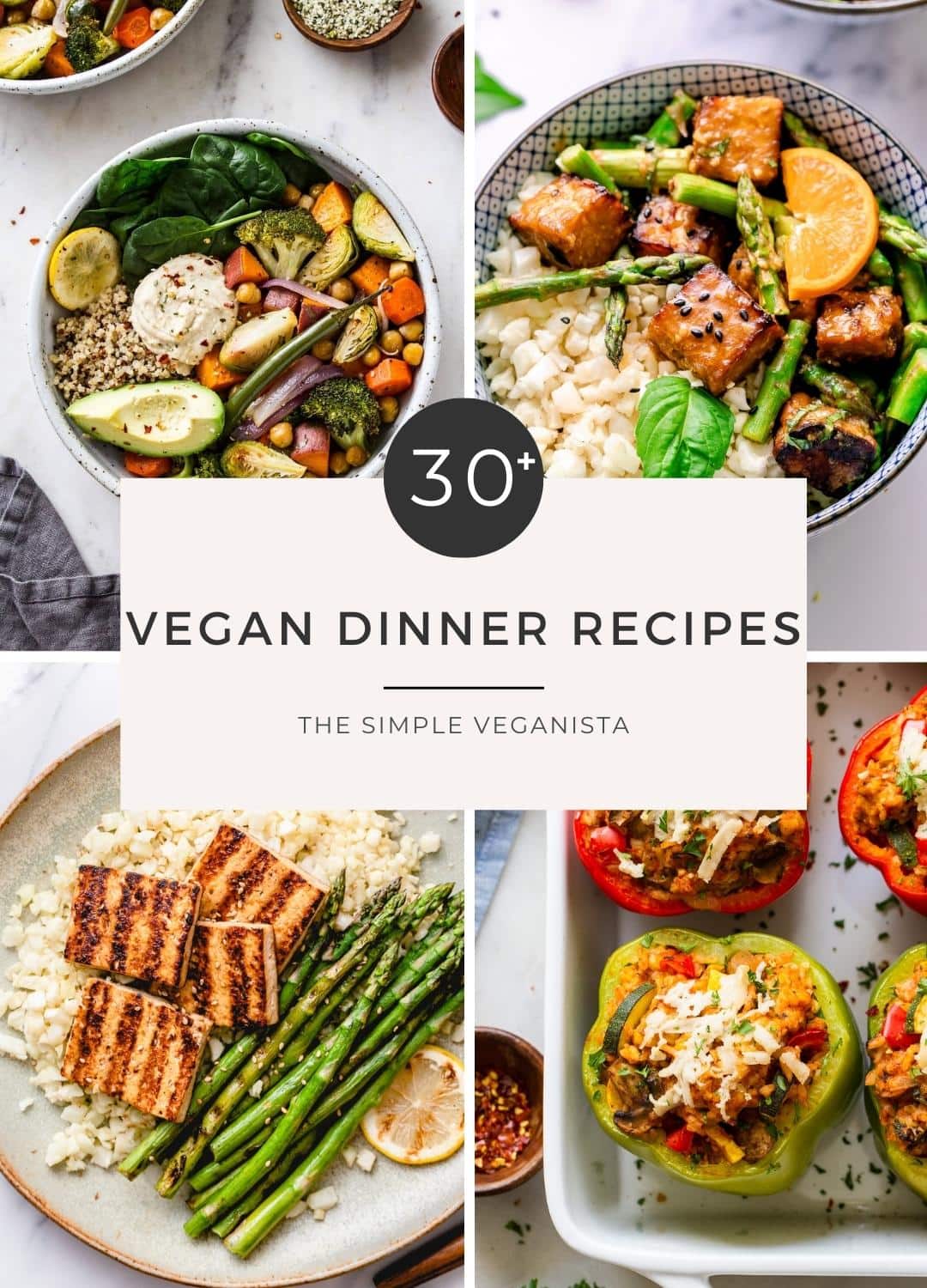 Happy day! Julie here from The Simple Veganista, and I'm excited to bring you an irresistible collection of vegan dinner recipes that are easy to make and will have you craving more!
Whether you're a seasoned vegan, just dipping your toes into plant-based waters, or just looking to add some fresh, colorful meals to your weekly menu, you're in for a treat.
I believe good food should be accessible and enjoyable for everyone, and these vegan dinners are no exception. They're bursting with vibrant ingredients, creative flavor combinations, and all the plant-powered goodness you crave.
So, pull up a chair and join me as we embark on this delicious journey, one scrumptious vegan dinner recipe at a time. Trust me – you won't want to miss a single bite!
🌱 Best Vegan Dinner Recipes
These easy vegan dinner recipes are all about simplicity, with a focus on using fresh, accessible ingredients and fuss-free preparation techniques. All recipes include complete nutrition information in the recipe card, and most include tips and substitutions.
🌟 Pro Tips for Creating Delicious Vegan Dinners!
When making vegan dinners on your own, here are some handy tips and hacks that'll make your journey a breeze. These little bits of wisdom will help you elevate your plant-based cooking game, ensuring that your meals are not only nutritious and delicious but also easy to prepare.
So, without further ado, let's unravel the magic of vegan cooking together, one tip at a time!
Raid your spice cabinet: A well-stocked spice cabinet is the secret weapon of any great vegan cook. Experiment with different spice blends and fresh herbs to add depth, warmth, and excitement to your dishes. Don't be afraid to play around – sometimes the most unexpected combinations create the most memorable meals.
Invest in quality ingredients: Choose fresh, in-season produce, and high-quality grains and legumes for the best possible flavors. Your taste buds will thank you, and your meals will truly shine.
Embrace umami: To add that savory, satisfying depth to your vegan dishes, incorporate umami-rich ingredients like nutritional yeast, miso, tamari, and mushrooms. These will give your meals a heartiness that even the most dedicated carnivores will adore.
Master the art of substitution: Discovering the perfect vegan alternatives for your favorite non-vegan ingredients can make all the difference. Try using flaxseed or chia seed "eggs" for binding, aquafaba for whipping, and cashew vegan creamer for a rich, dairy-free alternative to cream.
Keep it simple: Don't stress about making complicated dishes every night. Some of the best vegan meals are the simplest – think big, colorful salads, hearty grain bowls, or satisfying stir-fries.
Plan ahead: Some vegan recipes require a bit of prep, like soaking beans or marinating tofu. To save time and stress, plan your meals ahead and do any necessary prep work the night before.
Batch cook grains and legumes: Cook a big pot of grains and legumes on the weekend and store them in the fridge for quick and easy meals during the week. This not only saves time but also helps you make healthier choices when hunger strikes.
Don't be afraid to experiment: Vegan cooking is all about creativity and thinking outside the box. Feel free to adapt recipes, swap out ingredients, and make each dish your own. Remember, the most important thing is to have fun in the kitchen and enjoy the process!
Armed with these tips and hacks, you'll be well on your way to creating delicious, wholesome vegan dinners that'll please everyone at the table and keep them coming back for more. Happy cooking!
More Recipe Roundups