CLASSIC VEGAN PANCAKES (HEALTHY + EASY)
Best Vegan Pancakes – Light, fluffy and easy to make, these simple plant based pancakes are egg and dairy free, made with everyday ingredients and ready in minutes for a delicious start to your day!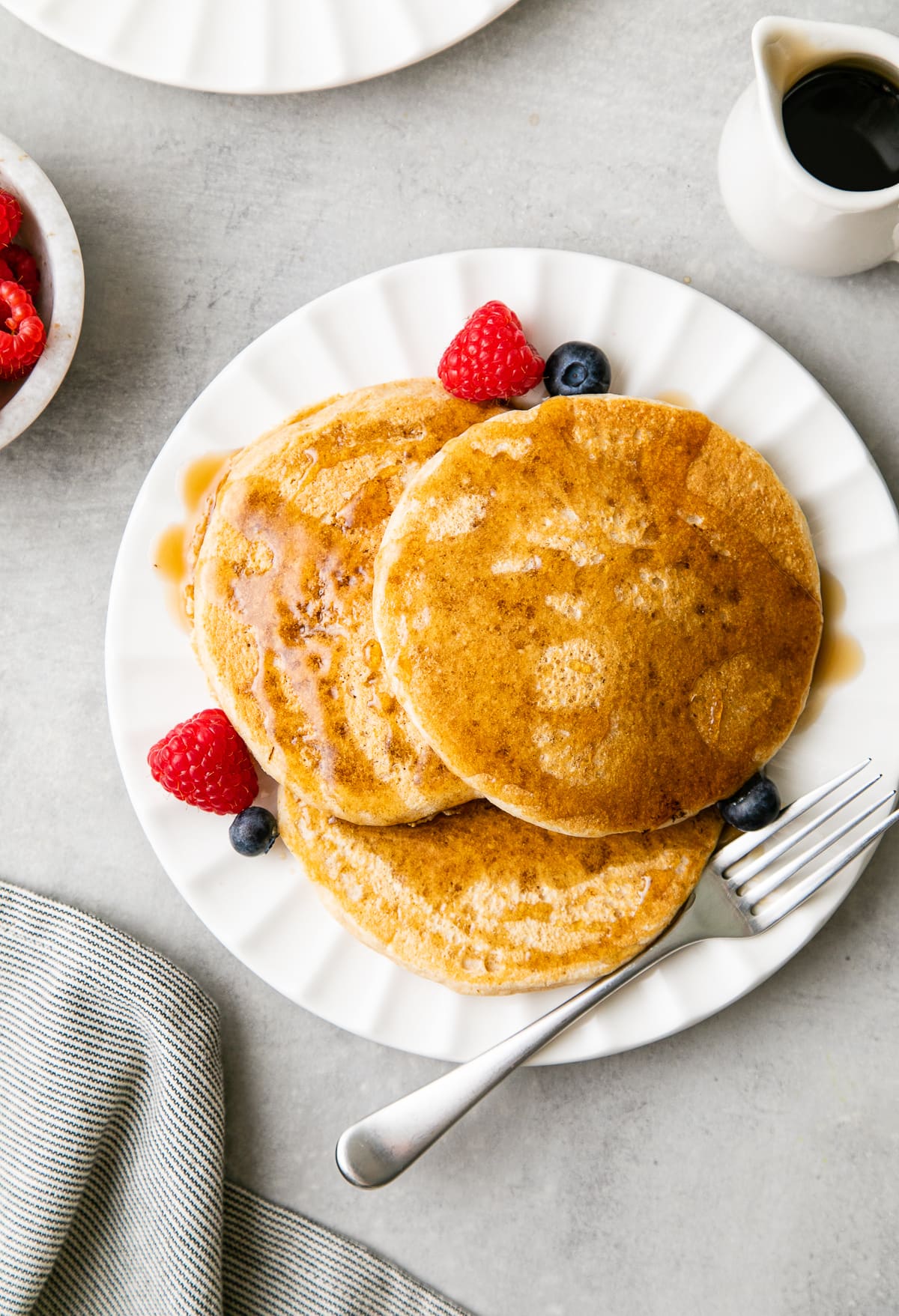 In our home, making pancakes is pretty much a weekly thing!
We mix it up between recipes using this Vegan Oatmeal Pancakes, Vegan Pumpkin Spice Pancakes, Vegan Buckwheat Pancakes, Lemon Chia Seed Pancakes, or Cinnamon Applesauce Pancakes. All are equally delicious!
With only 6 simple ingredients, easy to make, and ready in about 15 minutes, this is a timeless vegan pancake recipe that will win over all pancake lovers, kids and all!
Whether it's the weekend or weekday, you'll find this whole food plant based recipe to be super simple and delicious, making it a 'best friend forever' pancake recipe.
They cook up light and fluffy, and can be with simple maple syrup or dressed up all fancy with fresh fruit. However you enjoy your pancakes, I know you're going to love this recipe as much as we do!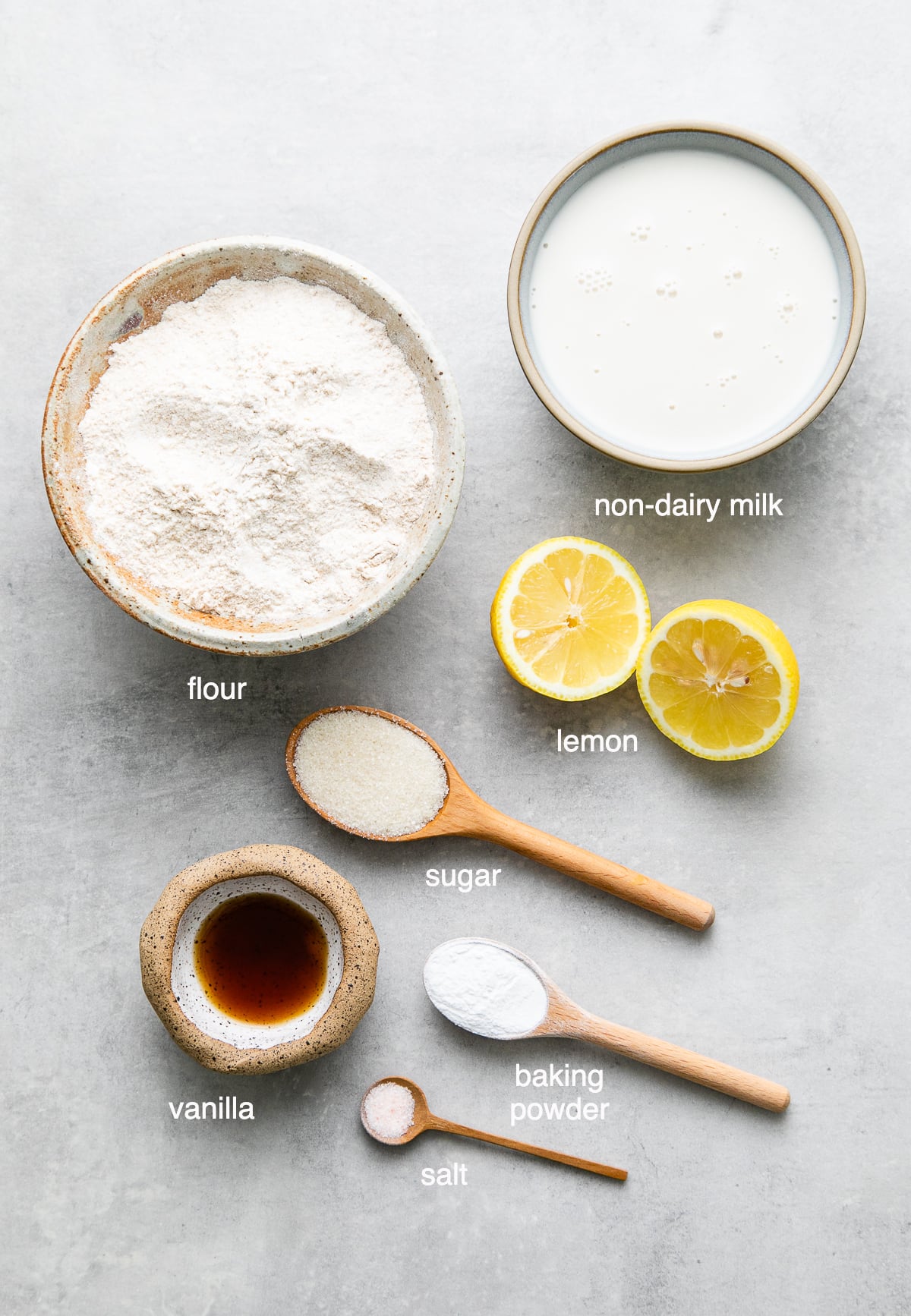 Ingredients You'll Need
In this recipe, flour, milk, sugar, and baking powder is mixed into a batter, poured onto a hot griddle and cooked until golden, creating a delicious breakfast that's quick and easy to make.
Here is everything you will need, plus ingredient variations (measurements are in the recipe card below):
flour – use spelt, unbleached all-purpose, whole wheat or combo of these flours
unsweetened non-dairy milk – use your favorite vegan milk (almond, cashew, oat, soy, etc.)
sugar – preferably organic pure cane, coconut, date or monk fruit sugar
baking powder
vanilla – if using a vanilla flavored milk, you can skip this or add it more extra flavor
lemon – acid used to make vegan buttermilk, can also sub with apple cider vinegar
salt – can be optional
oil – use your favorite, I used coconut oil here
Optional Pancake Batter add-ins:
stir in a small handful of dark chocolate chips or fruit to the batter at the end of mixing
add spices or flavorings such as cinnamon, pumpkin spice, a dash of nutmeg, or lemon or orange zest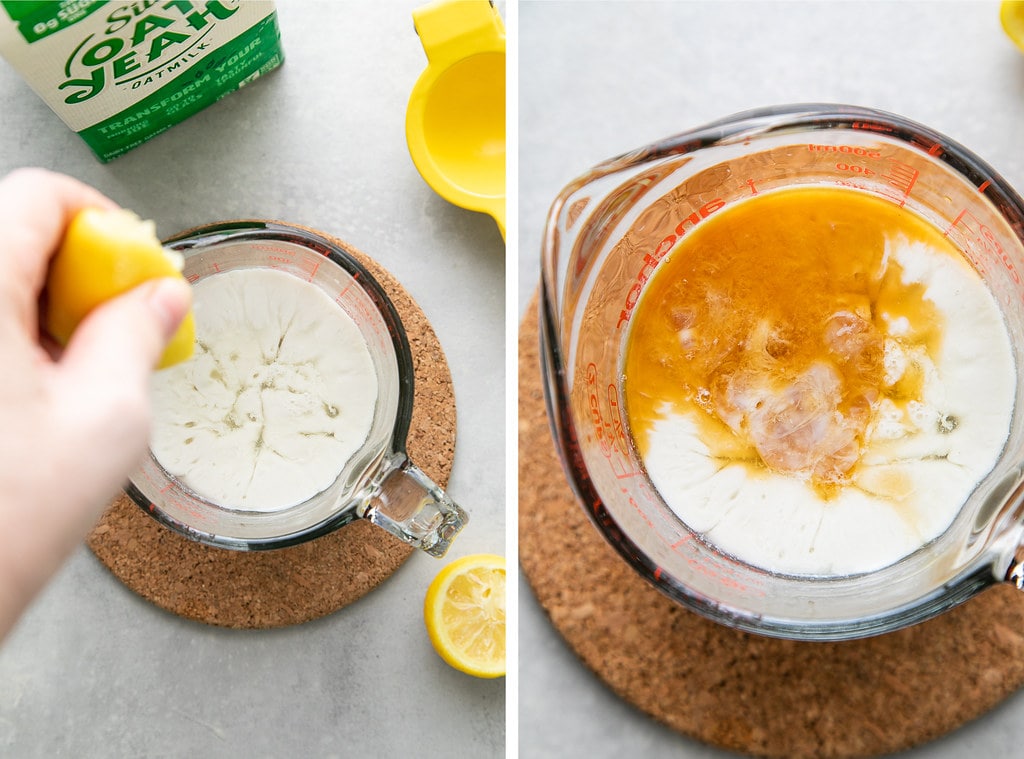 How To Make Vegan Pancakes
Following is a step by step guide, but you can find the full printable recipe at the bottom of this post.
Start with making the vegan buttermilk by combining the plant milk with lemon juice in a bowl and let rest for 10 minutes to curdle.
Add vanilla to the milk, as shown above right.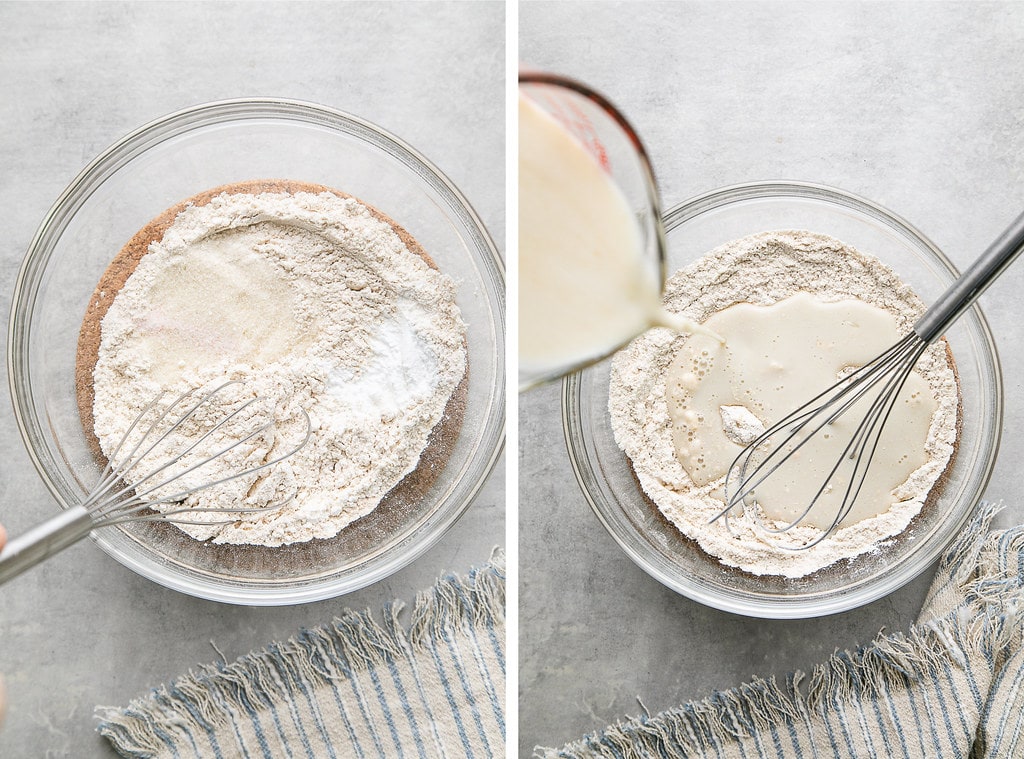 In a medium bowl, whisk together the flour, sugar, baking powder, and salt.
Pour in the non-dairy milk and vanilla, whisk until well blended.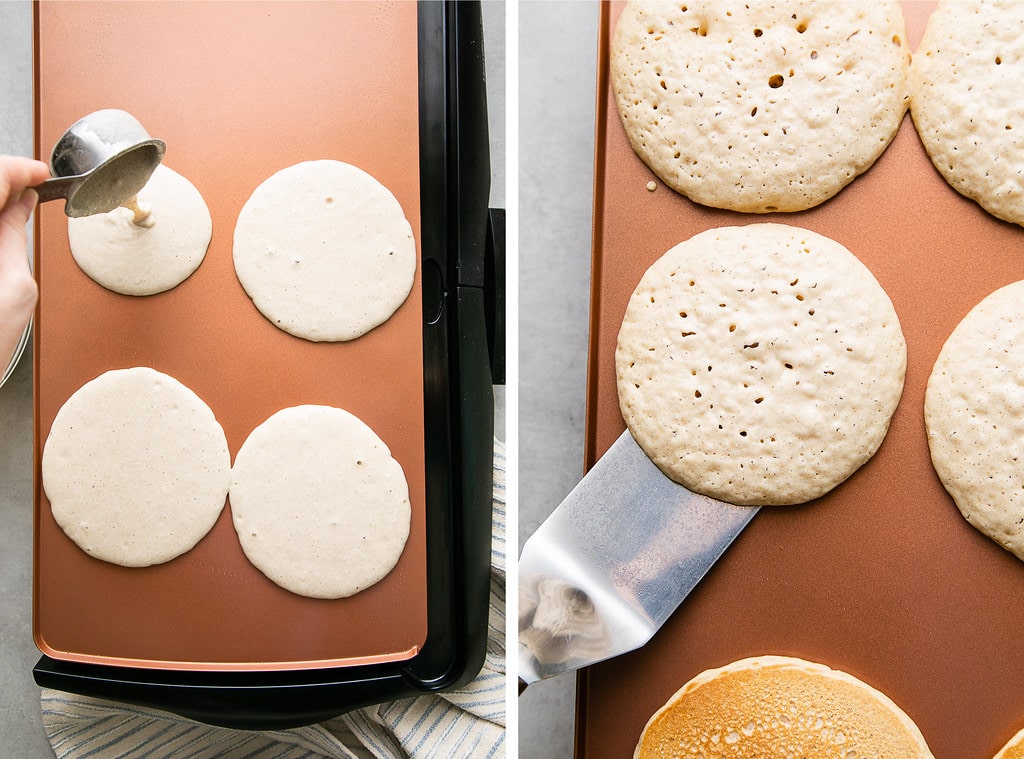 Using a 1/4 or 1/3 measuring cup, scoop and pour batter onto a preheated griddle or skillet.
Cook for 2 – 3 minutes. Pancakes will be ready to flip when they begin to bubble and outer edges start to appear leathery, shown above right.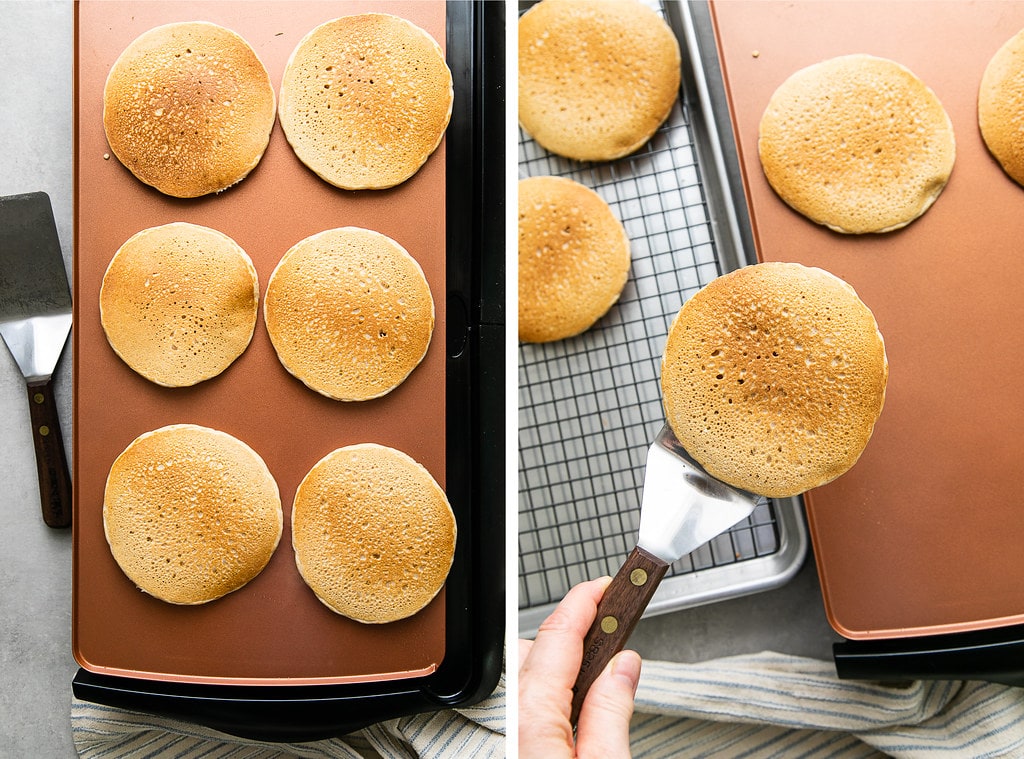 Once flipped, let pancakes cook for another 2 – 3 minutes.
Transfer pancakes to a wire rack to cool, or serve right away.
Tips + FAQs
Keep pancakes warm: If using a method that cooks a few pancakes at a time, you can keep them warm on a baking sheet in a preheated oven set to 200 degrees.
Can I make this recipe gluten free? Yes, simply use your favorite 1 to 1 gluten flour blend, such as this Bob's Red Mill All-Purpose GF Flour or 1 to 1 GF Flour Blend (affiliate links)
Can I make oil-free vegan pancakes? Yes! To make this recipe oil-free, use a good non-stick ceramic electric griddle (affiliate link). They may not turn as golden, but they will be extra healthy!
Can I make waffles with this pancake recipe? Yes, simply cook the batter using your favorite method of making waffles. You can also check out this Easy Vegan Waffles recipe!
What temperature should I cook vegan pancakes at? Using an electric griddle, set the temp anywhere between 365 and 375 degrees F, adjusting as needed. When using a skillet on the stovetop, cook over medium heat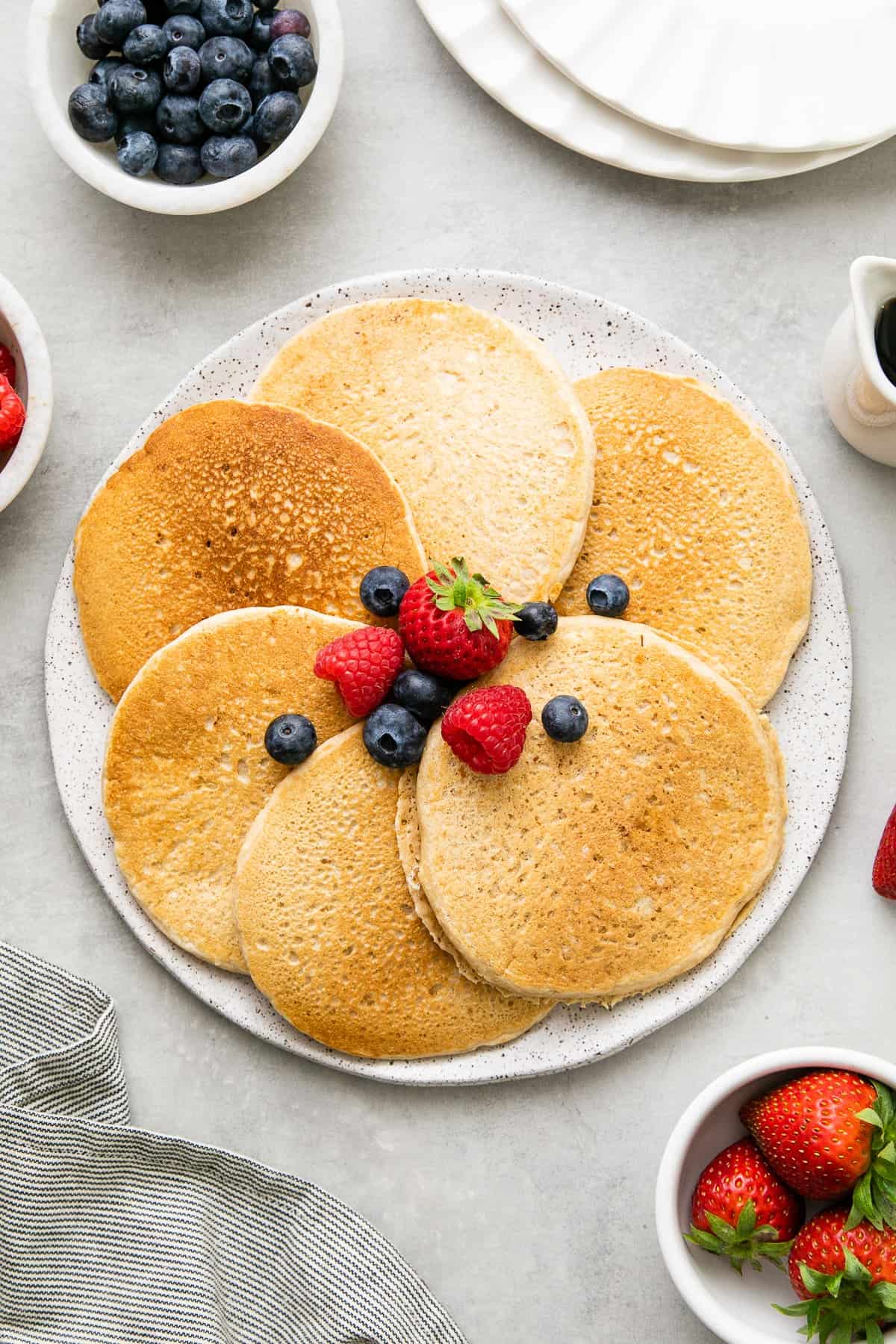 How To Store + Reheat
Vegan pancakes can be stored in the fridge or freezer with these easy instructions. You can even make extra pancakes just to store for a quick and easy breakfast or snack.
Refrigerator: Leftovers will keep in the refrigerator for up to 7 days, in a covered container.
Freezer: For longer storage, vegan pancakes will last for up to 2 – 3 months in the freezer. To freeze, let cool completely and store in sealed freezer safe containers or ziploc bags, removing as much as possible before sealing. You may want to separate each pancake with a piece of parchment paper.
Reheat: To reheat vegan pancakes, place on a baking sheet in a single layer and cover with foil, place in a preheated oven set to 350 degrees for 10 – 15 minutes, or until warmed through. Alternatively, microwave, covered, using 30 – 60 second intervals until warmed through (covering will help to retain moisture).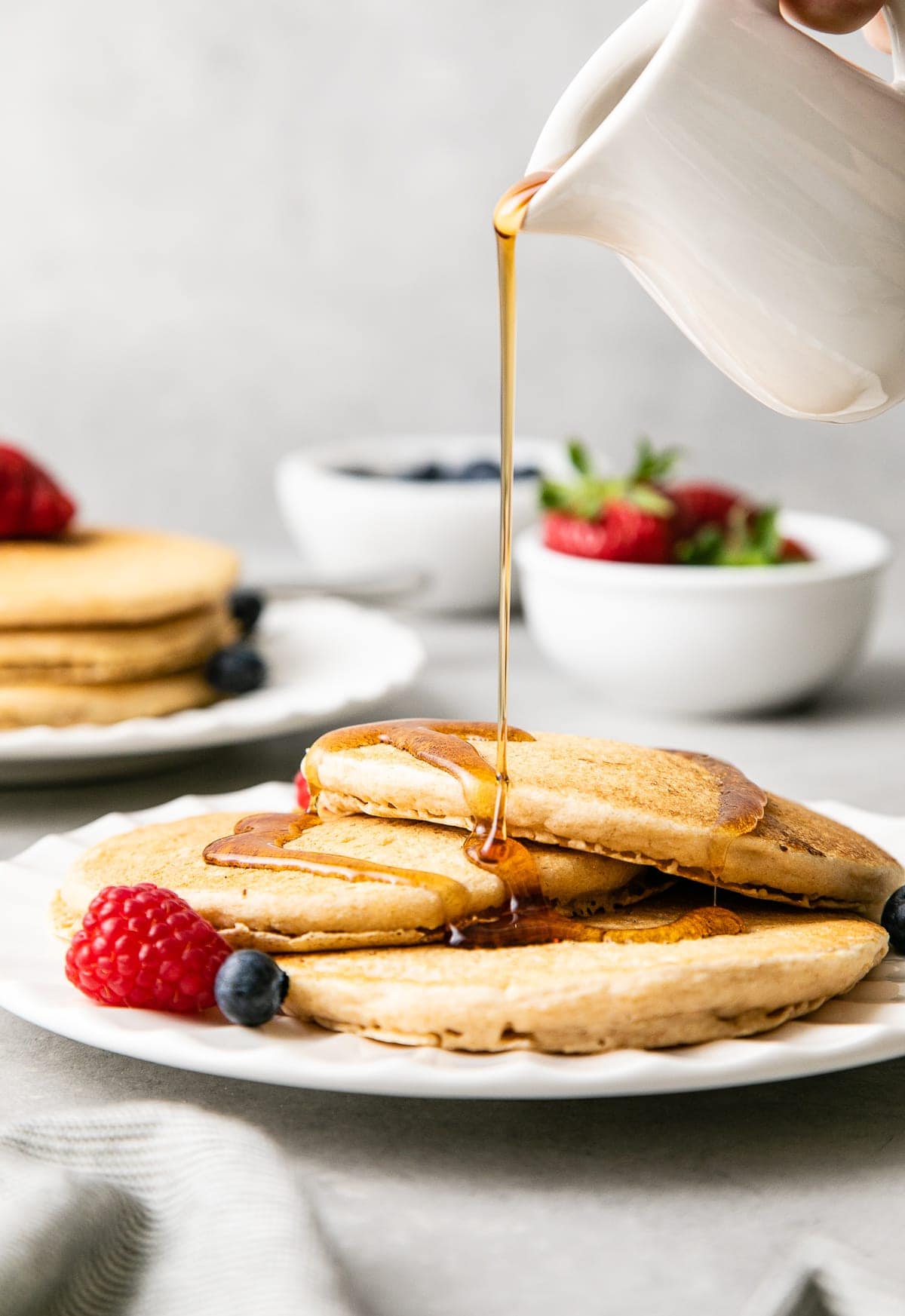 Serving Suggestions
Pancakes are typically served, drizzled with pure maple syrup, but I love changing it up with various toppings. Here are a few of my favorite options:
Make a full and hearty breakfast with these favorites:
If you try this vegan pancakes recipe or have a question, please let me know! Leave a comment and rate it below. I love to hear what you think, or any changes you make.
Print
EASY VEGAN PANCAKES
A basic, everyday vegan pancake recipe that quick, easy, and everyone will enjoy! Top with fresh berries and pure maple syrup for a healthy start of your day.
Author: Julie | The Simple Veganista
Prep Time:

5 min

Cook Time:

10 min

Total Time:

15 minutes

Yield:

Serves 3

Category:

Breakfast

Method:

skillet, griddle

Cuisine:

American

Diet:

Vegan
1 cup

spelt flour or flour of choice

2 tablespoons

organic cane sugar or coconut palm sugar

2 teaspoons

baking powder (this will make them nice and fluffy)
pinch of mineral salt

1 cup

unsweetened almond milk, or non-dairy milk of choice

1

small lemon (juice of) or 2 teaspoons apple cider vinegar

1 teaspoon

vanilla extract

1

–

2

teaspoons coconut oil, for cooking
Instructions
Vegan Buttermilk: To make a vegan buttermilk, add juice of small lemon to the milk and let rest for about 10 minutes. This can be optional.
Preheat: If using griddle preheat to manufacturers instructions.
Make batter: Combine flour, salt, sugar and baking powder into a medium bowl or wide-mouthed pitcher. Add milk and vanilla, mix until well combined.
Cook: If using a skillet, heat oil on medium heat. Place batter on griddle/skillet (I like to scoop the batter using a 1/4 or 1/3 cup measuring cup for uniform pancakes), cook until bubbles form around the edges or top and flip, about 3 minutes per side.
Keep warm: If needed, keep the pancakes warm in a preheated oven set to 200 degrees, on a baking sheet.
Serve with syrup, fresh fruit or any dessert sauce of choice.
Makes about 6 pancakes, serves 3
Store: Leftovers can be stored in the refrigerator for up to 7 days in a covered container. For longer storage, keep in the freezer for 2 – 3 months. Reheat in toaster oven or microwave.
Notes
If using a heavier flour, such as oat, whole-wheat or whole-spelt flour, you may need to add a tad more milk to the batter before cooking.
For thicker pancakes, add a tad less milk. For thinner pancakes, add a tad more milk.
Make gluten-free by using gluten-free all-purpose flour or other gluten-free flour of choice.
Top with various toppings for variation:
fresh berries
pure maple syrup
To the batter, you can change it up by:
stir in a small handful of dark chocolate chips or fruit to the batter at the end of mixing
add spices of your choice, such as cinnamon, vanilla, lemon, or orange zest
Nutritional values are estimates only. See our full nutrition disclosure here.
Updated: Vegan Pancakes was originally published in August 2012. It has been retested and updated with new photos and helpful tips in August 2020.
FOLLOW TSV on Facebook, Instagram, Pinterest, or RSS for more updates and inspiration!