Homemade Baked Potato Chips (Rustic + Crispy)
So simple and healthy, it's easy to make your own homemade baked potato chips that are rustic and crispy! And once you do, there's no going back to the bag!
Once you go homemade – there is no turning back!
Forget the bag, this homemade baked potato chips recipe bakes up perfectly crispy and delicious. Plus, they are so much healthier than packaged potato chips since you control the amount of oil and salt!
Since starting my clean eating habits, I've dramatically altered my system, and it knows when something is processed and not as close to nature as it should be. It's amazing how our bodies adjust and I much prefer these new habits and feel terrific.
I can finally enjoy potato chips again, and I know you're going to love this recipe too. Cheers to good health and good eating!
These crispy baked potato chips make a great side to these Spicy Black Bean Burgers, Quinoa + White Bean Veggie Burgers, or this Summer Vegetable Sandwich.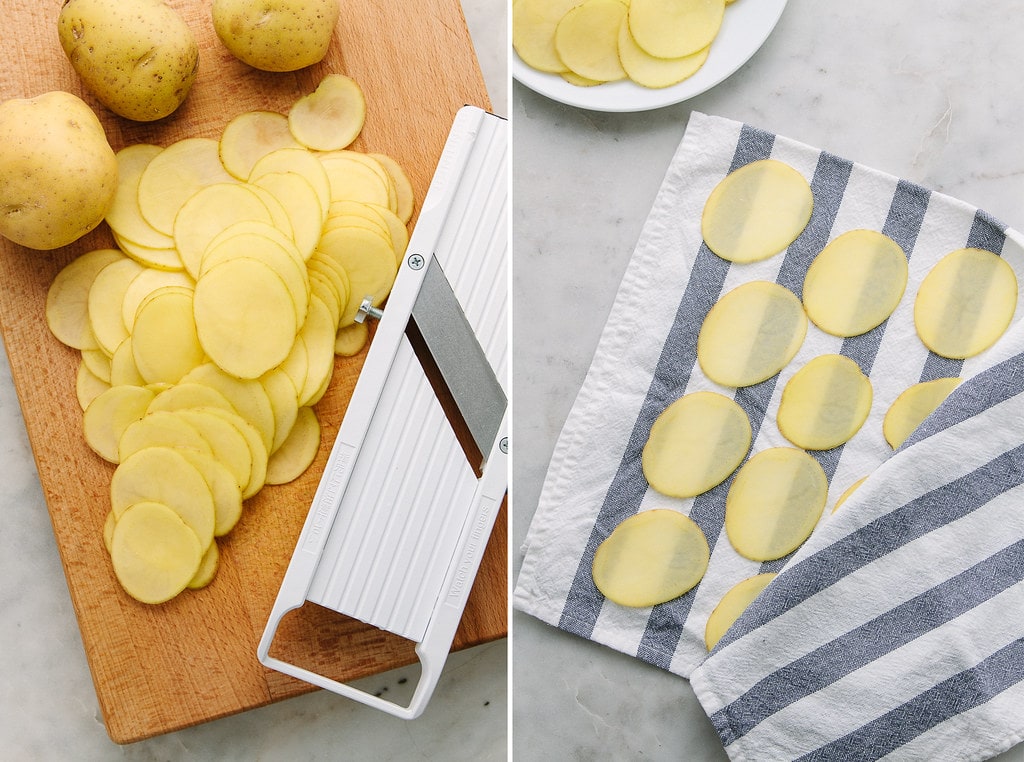 How To Make Crispy Baked Potato Chips
It's easy to make homemade baked potato chips that are healthy with just a few simple steps.
It starts with the right oven temperature. I've made oven baked potato chips with varying degrees, 375 – 450 F., and find that 400 – 425 is the sweet spot. Depending on where you live may affect what temperature you use. I would play around with both and see what works best for you.
Prep the potatoes. Scrub the potatoes well and pat them dry with a paper or cloth towel.
Thin is best when slicing. Thinly slice the the potatoes to about 1/16 of an inch. I wouldn't slice them any larger than 1/8 inches. I used this mandoline (affiliate link) which made it a breeze and super easy, but if you're good with a knife slice away.
Toss with a little olive oil. You can oil the potatoes by tossing them together in a bowl or oil them right on the baking sheet with basting brush. No need to use a lot of oil, just enough to lightly coat each slice.
Layer on baking sheet. When layering the potatoes, be sure they have space between them so the heat has plenty of room to get all around each chip.
Bake to perfection. Bake for 10 minutes, carefully remove from the oven, and using tongs, flip each one and bake for 7 – 8 minutes more. Be sure to keep an eye on them at the end as they will cook fast towards the end.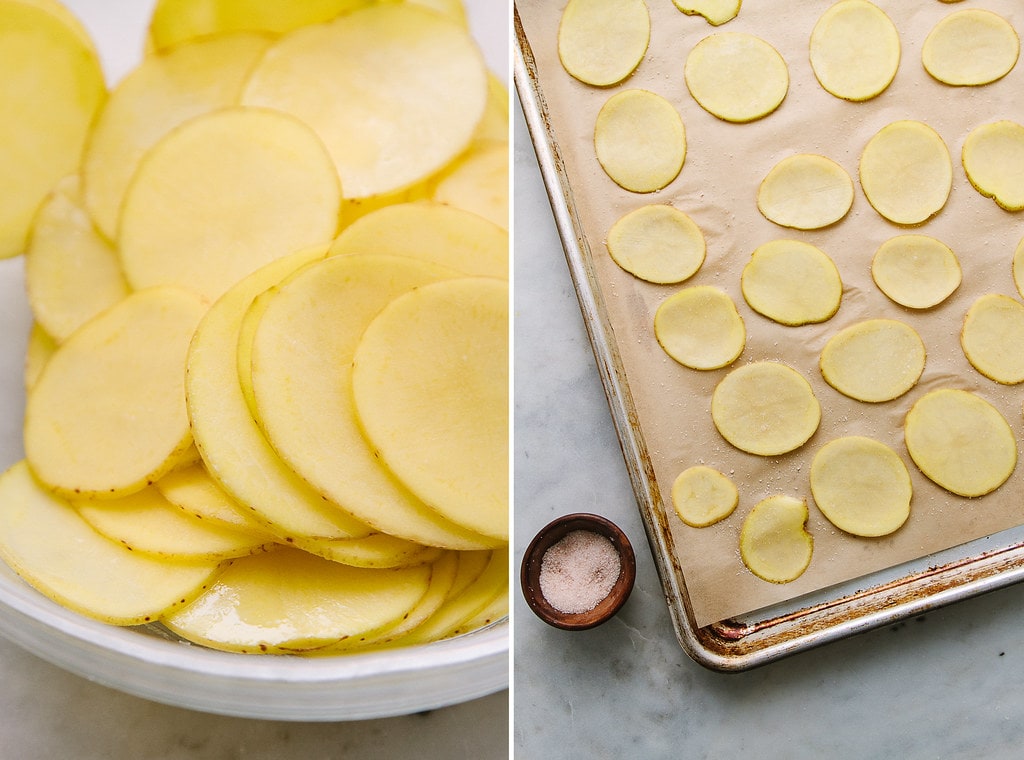 What Kind Of Seasoning Can I Use?
Just about any spice or herb you can think of will work, here are a few ideas:
simple as salt & pepper
paprika or old bay seasoning
spiced up with some cayenne or chipotle powder
maybe a little garlic salt or onion powder
or any special blends you have
Maybe salt and rosemary will be my next batch!
How To Store Leftovers
Baked potato chips are best eaten right away, but can be stored in a covered container for 1 – 2 weeks (just be sure to let them cool completely before storing).
Serving Suggestions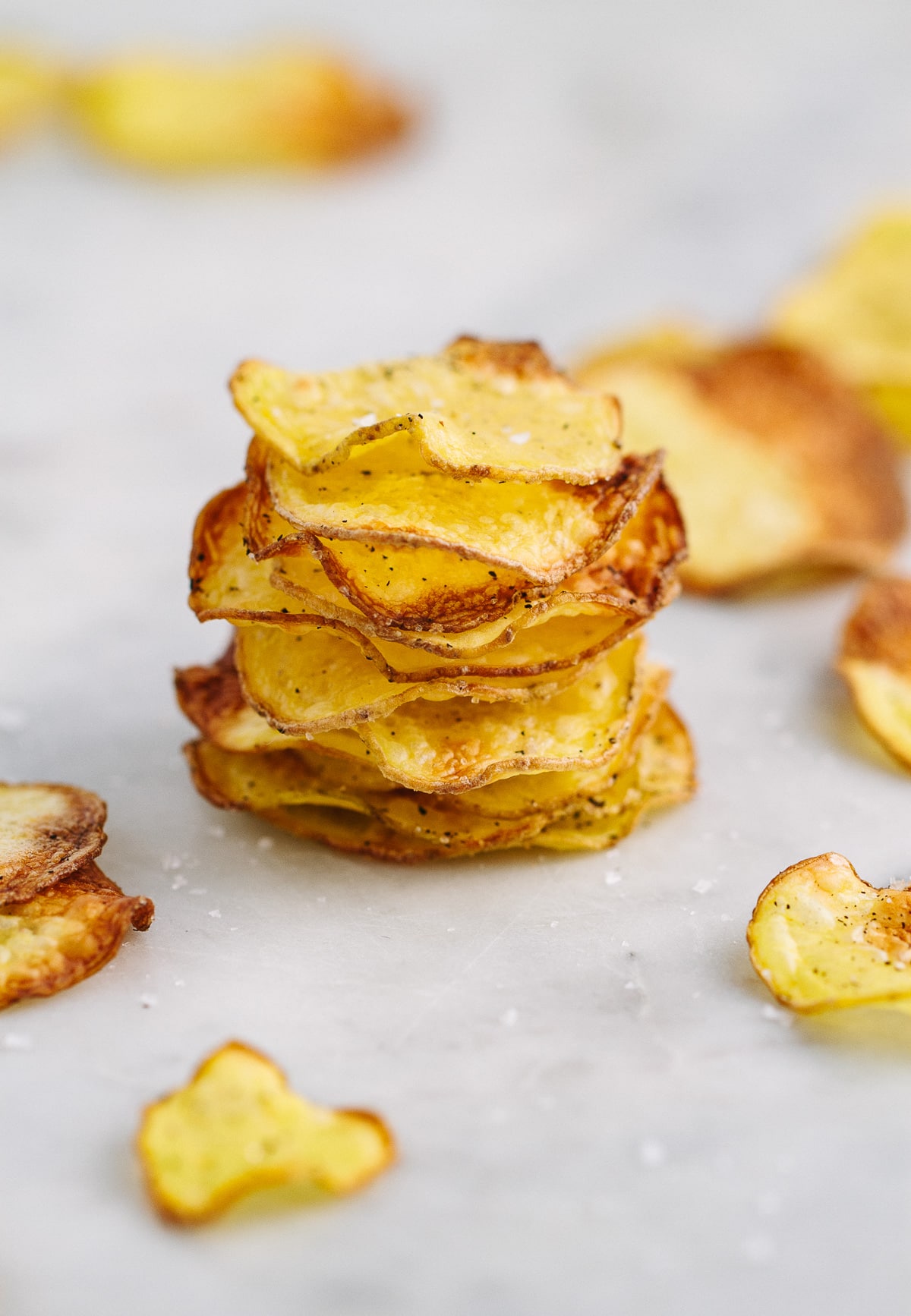 More Easy Snack Recipes!
If you try this baked potato chip recipe, please let me know! Leave a comment and rate it below. I love to hear what you think or any changes you make.
Print
HOMEMADE BAKED POTATO CHIPS
So simple, healthy and easy to make, once you make your own crispy homemade baked potato chips, there's no going back to the bag!
Author: Julie | The Simple Veganista
Prep Time:

10 min

Cook Time:

20 min

Total Time:

30 minutes

Yield:

Serves 2

Category:

Snack

Cuisine:

Vegan
2

medium potatoes (I used gold)

2 tsp

olive oil
himalayan salt, to taste – go easy as they can get too salty
Instructions
Preheat the oven to 400 F. Prep a baking sheet with parchment paper or silicone mat.
Prep potatoes: Using a sharp knife, food processor attachment or mandolin, thinly slice the potatoes to about 1/16 of an inch. Pat the potatoes dry to remove excess moisture. Toss potatoes with oil and salt in medium size bowl (or you can go to the next step and lightly coat each side with oil while on the cookie sheet using a silicon brush – one less thing to wash this way, which was my way).
Roast: Place the potatoes in a single layer on the baking sheet, spread them out so they don't tough each other. Place in the oven and bake for 10 minutes. Carefully remove from the oven, turn each chip and bake another 7 – 9 minutes, keep an eye on them towards the end so they don't overcook. Remove any that seem ready or about to burn completely. Once baked, remove from oven and let cool for 2 – 5 min.
Serves 2 – 4
Notes
The thicker you cut the potatoes, the longer it will take to cook. I recommend cutting them 1/16 for the best results. Any thicker and your results will vary.
Seasoning ideas:
simple salt & pepper
salt & rosemary
salt & paprika
salt & garlic powder or onion powder
for spicy, cayanne or chipotle powder
or any special blends you have
RECOMMENDED EQUIPMENT: I used these parchment liners and rimmed baking sheet. For slicing, this mandoline works great (affiliate links).
Updated: Rustic Baked Potato Chips originally published July 2012 and has been updated November 2019 with new photos and helpful tips. They are always delicious and a family favorite, enjoy!
FOLLOW TSV on Facebook, Instagram, Pinterest, or RSS for more updates and inspiration!