20+ Best Vegan Sandwiches (Easy + Satisfying)
Reinvent your lunchtime routine with our scrumptious collection of vegan sandwiches! There is something for everyone with satisfying plant-based fillings, spreads, and fresh ingredients.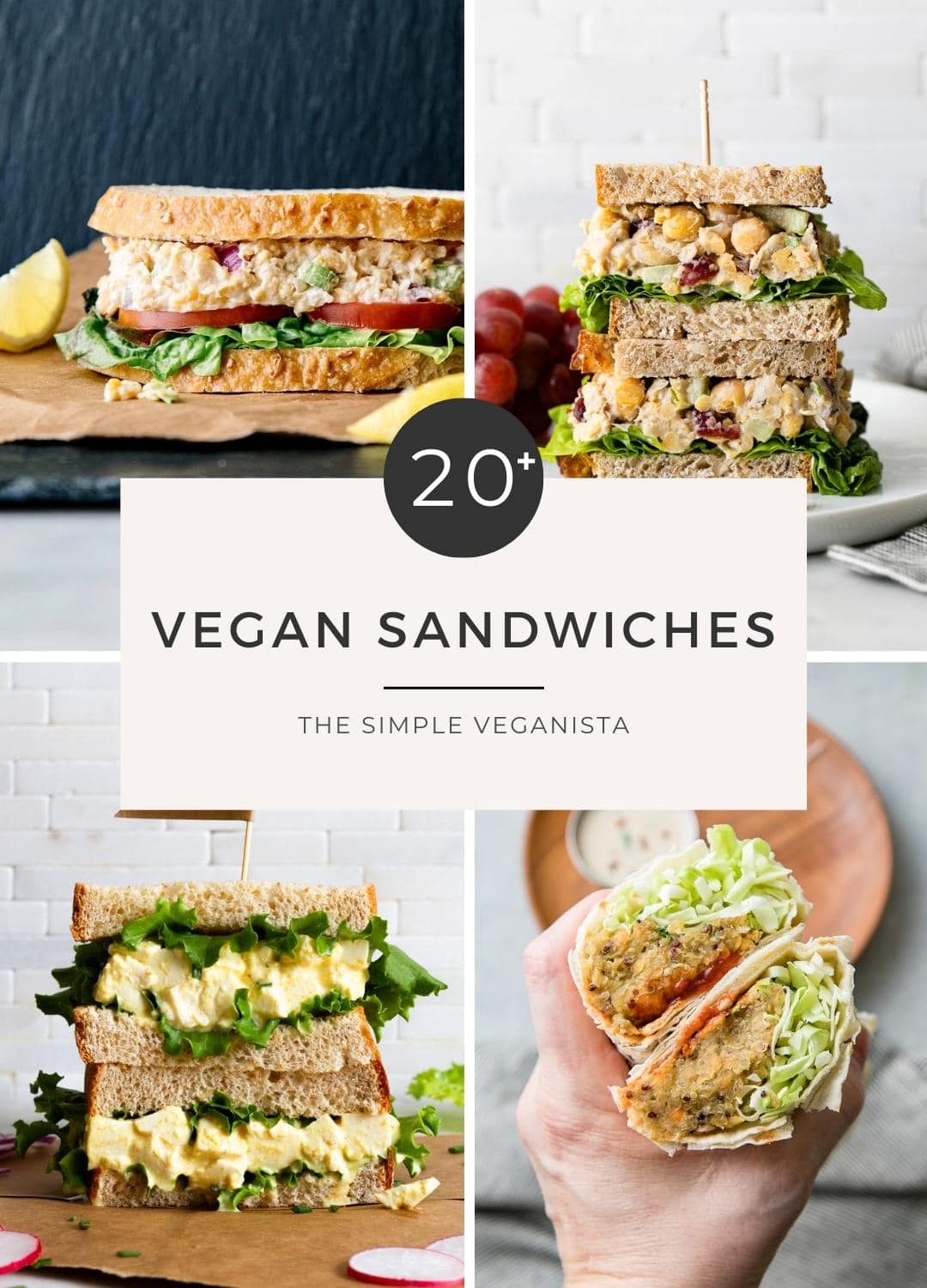 Today we're talking all things vegan sandwiches, with a few wrap recipes included. I've been enjoying these sandwiches for 10+ years – and they never disappoint!
No need to compromise on taste or satisfaction with these vegan sandwich recipes — each one is filled to the brim with wholesome ingredients, vibrant flavors, and an abundance of nutrients.
Perfect for lunches on the go, picnics, or a lazy weekend brunch, these vegan sandwiches and wraps are here to delight your taste buds and nourish your body.
Whether you're a seasoned vegan, dabbling in the plant-based lifestyle, or just looking for a delicious and wholesome meal, these sandwiches will hit the spot!
So, grab your apron and your appetite, and discover new, crave-worthy combinations that are sure to become staples in your plant-based repertoire!
🥪 BEST VEGAN SANDWICHES
We've rounded up some of our favorite vegan sandwiches on The Simple Veganista. Each recipe includes full nutrition information in the recipe card, and most include tips and substitution ideas!
🌟 PRO TIPS FOR CREATING VEGAN SANDWICHES WORTH REPEATING!
When it comes to vegan sandwiches, there are a few tips and tricks that'll elevate your creations to a whole new level of deliciousness. With just a little bit of creativity and some kitchen know-how, you'll be assembling plant-based masterpieces in no time.
Get creative with your spreads: Think beyond the traditional mustard or mayo. Experiment with hummus, tahini, mashed avocado, or even homemade cashew cream. These spreads not only add flavor but also provide a creamy texture that binds your sandwich together.
Choose your bread wisely: Opt for whole grain or sourdough bread for extra flavor and texture. Keep an eye out for vegan-friendly bread options, as some varieties may contain milk or eggs.
Play with flavors: Don't be afraid to mix sweet and savory ingredients. Try combinations like almond butter and sliced apples or hummus with roasted beets and baby greens.
Amp up the flavor with herbs and spices: Don't be shy with your seasonings! Fresh herbs like basil, cilantro, or dill can brighten up your sandwich, while spices like smoked paprika, cumin, or za'atar can add depth and warmth.
Toast your bread: A simple yet effective trick, toasting your bread not only adds crunch but also prevents sogginess from moist fillings. If you're using a spread like hummus, try toasting one side of the bread to maintain some softness on the inside.
Pile on the veggies: Take advantage of the wide variety of veggies available. Layer roasted or grilled vegetables like eggplant, zucchini, or bell peppers for extra flavor. Don't forget about classics like cucumber, spinach, or sprouts for added freshness.
Embrace plant-based proteins: There are plenty of options for satisfying and protein-packed vegan sandwiches. Try tempeh, tofu, seitan, or chickpeas as your protein source, and feel free to get creative with marinades and cooking methods to keep things interesting.
Wrap it up: If you're looking for a lighter option, use lettuce or collard green wrap instead of bread. This alternative can be just as satisfying, and it lets the flavors of your fillings shine through.
Make it portable: If you're planning to take your sandwich on-the-go, wrap it tightly in parchment paper or aluminum foil to help it maintain its structure and prevent sogginess.
By keeping these tips and tricks in mind, you'll be well on your way to crafting incredible vegan sandwiches that'll impress vegans and omnivores alike. Happy sandwich-making!
MORE RECIPE ROUNDUPS